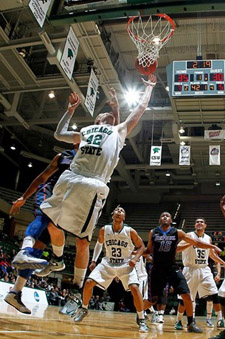 It was a Blue Christmas for the Ohio State Buckeyes. And as every member of Buckeye Nation knows, blue is not the operative color in Columbus. Kansas' hue instead of Michigan's didn't make the proceedings any easier.
Christmas came just three days after the Jayhawks humbled the Buckeyes at home. A handful of players went home for the holidays and, even outside Ohio, they had to deal with the 74-66 loss.
"I couldn't escape it, really," Detroit native Amir Williams said. "My dad was talking about it almost the whole time I was home. I had friends bringing up the game as well."
Making matters worse was a winter storm that hit the state of Ohio on Dec. 26. It left several members of the basketball program scattered at airports around the country. They've all returned to Columbus, but the delay wasn't needed since the team already had a week off.
When Ohio State takes the court Saturday afternoon, head coach Thad Matta knows a faction of the team will do so angrily due to their performance against Kansas, while another group will go in with the last game completely removed from their mind. Whichever psychological state players are in is irrelevant to Matta.
"I know some guys will be thinking about it, I know some guys won't be thinking about it," he said. "That is what it is. Whatever they chose to do, it's on them."
Regardless of the mindset, Matta is looking for consistency. On the 2012-13 Buckeyes, no one serves as a better example for what Matta desires than Williams. The 6-foot-11 center has offered several 'wow' moments in the first 11 games this season – both good and bad.
Still a backup to Evan Ravenel, Williams, a sophomore, had his two best games against Ohio State's two toughest opponents – Duke and Kansas. He played a combined 47 minutes in each game, scoring 10 points, shooting 75 percent from the free-throw line, grabbing 18 rebounds and blocking three shots.
"(Matta) just asked me to be more consistent, not just playing only in the big games but playing in games like Chicago State," Williams said. "Just being more reliable and playing throughout the whole season no matter who our opponent is."
For one reason or another, Williams becomes lackadaisical against lesser opponents.
"I believe it's just a mental thing," he said. "Sometimes I do feel like I just clock out or something like that. I have to go out there and be prepared, just have a routine in the way I approach every game or so. I feel like it's getting better than what it was at the beginning of the season."
His demeanor against Chicago State will reveal another chapter in his up-and-down season.
| # | Name | YR | HT/WT | PTS | REB | ASST | P | # | Name | YR | HT/WT | PTS | REB | ASST |
| --- | --- | --- | --- | --- | --- | --- | --- | --- | --- | --- | --- | --- | --- | --- |
| 4 | A. Craft | JR | 6-2/190 | 8.9 | 3.3 | 4.6 | G | 0 | C. Gray | JR | 5-11/180 | 5.5 | 1.6 | 1.2 |
| 32 | L. Smith Jr. | JR | 6-4/205 | 11.0 | 4.9 | 2.1 | G | 35 | C. Rosenberg | SO | 6-3/170 | 9.6 | 3.4 | 1.9 |
| 12 | S. Thompson | SO | 6-7/190 | 8.0 | 3.9 | 1.1 | F | 33 | Q. Pippen | JR | 6-4/205 | 9.1 | 3.8 | 2.4 |
| 1 | D. Thomas | JR | 6-7/225 | 20.0 | 6.8 | 1.5 | F | 31 | J. Robinson | JR | 6-9/225 | 10.4 | 6.4 | 1.6 |
| 30 | E. Ravenel | SR | 6-8/260 | 6.3 | 4.7 | 0.3 | F | 42 | M. Ross | JR | 6-8/220 | 9.4 | 7.2 | 1.1 |
Opponent
Chicago State comes to Value City Arena in the midst of a three-game losing streak. Some of the things the Cougars do poorly could help an Ohio State squad still reeling from a loss to Kansas last weekend.
The Buckeyes have shot poorly and struggled in the paint in both losses this season. Chicago State is bad at both of those tasks. They face significant hurdles when playing ranked opponents. In its previous 13 games versus Top 25 teams, Chicago State has lost by an average of almost 35 points per game.
Much like Long Beach State, another Ohio State opponent this season, Chicago State plays a challenging schedule year in and year out. It will play Kent State, Notre Dame, DePaul, Oregon State, Houston, UNLV and Ohio State this season.
A year ago, Chicago State finished with a 4-26 record. Included in the ugly season statistics was a defense that allowed more than 77 points and an offense that turned the ball over nearly 17 times per game. So far this season, the Cougars have the first number down to 73, while the second hasn't seen much change.
Chicago State has been a downtrodden program since it joined the Division I ranks in the 1990s, but head coach Tracy Dildy is confident that his roster, which includes 13 upperclassmen, could be the group that finally turns the corner.
"Our motto this year is 'all hands on deck,'" he said. "We're going to be successful if we keep working together to get better each day.
"They are a confident group. Some of them think they are better than they really are, but I don't have a problem with that. It is better to have that than the other way around."
Jeremy Robinson, the Cougars' leading scorer last season, is once again the go-to guy for points. Robinson, the 2012 Great West Player of the Year, is the lone Chicago State player averaging double figures.
"Jeremy is a model student-athlete," Dildy said. "He's a very vocal guy and the younger players have really gravitated toward him. We are going to go as far as Jeremy leads us."
Not far behind Robinson is Quinton Pippen, the nephew of former Bull, Scottie. Pippen transferred to Chicago State from Missouri State-West Plaines Community College and has been an immediate success for the Cougars.
"Quinton has more to his game than his name," Dildy said. "He has a chance to do some special things this year. He has one of the better shots I've seen and I'd describe him as tough as a bulldog."
He's not the only starter Chicago State secured from a community college. Matt Ross, the Cougars' leading rebounder, found his way to the Second City via Sauk Valley Community College in Illinois. All he's done is average 9.4 points and 7.2 rebounds per game.
"I feel like he really fell under the radar during the recruiting season," Dildy said. "He shoots the ball well, has an inside game and is a solid offensive rebounder. He is very versatile and can make a name for himself."
Doing that against the likes of Evan Ravenel and Amir Williams will be much tougher for the 6-foot-8, 220-pound Ross. But Chicago State isn't unfamiliar with the underdog role. It's faced that for more than two decades.
"We're going to be a fun team watch," Dildy said. "We are going to surprise a lot of people and at the end of the year a lot of people are going to be pleased with what this team has accomplished."
Coming home from Columbus with a 'mission accomplished' banner should not be on the agenda.
Buckeye Breakdown
There have been several constants during Ohio State's recent slump, which, ironically, includes a winning record. One trend has been the Buckeyes' inconsistency. Another is poor shooting. During the recent downtick, Ohio State has continued beating up on non-conference foes, Kansas notwithstanding.
But perhaps the most consistent piece of Ohio State basketball has been the play of sophomore point guard Shannon Scott. In the Buckeyes' recent loss to Kansas, Scott finished with 15 points, six rebounds, four assists and two steals. It was his presence and play that helped spur a 14-0 first-half run by Ohio State that grabbed the lead from Kansas.
"He surprised me with his speed," Kansas guard Ben McLemore said of Scott. "He can get up the floor fast."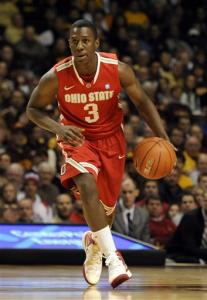 Scott may have had a disappointing freshman season, but he is more than making up for it in Year 2. So far, he's averaged 7.2 points, 2.8 rebounds, 4.6 assists and 2.5 steals. Not bad for a backup. Call him the most improved player in the Big Ten and arguably the country.
Consider that Scott only averaged a single point per game last season and only made 28 percent of his field goal attempts. That percentage has been boosted to 44 through 11 games this season. He also was only generating about two baskets per game a season ago. His assist-to-turnover ratio is ranked fifth-best in the nation.
"This year, I'm just focusing on making the sure pass instead of making a risky pass," Scott said. "Last year, I was probably thinking about not turning the ball over too much. I was trying to make sure everything was a perfect pass, but now I'm just being free and letting it go. Now that I got more confidence in my passing, I believe it's going to help me out with my whole game."
The refocused Scott has given the coaching staff plenty of reason for good vibes during a time when bad karma is taking over. In its two losses, Ohio State has shot a combined 32.3 percent. Last Saturday, they made nine field goals in the second half against Kansas.
Those numbers are much better in the Buckeyes' wins, which have come almost exclusively against low-level competition. Chicago State falls under the category. The Cougars are 3-11 and show little signs of being competitive versus Ohio State. It's the perfect remedy for the Buckeyes, as Chicago State is allowing opponents to shoot 45 percent from the field.
Chicago State's history with Ohio State doesn't exactly resemble a pretty picture. In the three meetings between the schools, the Buckeyes have won by a combined 159 points – an average margin of 53. Their 39-game non-conference home win streak is over, but a 60-game home win streak over unranked opponents remains intact.
It sounds like the perfect opponent for Scott to continue his exploits.
"My ability to score a little bit more is helping me," he said. "Defenses are actually coming closer to me now, so I'm able to make that easy pass and dish it off to my teammates and they're knocking down shots."
Said Matta: "I'm really liking the pace that he's playing at right now. He's doing a great job of taking care of the basketball. I want Shannon running the team. I want him in attack mode."
Etc
The Buckeyes are 3-0 all-time versus Chicago State.
Ohio State hasn't lost back-to-back games since the 2008-09 season.
Ohio State is first in the Big Ten in turnover margin (+4.9) and third in the conference in scoring (77.5 ppg) and scoring margin (+18.7).
Deshaun Thomas leads the league in scoring with 20 points per game and is three shy of Curtis Wilson (1,120 points) for 39th on the Ohio State career scoring list. 
Shannon Scott is first in the Big Ten in assist-to-turnover ratio (+5.7), second in steals per game and third in assists per game (4.6). 
Aaron Craft is third in the league in assists per game (4.6) and fourth in assist-to-turnover ratio (+3.0).
Craft needs one point to reach 700 for his career.
Amir Williams is two points shy of 100 for his career.