You were promised the next 11 bowl games in the coming week and that's exactly what you'll get. Sit back, relax and enjoy. This is your continued 11W Bowl Rundown.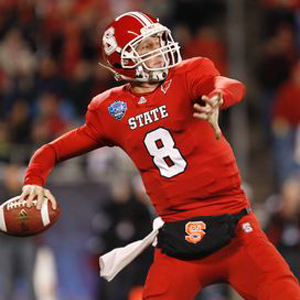 Franklin American Mortgage Music City Bowl
Who: NC State vs. Vanderbilt
Where: LP Field, Nashville, TN
When: Dec. 31, Noon
TV: ESPN
North Carolina State University (7-5, 4-4 ACC)
NC State entered the season with ACC title aspirations but fell short after losing four times in the Atlantic Coastal Conference.
The four losses cost former head coach Tom O'Brien his job and he was axed after six seasons as the Wolfpack head coach. He'll be replaced next year by Northern Illinois head man Dave Doeren.
Despite the five overall losses, the Wolfpack looked strong at times, particularly in a 17-16 win against then #3 Florida State.
Vanderbilt University (8-4, 5-3 SEC)
After starting the season 2-4, the Commodores went on an impressive streak, winning their last six games.
Head coach James Franklin has Vanderbilt playing some of their best ball in school history, as this will be the Commodores' second consecutive bowl appearance (the first time that's ever happened at Vanderbilt).
A big part of their success has been their defense, which ranks 15th nationally and has allowed only six passing TDs on the season.
What to Watch For:
Future NFL draft pick Mike Glennon will be calling his last game under center for the Wolfpack. The senior has amassed 3,648 passing yards, 30 TDs and 14 INTs. Look for the stingy Commodore defense to try to shut him down in an effort to notch their ninth win, the most victories in a season for Vanderbilt since 1915.
Hyundai Sun Bowl
Who: USC vs. Georgia Tech
Where: Sun Bowl, El Paso, TX
When: Dec. 31, 2:00 PM
TV: CBS
University of Southern California (7-5, 5-4 Pac-12)
Show me a more disappointing team in 2012, and I'll show you a liar. USC entered the season returning 19 starters and at the top the preseason polls. If the returning talent wasn't enough, the Trojans supposedly were also hungry after sitting out the past two postseasons due to NCAA sanctions. A run at a national championship was significantly tainted after a September loss to Stanford. Those hopes were then completely dashed after finishing the season 1-4.
The Trojans will look to end their 2012 campaign on high note, even if it's against a team with a losing record. Unfortunately for USC, they might have to do it without starting QB Matt Barkley, who has been nursing a strained right shoulder for the past five weeks.
Georgia Tech University (6-7, 5-3 ACC)
Georgian Tech's road to the Hyundai Sun Bowl has been anything but conventional. The Yellow Jackets played in the ACC title game against Florida State due to a self-imposed bowl ban by the Miami Hurricanes, who are hoping to soften the blow of oncoming NCAA sanctions.
Tech lost that game, dropping them to 6-7, which would normally make a squad ineligible for postseason play. However, the Yellow Jackets were able to go bowling due to an NCAA waiver, allowing the squad to play since the sub-.500 record was due to a loss in a conference championship game.
Georgia Tech runs a triple-option attack that chews up yards in bunches. The Yellow Jackets' 312 rushing yards per game has them ranked 4th in the nation.
What to Watch For:
Everyone knows the Trojans underperformed this year and two straight losses to end the season have left a bad taste in everyone's mouth on the squad. Look for Penn State transfer Silas Redd and sophomore phenom WR Marqise Lee (112 receptions, 1,680 yards and 14 TDs) to try to go H.A.M against a Yellow Jacket team that probably shouldn't be here.
AutoZone Liberty Bowl
Who: Iowa State vs. Tulsa
Where: Liberty Bowl, Memphis, TN
When: Dec. 31, 3:30 PM
TV: ESPN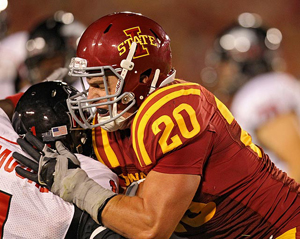 Iowa State University (6-6, 3-6 Big 12)
Iowa State started off the season strong, going 4-1 and knocking off then #15 TCU at home.
However, it didn't take long for the Cyclones' season to fall apart following the Horned Frog victory, as Iowa State went 2-5 in their last seven contests.
The Cyclones' pass defense is suspect, ranking 113th in the country and allowing almost 280 yards per game through the air. Still, Iowa State hopes a victory in the Liberty Bowl can deliver their first winning season in three years.
University of Tulsa (10-3, 7-1 C-USA)
The Golden Hurricane enter the Liberty Bowl looking for revenge – they dropped their season opener to Iowa State, 38-23. After the loss, Tulsa strung together seven straight wins en route to an overtime win against UCF in the Conference USA title game (their first since 2005).
Tulsa features a three-headed monster in the backfield of Alex Singleton, Trey Watts and Ja'Terian Douglas. Each RB has eclipsed 750 yards on the season and Singleton tallied a school record 41st career TD in the win against UCF. The three have combined to lead the nation's 11th-ranked rushing offense.
What to Watch For:
Tune in to see if the Golden Hurricane can exact a little revenge. Singleton, Watts and Douglas should look to run free as three-time All-Big 12 Cyclone LB Jake Knott won't be available due to a shoulder injury.
Chick-fil-A Bowl
Who: #8 LSU vs. #14 Clemson
Where: Georgia Dome, Atlanta, GA
When: Dec. 31, 7:30 PM
TV: ESPN
#8 Louisiana State University (10-2, 6-2 SEC)
Twelve points separate LSU from an undefeated season and a BCS championship berth. The Tigers lost by eight points to Florida at the Swamp and by four to the defending national champion Alabama Crimson Tide.
The Tigers were led by their defense, which only gave up 16.9 points and 297 total yards per game. The D is spearheaded by LB Kevin Miner and S Eric Reid, both second-team All-American selections.
#14 Clemson University (10-2, 7-1 ACC)
Clemson QB Tajh Boyd has put together a superb season leading one of the nation's most high-powered offenses. The Tigers rank 6th in the country in points scored with 42.3 per game, 9th in the nation in total yards at 518 yards per game and 13th in the country in passing yards with nearly 320 yards per game.
The offense boasts six all-conference first teamers including Boyd, the conference player of the year.
Clemson's two losses came against Florida State and South Carolina, where they were held to only 17 points, their lowest output of the season.
What to Watch For:
This game has got to be the most intriguing non-BCS matchup on the slate. The game pits one of the nation's best offenses against one of the country's most impressive defenses. It's worth tuning in just to see if Boyd can crack LSU's defensive schemes.
TaxSlayer.com Gator Bowl
Who: Mississippi State vs. #20 Northwestern
Where: Everbank Field, Jacksonville, FL
When: Jan. 1, Noon
TV: ESPN2
Mississippi State University (8-4, 4-4 SEC)
Mississippi State started the season 7-0 but only managed to win one more game in their last five contests. Blame the scheduling committee that pitted the Bulldogs against #1 Alabama, #16 Texas A&M and #7 LSU in back-to-back-to-back weeks.
Mississippi State enters the Gator Bowl fairly banged up as starting QB Tyler Russell is returning from a sprained ankle suffered in the team's final game against Mississippi.
The Bulldogs will rely heavily on second-team All-SEC RB LaDarius Perkins (940 yards and 8 TDs).
#20 Northwestern University (9-3, 5-3 Big Ten) 
A one-point loss to Nebraska and an overtime loss to Michigan were all that stood between Northwestern and a spot in the B1G title game.
Still, Northwestern has a lot to play for as head coach Pat Fitzgerald guns for his 50th win as the leader of the Wildcats (a school record), not to mention the team's first bowl win since 1949.
Northwestern will look to do it with offense; Wildcat QBs Kain Colter and Trevor Siemian will lead things under center in split duty.
What to Watch For:
This one might be the B1G's best chance at a bowl game victory. As mentioned above, the team has a lot to play for, including Fitzgerald's all-time win record. If Colter and Siemian can get the ball to receivers Tony Jones, Christian Jones and Rashad Lawrence, the Wildcats could emerge victorious.
Heart of Dallas Bowl
Who: Purdue vs. Oklahoma State
Where: Cotton Bowl, Dallas, TX
When: Jan. 1, Noon
TV: ESPNU
Purdue University (6-6, 3-5 Big Ten)
The Boilermakers' season started out on the right foot, going 3-1 and giving then #22 Notre Dame a game in South Bend, 20-17. Unfortunately the B1G schedule wasn't as kind to Purdue as the Boilermakers suffered five straight losses in conference play before winning out against Iowa, Illinois and Indiana.
The mid-season slide was the last straw for former head coach Danny Hope. In four seasons, Hope managed only a 22-27 record and was fired at the end of the season.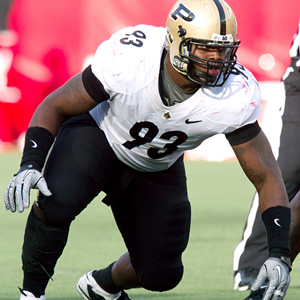 Rising star and former Kent State head coach Darrell Hazell will take his place next season. Until then, coaching duties will fall to receivers coach Patrick Higgins.
Oklahoma State University (7-5, 5-4 Big 12)
Oklahoma State's 7-5 record was head coach Mike Gundy's worst since 2007. The Cowboys stumbled down the stretch, going 2-3 and losing their final two contests.
Still, the season had successes as Gundy's group posted nearly 45 points per game (4th in the nation) on the back of strong performances by junior RB Joseph Randle (1,351 yards and 14 TDs) and sophomore WR Josh Stewart (96 receptions, 1,154 yards and 7 TDs).
What to Watch For:
The Boilermaker defense will be tasked with stopping the Cowboys' potent offensive attack. That could be a problem as Purdue gave up over 400 yards per game, bad enough for 11th in the B1G.
Second-team All-American DT Kawann Short will try to get after whoever the Cowboys choose to put under center – Oklahoma State has started three different QBs on the season.
Outback Bowl
Who: #10 South Carolina vs. #18 Michigan
Where: Raymond James Stadium, Tampa, FL
When: Jan. 1, 1:00 PM
TV: ESPN
#10 South Carolina (10-2, 6-2 SEC)
Such is life in the SEC when you have to play the #5, #9 and #2 teams in the nation in consecutive games. Of those three contests, the Gamecocks lost two (LSU and Florida).
Still, South Carolina was able to finish strong, beating Tajh Boyd and company in their season finale against #11 Clemson.
The Gamecocks' stingy defense is led by All-Conference everything Jadeveon Clowney. The defensive end was selected as a first-team All-American and was the coaches' choice for SEC defensive player of the year with 13 sacks and 21.5 tackles for loss, both school records.
#18 University of Michigan (8-4, 6-2 Big Ten)
Coming off of an 11-2 season in 2011, Hoke's boys weren't able to capitalize on big game opportunities, losing to the eventual #1, #2 and #3 teams in the latest AP poll.
Still, the defense looked much improved in 2012, giving up only 18.8 points per game. Fortunately for the Wolverines, they won't have to face star running back Marcus Lattimore, who suffered a season-ending knee injury in the Gamecocks' Oct. 27 matchup against Tennessee. The junior has decided to forgo his senior season, opting instead for the NFL Draft.
Michigan will be without a few of their own as well. Starting CB J.T. Floyd, punter Will Hagerup and LB Brandin Hawthorne were suspended for the Outback Bowl due to an undisclosed violation of team rules.
What to Watch For:
As an OSU fan, you've got to be conflicted in this one. Root for Michigan? Or cheer for the SEC? It's a lose-lose. With that said, tune in to see how Denard Robinson and Devin Gardner handle the pressure from Clowney. If anything, you'll get to see Robinson's last game for the Maize and Blue before being relegated to the role of a backup special teams player in the NFL!
Capital One Bowl
Who: #7 Georgia vs. # 16 Nebraska
Where: Florida Citrus Bowl, Orlando, FL
When: Jan. 1, 1:00 PM
TV: ABC
#7 University of Georgia (11-2, 7-1 SEC)
Georgia came up roughly five yards short of beating Alabama in the SEC title game this season. The win would have catapulted the Bulldogs into the BCS National Championship. Instead Georgia will have to settle for B1G runner up Nebraska.
Mark Richt's squad plays well on both sides of the ball. Their offense is led by junior QB Aaron Murray and true freshman RB Todd Gurley, who led the SEC in rushing with 1,260 yards and 16 TDs.
On defense the squad takes its cues from AP SEC defensive player of the year LB Jarvis Jones. The junior tallied 77 tackles, 22.5 tackles for a loss and 12.5 sacks on the season.
#16 University of Nebraska (10-3, 7-1 Big Ten)
The Cornhuskers were a hard team to figure out in 2012. Their 10-3 record is impressive, but in two of those losses (at Ohio State and against Wisconsin) they were dusted for 63 and 70 points.
The team has a potent rushing offense led by QB Taylor Martinez and RBs Rex Burkhead and Ameer Abdullah. The three combined for 2,597 total yards on the ground and 22 TDs.
However, containing the run has been an ongoing problem for Nebraska in 2012. In their three losses the Cornhuskers gave up a combined 1,254 yards on the ground.
What to Watch For:
All rushers in this one should look to have big games as each team has exhibited weaknesses in stopping the run. Look for Gurley to have a huge outing and watch for Martinez to try to have similar success against a Bulldog squad that gave up 6.9 yards per carry against Alabama in the SEC title game.
Rose Bowl Game presented by Vizio
Who: Wisconsin vs. #6 Stanford
Where: Rose Bowl, Pasadena, CA
When: Jan. 1, 5:00 PM
TV: ESPN
University of Wisconsin (8-5, 4-4 Big Ten)
Wisconsin stumbled into the B1G title game after both Ohio State and Penn State were ruled ineligible for postseason play. Still, the Badgers made the best of their opportunity by taking care of Bo Pelini's Cornhuskers, 70-31, and earning a trip to their third consecutive Rose Bowl.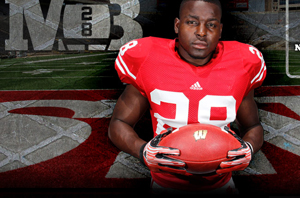 Wisconsin has relied heavily on the services of Montee Ball. The senior RB eclipsed the all-time FBS records for rushing TDs (76) and total TDs (82) in 2012 and will look to put a bow on his historic run at Wisconsin with his first Rose Bowl win in three tries.
#6 Stanford University (11-2, 8-1 Pac-12)
Even without Andrew Luck, the Cardinal looked impressive for most of 2012.  After a surprising loss to Washington following the defeat off #2 USC the week before, the team rallied, going 8-1 for the remainder of the season and beating UCLA in back-to-back games to earn the Pac-12 title.
Instrumental in Stanford's run was senior RB Stepfan Taylor, who racked up 1,442 yards and 12 TDs on 302 carries.
The Cardinal are trying to win their first Rose Bowl since 1972 and are appearing in their third straight BCS bowl.
What to Watch For:
Tune in to see what Ball will be able to do against the nation's third-ranked rushing defense. The Cardinal have barely given up anything on the ground, averaging 87.7 rush yards per game.
Discover Orange Bowl
Who: #15 Northern Illinois vs. #12 Florida State
Where: Sun Life Stadium, Miami, FL
When: Jan. 1, 8:30 PM
TV: ESPN
Northern Illinois University (12-1, 8-0 MAC)
MAC champion Northern Illinois has proved unbeatable since their September 1st season-opening defeat at the hands of Iowa.
The loss must have awoken something in Northern Illinois because the Huskies reeled off 12 straight victories after the defeat, including a double overtime thriller against #17 Kent State in the MAC Championship Game.
The Huskies' Orange Bowl bid was controversial to many, as the selection was the MAC's first BCS bid in history.
But QB Jordan Lynch has done more than enough to get them there. The junior leads the Huskies in passing and rushing yardage, accounting for 4,733 yards (the most in the nation) and 43 TDs.
#12 Florida State University (11-2, 7-1 ACC)
Florida State entered the season with national title aspirations but losses to NC State and then to Florida in the regular season finale put those hopes to bed.
The loss to Florida was clearly a letdown as the Seminoles came out flat against Georgia Tech in the ensuing ACC title game. Despite their heavily favored status, FSU needed an interception in the waning minutes to put the Yellow Jackets on ice.
It remains to be seen if the Seminoles will show up motivated to play in the Orange Bowl. However, if the defense they've been playing for most of the season arrives, the Huskies could be in trouble. Florida State is giving up a measly 15.1 points per game, led by All-American DE Bjoern Werner.
On offense the Seminoles have quite a weapon in senior QB E.J. Manuel, who threw for 3,101 yards, and 22 TDs while rushing for an additional 284 and 3 TDs.
What to Watch For:
A MAC team is in a BCS game for the first time ever. Enough said. Check it out.
Allstate Sugar Bowl
Who: #21 Louisville vs. #3 Florida
Where: Louisiana Superdome, New Orleans, LA
When: Jan. 2, 8:30 PM
TV: ESPN
#21 University of Louisville (10-2, 5-2 Big East)
Louisville posted a 9-0 start to the season before dropping back-to-back games against Syracuse and Connecticut. The Cardinals then needed an incredibly gutsy performance by Big East offensive player of the year Teddy Bridgewater to earn their BCS bid.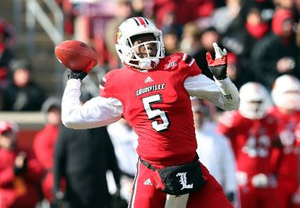 The sophomore QB came off the bench with a broken wrist to go 20-28 for 263 yards and 2 TDs, guiding the Cardinals past Rutgers to win a share of the Big East title.
#3 University of Florida (11-1, 7-1 SEC)
Will Muschamp's Gators were hoping for an outside shot at the BCS title after dropping only one game this season, against #10 Georgia.
The chance to play for the BCS title never came, but in the Sugar Bowl, Florida will look to prove it should be playing in that national championship game.
The Gators are incredibly strong on both sides of the ball, but they're led by their defense. Florida has given up only five passing touchdowns on the year while nabbing 19 interceptions. The unit's 12.9 points allowed per game ranks third in the country.
On offense the Gators will rely heavily on All-SEC running back Mike Gillislee, who tallied 1,104 yards and 10 TDs on the season.
What to Watch For:
It will be interesting to see if the Gators' D can shut down a healthy Bridgewater. The dual-threat QB will give Florida all they can handle, but the Gators have proven they can shut down elite signal callers, holding Heisman Trophy winner Johnny Manziel to a season-low 173 yards through the air in their September meeting.