The 2012-13 season has been an up-and-down affair for Ohio State point guard Aaron Craft. The first three games looked to be a coming out party in terms of scoring, as Craft averaged 17 points. But then he hit a five-game roadblock where the points disappeared amidst horrid shooting percentages.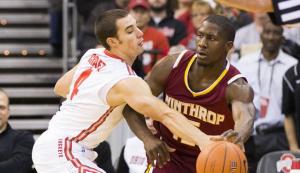 Craft has only scored 14 total points in the past two games, but he's made more than 50 percent of his shots. In five games since Ohio State lost at Duke, Craft is yet to reach double digits scoring. If you think head coach Thad Matta has been discouraged, you're in the wrong neighborhood.
Ohio State needs as many pieces as it can obtain to help complement Deshaun Thomas. But even if Craft isn't scoring points, he's living up to his Big Ten defensive player of the year honor from last season or creating offense by finding the open man.
Winthrop head coach Pat Kelsey was the latest in a long line of opposing coaches who enter Value City Arena trying to figure out a plan of attack on Craft only to leave even more impressed.
"I watched him on tape and he is phenomenal," Kelsey said of Craft. "He is a tiger on the ball. I've never seen a more relentless on-ball defender than Aaron Craft. He sets the tone for their defense. I showed our guys clips of him guarding the ball and he's like piranha smelling blood.
"When that ball is loose, it's an Aaron Craft ball. I've never seen someone dive on the ball like that cat. I would coach a kid like that every day of the week and twice on Sunday. There was a loose ball in front of our bench and he put his teeth on the ball."
It's hard to get a better endorsement than that. Kelsey's admiration of Craft actually began when the former was an assistant at Xavier. During that time, Kelsey watched, by his count, 8,000 All-Ohio Red games.
"He was just always that guy," Kelsey said. "I'm some lowly assistant and he would walk by like, 'Hey, coach, how you doing?' I was like, wow, what an unbelievable kid."
During Craft's month-long doldrums, Matta reiterated that his concerns were nonexistent. 
"I don't know, as a coach, if you ever have more of a secure feeling knowing he's out there and what he's doing," Matta said.
Twenty-six assists, 11 steals and just seven turnovers during arguably the worst six-game stretch of Craft's career paints a portrait of just show how productive he really is.
"He's a totally big difference on the defensive end," Thomas said. "Not seeing him out there, it kind of brings the team down a little bit because of the presence he brings on defense. We know Aaron's not going to score as many points, but the defensive end is a big part and he helps us in that."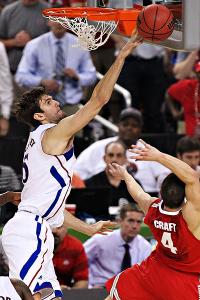 Block Party 
When Ohio State and Kansas played last December, Jeff Withey was still a relative unknown, not yet introduced to the college basketball world. But as a defeated Ohio State team trudged off the court in the Louisiana Superdome four months later, they knew Withey all too well.
That's because in 34 minutes, the seven-foot center tallied eight rebounds, seven blocks and one steal. In other words, he created havoc on the defensive end. In fact, he was so dominant that Evan Ravenel and Amir Williams didn't even attempt a shot. All-American Jared Sullinger didn't fare much better, finishing his final college game 5 of 19 from the field for 13 points.
But for Withey, it was only the beginning. He set an NCAA Tournament record with 31 blocks, and the senior has returned to Lawrence to develop into one of the best defensive players in the country. Unlike Craft, though, who is an on-ball defender that can steal the ball with regularity, Withey is a shot-blocker.
His presence inside has also steered teams away from the paint, settling for jump shots instead. That in turn has led to poorer field goal percentages for Kansas' opponents. The Jayhawks defeated Belmont, 89-60, last week. Belmont was making almost half its shots until it showed up at Allen Fieldhouse. Withey had five blocks and Belmont shot 34 percent from the field.
"It's about as demoralizing a play for the other team," said Self, about Withey's blocks.
It could prove to be a huge problem for Ohio State. Ravenel and Williams faced Kansas twice last season, but neither is close to as imposing as Sullinger was. They're both averaging fewer than seven points per game, and Ravenel, the more physical of the two, is prone to committing fouls when he's frustrated. He's also at a significant height disadvantage.
Withey has recorded at least two blocks in every game this season. But the total is usually far greater than that. In a November game against San Jose State, Withey blocked an astounding 12 shots. He's blocked five or more shots in seven of Kansas' 10 games this season, leading the country in blocks per game with 5.4.
"It brings just as much energy as if someone went up and got a dunk," Kansas guard Travis Releford said "(The crowd is) always going to be excited about it."
Withey has also become an offensive force this season. He's averaging 14 points and eight rebounds per game. His shooting percentage has soared from 53.6 percent a season ago to 59.3 percent this year.
But the other end of the court remains Withey's sanctuary.
"He's been doing it for years now," Releford said. "We're not surprised when he steps up and blocks a shot. We're used to it."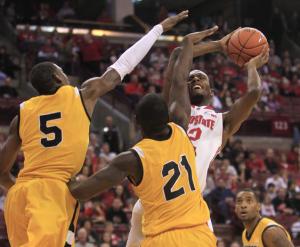 Interchangeable Parts
A big part of what separates the haves from the have-nots in sports is depth. When tiny Winthrop needs a boost off the bench, chances are there isn't a McDonald's All-American coming in. Well, that's exactly what Ohio State has sitting next to Matta.
"They're like Noah's Ark," Kelsey said. "They have two of everything. Aaron Craft goes out of the game and they bring Shannon Scott in. I had to check my laptop when I'm watching tape because it looked like it was on fast speed. He is downhill to the max."
Elite teams are also able to develop talent at a greater rate than mid-majors. And it isn't limited to the offseason. When the season got underway, sophomore forward Sam Thompson was still a raw player. The potential was evident, but Thompson was nothing more than an athletically gifted player whose M.O. was fantastical dunks.
A mere 10 games into the season now, Thompson's offense has already expanded. His point totals in the season's first five games read: 4, 5, 3, 11, 4. In the five since, Thompson is averaging more than 10 points per game on 56.6 percent shooting.
"Any time you can see the ball go through the rim, whether it's a layup, free throw or a mid-range jump shot, it's definitely a big-time confidence boost," Thompson said.
Having multiple players who can produce – or two of everything, as Kelsey said – will be an asset for the Buckeyes as the schedule becomes more challenging. The first test is Saturday.
The question entering the season was who will become the second scoring option. So far, it's been a little bit of everyone. Craft, Thompson, Ravenel, Lenzelle Smith Jr. and LaQuinton Ross have all been resourceful.
But in its only game against top-flight competition this season, Ohio State's offense stumbled at the worst possible time. Holding a second-half lead at Duke, the Buckeyes faltered when Thomas was smothered. Matta chose to keep Ross on the bench and no one else could offer a couple shots here and there to break out of the slump.
Despite losing two starters, Ohio State's offensive components are very familiar to Kansas since the schools have played twice in the past year. Self is also one of the best coaches in the country. Certainly, limiting Thomas' points and touches will be highlighted, bolded and underlined on the scouting report. And the Jayhawks already own a top-10 defense.
"All the small things we didn't do well during the last 10 to 12 minutes of the Duke game, all the small things that have gotten us in trouble at points during the year, we just have to continue to get better at," Thompson said.
"When we have five guys that are looking to score, five guys that are scoring within the offense, it makes it easier for everybody."