Welcome back to the 11W weekly Bowl Rundown. There are six games to cover this week so let's get right to it.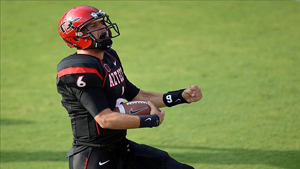 Poinsettia Bowl
Who: Brigham Young vs. San Diego State
Where: Qualcomm Stadium, San Diego, CA
When: 12/20 8 p.m. ET
TV: ESPN
Brigham Young University (7-5)
BYU's record is slightly misleading as four of the Cougars' five losses came down to the wire. In those four games, BYU was defeated by a combined 13 points. For those counting at home that's losing by an average of roughly three points per game.
These aren't cupcakes we're talking about either. The Cougars lost by one to Boise State at Boise and by three to Notre Dame in South Bend.
The strength of this team is its defense, ranked fifth in the country in points against (giving up only 14.7 points per game), third in total yards against at 266.3 and second in the country against the run at 84.3 rushing yards per game.
San Diego State (9-3, 7-1 MWC)
As much as I hate to admit it, Brady Hoke pulled San Diego State from the ashes in 2010, turning a 4-8 team into a 9-4 squad that won the Poinsettia Bowl against Navy.
During Hoke's two-year tenure, current Aztec head coach Rocky Long was his defensive coordinator. Since Hoke's bacon-flavored departure, Long was able to maintain similar success, going 8-5 in 2011 and 9-3 in 2012.
Unfortunately for the Aztecs, only one of those wins can be categorized as "marquee" and that moniker might be pushing it. Their Nov. 3 win against Boise State would look a lot more impressive if 2012 B1G bottom-dweller Michigan State hadn't beaten them earlier in the season.
What to Watch For:
When San Diego State's offense is on the field, the matchup will be strength vs. strength. Aztec sophomore QB Adam Dingwell has been nothing short of superb after an injury to former starter Ryan Katz against Nevada forced Dingwell into the lineup. Over the final five games of the season, the sophomore never lost, completing 66.3 percent of his passes for 767 yards, 8 TDs and only 4 INTs.
Behind Dingwell will be sophomore RB Adam Muema, who spearheads the nation's 15th-ranked rushing attack with 1,355 yards and 16 TDs.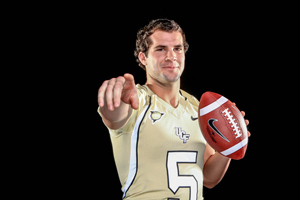 Beef 'O Brady's Bowl
Who: Ball State vs. UCF
Where: Tropicana Field, St. Petersburg, FL
When: 12/21, 7:30 pm ET
TV: ESPN
Ball State (9-3, 6-2 MAC)
Ball State's season got off to a slow start as they split their first six games 3-3. Something must have clicked in week seven as an overtime win against Western Michigan propelled the Cardinals to six straight wins.
The Cardinals'  streak was powered by junior QB Keith Wenning and sophomore RB Jahwan Edwards. The two have combined for 4,199 yards  and 36 TDs. However, Wenning's status for the bowl game is in doubt after he suffered an ankle injury in the team's last regular season game against Ohio. 
University of Central Florida (9-4, 7-1 C-USA)
OSU fans should be familiar with the Knights of Central Florida. In the second game of the Buckeyes' season, QB Blake Bortles threw for 249 yards and 2 TDs (and 3 INTs) against Roby and company. The Knights put together a solid season, losing only two more games for the remainder of the year (Missouri and Tulsa) before a heartbreaking defeat in a rematch with Tulsa for the Conference USA crown. The game was catapulted into overtime after UCF allowed a 54-yard punt return for a TD in the fourth quarter followed by a blocked FG and Tulsa TD.
What to Watch For:
Look for the Knights to come out swinging as they feel they should be playing in the Liberty Bowl. Bortles and RB Latavius Murray (1,035 yards, 14 TDs) will look to take advantage of Ball State's 91st-ranked defense.
Ball State could struggle to score points. As previously mentioned, starting QB Wenning's status is in doubt and his backup Kelly Page was injured against Miami. If neither is able to go, the reins will be handed to freshman third-stringer Kyle Kamman.
New Orleans Bowl
Who: East Carolina vs. Louisiana-Lafayette
Where: Superdome, New Orleans, LA
When: 12/22, noon ET
TV: ESPN
East Carolina University (8-4, 7-1 C-USA)
Pirates QB Shane Carden and WR Justin Hardy are both coming off of record-setting outings after an all-offense-everything 2OT stunner against Marshall. Both players finished the game with school records. Carden passed for 439 yards and 3 TDs, while Hardy caught 16 passes for 171 yards.
The two will take their talents to the Gulf (Beach) to attempt to execute a similar aerial assault against the Ragin' Cajuns. It's hard not to expect a big game from Carden, who passed for over 300 yards in four of the Pirates' last six games.
University of Louisiana-Lafayette (8-4, 6-2 Sun Belt)
Louisiana-Lafayette is a big fan of the New Orleans Bowl. The school made its first-ever bowl appearance last season against San Diego State and came away with a 32-30 win. The Ragin' Cajuns are riding a three-game win streak that could have been four as ULL was incredibly close to pulling off the biggest win in school history against then #6 Florida.
With less than a minute remaining, the Cajuns had the Gators tied, 20-20, and simply needed to punt the ball away to send the game into overtime. Unfortunately for Louisiana-Lafayette, the kick was blocked and returned for a TD with 2 seconds left.
The Cajuns will lean heavily on dual-threat sophomore QB Terrance Broadway (2,526 passing yards, 16 TDs, 661 rushing yards, 8 TDs), who is 258 yards away from breaking the school record for total yards.
What to Watch For:
Offense, offense offense. Both teams have explosive QBs and neither has a defensive presence that can stop them as each squad is giving up over 400 yards per game. Get your popcorn ready.
Las Vegas Bowl
Who: Washington vs. #19 Boise State
Where: Sam Boyd Stadium, Las Vegas, NV
When: 12/22, 3:30 p.m. ET
TV: ESPN
Washington (7-5, 5-4 Pac-12)
Washington's schedule was something akin to a murderers' row in 2012 as the Huskies were tasked with facing #2 Oregon, #3 LSU, #7 Oregon State, #8 Stanford and #11 USC. Of those teams, Washington was only able to best the Beavers, but with four of their five losses against teams in the top 11, it's hard to tell how good they really are.
#19 Boise State (10-2, 7-1 MWC)
Boise State began their season with a heavy dose of Michigan State's Le'Veon Bell en route to a 17-13 loss. The Broncos' only other defeat came against San Diego State. The 10-win season looks great on paper, but a number of those wins came against incredibly soft competition.
Still, Boise's rushing game was impressive as RB D.J. Harper racked up 1,065 yards and 15 TDs, good enough for third in the Mountain West Conference.
The Broncos' D was also more than formidable, giving up only 14.9 points per game (6th overall in the nation). Again, it's hard to say how impressive those numbers are against the Wyomings and New Mexicos of the world, but you can only play the teams on your schedule.
What to Watch For:
Look for Boise State's Harper to continue to find paydirt against the Huskies' 66th-ranked rushing defense.
With that said, Washington has some firepower of their own in QB Keith Price and DE Josh Shirley, who came on strong in the tail end of the season. In the last four games, Price averaged nearly 240 yards through the air and tallied 11 TDs. In the final three games, Shirley racked up four sacks, boosting his total to 6.5. Both players should be eager to continue that success against a largely unproven Broncos team.
Hawaii Bowl
Who: Fresno State vs. Southern Methodist
Where: Aloha Stadium, Honolulu, HI
When: 12/24 8 p.m. ET
TV: ESPN
Fresno State (9-3, 7-1 MWC)
A new coach and conference look pretty good on the Bulldogs as the former WAC squad entered the Mountain West with a bang, earning a share of the title in just their first season. A large part of that success has been because of first-year coach Tim DeRuyter, who brought a winning mentality to a team that went 4-9 just a year ago.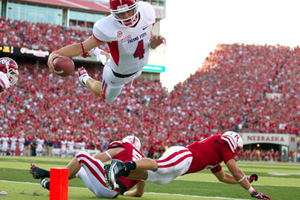 It doesn't hurt that the Bulldogs have the Mountain West offensive and defensive players of the year in QB Derek Carr and Safety Phillip Thomas.
Carr, the brother of NY Giants QB David Carr, threw for 3,742 yards and 36 TDs against just five interceptions, posting a blistering 68.1 completion percentage. Thomas led the nation with eight interceptions and was a finalist for the Jim Thorpe Award, which recognizes the nation's best defensive back.
Southern Methodist University (6-6, 5-3 C-USA)
Fun fact: the last bowl game SMU QB Garrett Gilbert appeared in was the 2010 BCS National Championship Game. The Texas transfer was thrust onto the big stage as a freshman after starter Colt McCoy was injured against Alabama.
The Mustangs will rely heavily on Gilbert's arm and legs as the dual-threat QB was able to find the end zone 7 times on the ground over the course of the season.
What to Watch For:
Bulldog QB Carr will look to shred the Mustangs' 100th-ranked pass defense. His main target will be freshman WR Davante Adams. The 6-2/200 Adams racked up 89 receptions for 1,168 yards and 13 TDs on the season. His 97.3 yards per game was good enough for 14th in the nation.
Little Caesars Bowl
Who: Western Kentucky vs. Central Michigan
Where: Ford Field, Detroit, MI
When: 12/26 7:30 pm ET
TV: ESPN
Western Kentucky University (7-5, 4-4 Sun Belt)
Much has transpired since the Western Kentucky Hilltoppers last took the field. On Dec. 8, head coach Willie Taggart announced he would leave the program to take the reins at South Florida. The loss of Taggart was large as the former Hilltopper QB rescued the program from a 20-game losing streak, guiding WKU to two consecutive 7-5 seasons and their first bowl game in school history.
Taking his place is controversial hire Bobby Petrino, who was axed by Arkansas after an infamous scandal involving a motorcycle crash and a mistress. Petrino won't take over until after the bowl game so defensive coordinator Lance Guidry will act as interim head coach.
Central Michigan (6-6, 4-4 MAC)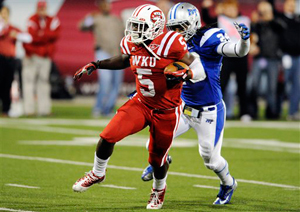 The Chippewas looked like anything but a bowl-eligible team after a 3-6 start to the season. However, a three-game win streak to round out the year got them the six wins they needed to go bowling.
In those last three contests, Central Michigan looked much improved, particularly on defense, as the Chippewas gave up only 22.6 points per game compared with nearly 40 in the first nine outings.
What to Watch For:
Hilltopper RB Antonio Andrews will try to make history as the junior needs only 274 more yards to clinch the single-season NCAA record for all-purpose yards. A big game would help him pass the current record-holder, Barry Sanders, who racked up 3,250 yards during his 1988 Heisman campaign.