Basketball stat guru Ken Pomeroy pegged Winthrop's chances at upsetting Ohio State at a mere one percent. The Buckeyes were favored by 27.5 points over the 4-4 Eagles, who have only defeated one Division I team. So when Ohio State got out to an early 9-2 lead, the 13,707 in attendance figured the result would be similar to the previous six games this season – never in doubt.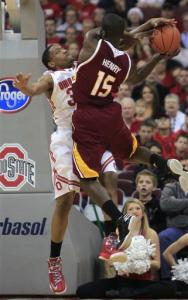 But Winthrop, which already ended one long win streak in the state of Ohio this season, led the game more than five minutes into the second half. That was reason enough for Thad Matta's blood pressure to rise.
Ohio State quickly restored order, though, going on a 27-10 run and holding off Winthrop to win, 65-55. The Buckeyes held the Eagles scoreless for six-plus minutes during the decisive run. That doomed any hope Winthrop had of ending Ohio State's 38-game non-conference home win streak.
"It was the defense, no question," Matta said, regarding what sparked the Buckeyes. "But we made some shots as well. Some of the shots in the first half didn't go down. That kind of knocked the wind out of us. You have to learn to play through that. The defense won the game."
On Saturday, Winthrop won at Ohio University to put a halt to the Bobcats' 16-game home win streak. One of the ingredients in that win was winning the turnover battle. Tuesday night was vastly different.
Ohio State entered the game fourth in the nation in creating turnovers and seventh in turnover margin. The Buckeyes scored 17 points off 14 Winthrop turnovers and turned it over a season-low five times.
Deshaun Thomas made his first two shots of the night before missing the next nine over the first and second halves. But when Ohio State faced a second-half deficit, Thomas came through with five consecutive baskets, including back-to-back three-pointers to put Ohio State in front, 47-41, prompting a Winthrop timeout.
"Good Lord," Winthrop head coach Pat Kelsey said, "Deshaun Thomas starting being Deshaun Thomas.
"He's one of the most complete all-around players in the United States of America. He plays inside, he plays out, he handles the ball, he can score off screens."
Thomas ended the night with a game-high 21 points, nine rebounds and a career-high four assists. Lenzelle Smith Jr. had 14 points and Aaron Craft tallied eight points, five rebounds, five assists and three steals, including two during the Buckeyes' second-half run.
"I wasn't ready mentally, and I knew my shots were not going in," Thomas said. "Aaron Craft gave me a good handoff and I made the shot. We have to make sure we are ready, especially when your time comes."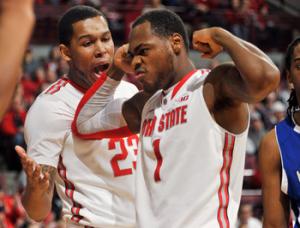 Winthrop was aware that winning the game would have to come from holding Ohio State down, not getting in a floor battle and trying to outscore the home team. The Eagles held Ohio star DJ Cooper to 3 of 12 shooting Saturday, while the Bobcats shot 36 percent as a team and only 27 percent in the second half.
That plan took hold again in the first half Tuesday. Ohio State converted on less than 35 percent of its field goal attempts. The Buckeyes' first-half performance was arguably their worst half of basketball since the second half in last season's Final Four loss to Kansas.
In fact, that loss, combined with the Buckeyes' regular-season loss at Allen Fieldhouse last season may have contributed to Tuesday night's lackluster effort. Thomas even admitted after the game that the team was looking ahead to Saturday's showdown with No. 9 Kansas at Value City Arena.
"It's unfortunate if that was the case," Matta said. "I think the one thing you have to get your kids to understand is that you only get about 32 guaranteed games. The guys have to understand that you always have to get better. I don't think this team is as good as it is going to be. You have to change the mindset of your team and come every day to practice and work."
Winthrop ran an offense similar to that of Savannah State. But unlike Savannah State, Winthrop was able to establish the tempo and dictate how Ohio State played. Despite a huge height disadvantage, Winthrop outrebounded Ohio State, 38-36.
"I told our guys for us to be a good team our game has to be muddy," Kelsey said. "It is sure as heck not a work of art. Coach Skip Prosser used to say, 'Watching our team play, Jimmy Naismith would be rolling around in his grave.' It is like a tractor pull sometimes. That is who we have to be."
After leading 9-2 early, Ohio State fell behind, 14-12, and couldn't pull away from the Eagles until midway through the second half. The first half included a four-minute stretch when the Buckeyes missed eight consecutive shots.
Ohio State led, 31-30, at halftime.
"If we need a wake up call for our upcoming game this weekend then we shouldn't be playing at all," Craft said. "Every team we play we take it one game at a time. If we are not sure we are ready to play Kansas with what is at stake then we need to reevaluate ourselves as a team."