Johnathan Hankins wasn't always the flashiest player on Ohio State's defense and he certainly didn't put up the gaudiest stats, but the man known to Buckeye Nation as "Big Hank" may have been the most valuable player on the unit the last two seasons.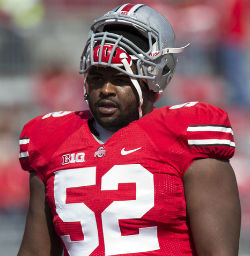 At 6-3/322, Hankins played a unique role for the Silver Bullets. While he did rack up 138 total tackles (21 for loss), 5 sacks, and a fumble recovery during his three year career in Columbus, the Michigan native's goal wasn't necessarily to put up big numbers at his nose tackle position, but rather fill gaps made by opposing offensive linemen, while occupying two blockers at a time in order to free up linebackers to make plays.
The average fan wouldn't understand the impact Hankins had on Ohio State games during his time in the Horseshoe, but NFL Scouts certainly do. Big Hank, who declared for the draft just a week ago, is projected to go in the top 5 by ESPN's draft expert, Todd McShay, as well as many other services who are in the business of predicting what will happen come April.
The high draft stock and millions of dollars that come with that tag is why it made it so easy for the All-American to forego his senior season at OSU, but his presence on the defensive line and impact on opponents' game plans are what makes it so important for Ohio State to find a viable replacement for him by the start of the 2013 campaign.
Noah Spence and Adolphus Washington seem to have the defensive end spots on lockdown, but it will be up to Mike Vrabel, Luke Fickell, and of course, Urban Meyer, to figure out who they can make the new man in the middle to fill the void left by Big Hank.
Michael Bennett
Michael Bennett is the top choice to fill a big role in the middle of the defensive line, as he has seen extensive playing time on the unit. The problem with automatically slotting him in as playmaker is that most of his time has been spent at strongside defensive end, not defensive tackle.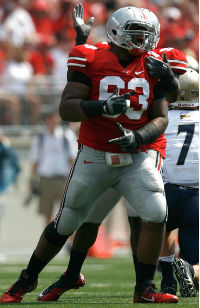 A current sophomore, Bennett battled injury throughout his second year on the roster, but still was able to be productive during OSU's undefeated 2012 season. In eight games as a reserve, he had 11 tackles (1 for loss), a sack, a forced fumble, a fumble recovery, and a pass deflection.
That followed a freshman campaign where he played in all of the team's 13 games, tallying 17 tackles (5 for loss) and 3 sacks, at times playing on the inside and showing the ability to be able to do so more frequently at some point in his Ohio State career.
With Adolphus Washington stepping up at the end of the season at weakside end, it appears inevitable that Bennett will move to one of the inside spots left open by Hankins and Garrett Goebel, but will he be able to step up to the task?
At 6-3/285, the staff if certainly going to want him to put on "good weight" while maintaining his speed, and if he can do that, he can be a force in both stopping the run and rushing the passers, possibly even giving Vrabel a more versatile player than either of his predecessors were.
Tommy Schutt
A one time commit to Penn State, the Buckeyes are all smiles that Tommy Schutt fell into their lap around this time last year.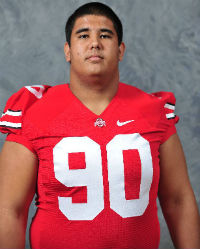 The 6-2/295 Schutt came in as a true freshman and had an immediate impact on the defense, finding a spot in the rotation from the get-go.
Schutt played in 10 games this past season, backing up Hankins and Goebel. While he totaled just 4 tackles and a quarterback hit in the box score, like Big Hank he was a noticeable force in driving the play where the OSU defense wanted it to go, as well as eating up multiple blockers to free up his teammates to make plays.
With his frame already what it is, Schutt may be the more natural fit to slide into Hankins' role as space eater, while Bennett takes on Goebel's role for the Silver Bullets. He too is expected to put on "good weight" this offseason and Mickey Marotti's training program will only make him stronger overall and quicker at the point of attack.
Joel Hale
Joel Hale is heading into his third season with Ohio State and it will be interesting to see where his career heads during his junior campaign.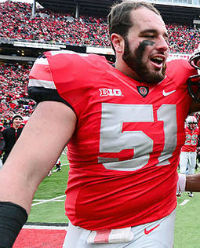 As a freshman recruited by Jim Tressel and playing for Luke Fickell, Hale played in 9 games and had 4 tackles, but showed the ability to beat linemen at the line of scrimmage and make plays in the backfield.
Coming into his sophomore season there were rumblings that Ed Warinner wanted the former high school two-way star to move to offensive guard, but Hale was left on defense and gathered 6 tackles and a quarterback hit in just 7 games, as he was banged up a bit earlier in the year.
There were certainly some signs of growth in year two for the Indiana native, but not enough to show that he will be a go-to guy for the staff in filling one of the open starter spots. It appears he will definitely be in the two-deep and his experience should get him on the field enough, but it will take a big offseason for him to surpass both Bennett and Schutt to become a starter.
Don't look for Hale to transfer or anything of the sort, but if things don't work out for him again this year at defensive tackle (and especially if he's surpassed by younger players), I wouldn't be surprised to see Warinner's lobbying win out, much like it did with Chase Farris last season. 
Chris Carter
Chris Carter was one of the more intriguing stories of last offseason. Extremely overweight and with a reputation of having a bad work ethic, it was thought Urban Meyer and Mickey Marotti's rigorous offseason workouts would drive him away, but instead, Carter bought in and started to get into shape.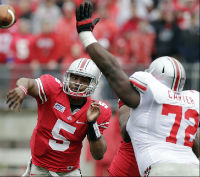 By the time spring ball rolled around, Carter had been flipped over from the offensive line to the defensive line, and after an impressive showing in the spring game, left many fans thinking that at 6-4/340 he could be the heir to Hankins' nose tackle spot.
After seeing very minimal garbage time this past season, there are once again rumblings that Carter has gone back to his old work habits and could be on the transfer train out of Columbus. 
Nothing has been confirmed on that front just yet, but we also have not heard anything positive when it comes to Carter seeing the field this upcoming season. I'm not exactly sure what is going on with the former Cleveland JFK star, but what I do know is that the odds are highly stacked against him seeing any sort of playing time in 2013 at the moment.
Michael Hill
Urban Meyer brought in a tremendous recruiting haul on the defensive line in 2012  and is following that up with another great group, including the 6-2/315 Michael Hill of Pendleton High School in South Carolina.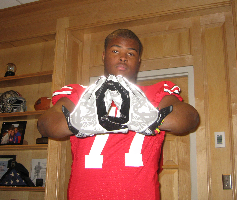 Hill is the type of lineman you usually see in the SEC and has tremendous speed, quickness, and athleticism for his gigantic size. Once he gets to Ohio State in June he is only expected to get bigger and stronger, and you can bet that his agility will get a boost as well.
Hill had a hand injury this year that shortened his senior season, but he is expected to be just fine when he arrives in Columbus this June. While the four-star prospect is talented and certainly can earn a spot in the rotation right off the bat, it is extremely hard for a true freshman to make a heavy impact at the Division I BCS level, let alone earn a starting spot.
Youth and inexperience are the big knocks on Hill at this point, but if he is talented enough by the time fall camp rolls along next August, you know Meyer and Vrabel will have no qualms putting him on the field.
The Others
While the players listed above are certainly ones that first come to mind when discussing filling Big Hank's shoes, the defensive line is deep and there are a number of players that could emerge when Buffalo comes to town on August 31.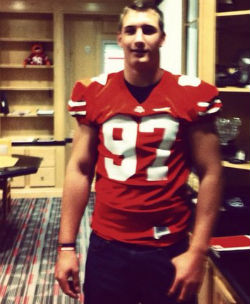 On the current roster, the one player that could very well step up at defensive tackle is a member of the 2012 recruiting class and former Canton McKinley star, Se'Von Pittman.
Pittman enrolled at OSU early last year and got to go through workouts and spring ball with the team. He did have an injury that ended up shutting him down midway through the spring, but early reports were that the coaches were very impressed with his talent and it was expected he would see the field this fall.
Of course, fall camp rolled around and Pittman appeared to be lost learning the mental part of the game. Because of that he never sniffed the turf at Ohio Stadium and took a redshirt this season, which was disappointing given the expectations around him, but could be viewed as a positive now that he has four years remaining.
At 6-3/268, expect Pittman to continue to fill out his frame, and with a solid offseason you certainly could see him on the field, even in a reserve role this coming fall.
Outside of Pittman, the other members of the 2013 defensive line class could all be in play to see minutes on the inside next season. They are Joey Bosa, Donovan Munger, Billy Price, and Tracy Sprinkle.
Bosa is likely going to end up at strongside end, backing up Washington, during his first season in Columbus, but he is certainly talented enough and ready to see the field. I don't think he'll earn a starting job, barring injury, but I do think in certain situations either he or Adolphus could move inside to get both on the field.
Munger is a bit raw and has a lot to learn, so I don't think he is a realistic candidate to get serious minutes, but he does have tremendous size and plays with great physicality. My prediction is that Munger redshirts in 2013, but down the road he could be a force at either defensive tackle or offensive guard.
Price is a player that reminds many of John Simon, but I also think he could be headed for a redshirt as the staff decides what to do with him. The Austintown Fitch product is being recruited at defensive tackle, but at 6-4/305 is also an outstanding offensive lineman and could be an elite guard at the college level. I do think either Price or Munger moves to offensive line eventually, but Price is more fundamentally sound right now as compared to Munger, so if defense is where they want him he could work his way into the rotation.
Finally, Sprinkle had an outstanding senior season for Elyria with 81 tackles, 8 sacks, and 5 fumble recoveries, earning the honor as Division I co-Defensive Player of the Year (with Price and Moeller's Shane Jones) in Ohio. At 6-5/260, Sprinkle is likely to start at defensive end in Columbus, but he has the frame to fill out and eventually move inside to tackle. He may end up being the steal of this recruiting class, but like Price and Munger, I wouldn't be surprised to see him take a year and redshirt to add weight and separate himself from some of the depth along the unit.