Although exam week limited nearly every team's schedule, the week was a super eventful one.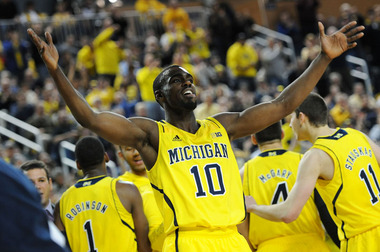 There is a new number one in the rankings as Indiana drops a neutral site game to Butler in an overtime thriller in Indy.
Michigan continues to roll and Ohio State may have realized that they have more depth than they thought.
The Big Ten continues to have a strong showing with several teams in the top 10.
1. Michigan (11-0)
Trey Burke and the crew continue to roll as the season inches towards the heart and soul of the Wolverines' schedule, which is the Big Ten season.
Michigan may not have played the toughest of out-of-conference schedules to date — boasting wins over mediocre Pitt, K-State, NC State and Arkansas — but the team has been impressive.
This past week, the Wolverines wheeled off a blowout win over Binghamton, 67-39, and a comfortable win over Huggins' West Virginia squad (4-5).
2. Ohio state (8-1)
The Buckeyes are up to number two in this week's power rankings for a few reasons:
1. Ohio State is beginning to mesh well as a team. Underclassmen such as LaQuinton Ross, Sam Thompson and Shannon Scott have gained confidence, leading to tremendous improvement in the Buckeyes' overall play. Thompson has been a regular on SportsCenter's Top 10, Ross has been playing confident basketball, and Shannon Scott has been running the team efficiently from point. 
2. Deshaun Thomas has been consistent. There was a bit of concern going into the year that Thomas may have some trouble scoring in bunches on a consistent basis. Not only is Thomas averaging 20.3 points per game, but he's leading the team in rebounds with 6.7. The team will continue to rely on his consistency to score at will to win.
This last week, the Buckeyes had an easy time with Savannah State, winning by 40, and beat a scrappy UNC Asheville team behind career days from Thompson, Scott and Ravenel.
Big showdown with Kansas in Columbus looms this coming Saturday.
3. INDIANA (9-1)
Indiana, the top-ranked team both in the conference and country lost their sole game of the week to Butler in Indianapolis.
Indiana's 88-86 OT loss to Butler was one of, if not the top games of the season to this point.
A few key takeaways from the game about the Hoosiers:
Victor Oladipo is really freaking good. He is definitely Indiana's best player and could be making a case to leave a year early for the pros.
Don't get me wrong: Cody Zeller is a very good player, but National Player of the Year quality? I don't think so. Zeller will continue to score his points and grab his rebounds (15.7 ppg, 8.5 rpg), but he is nowhere near the difference maker of every POY in years past. Remember Anthony Davis (2012), Evan Turner (2010), Kevin Durant (2007) or Kenyon Martin (2000)? Or take a look at anyone from this list. Every single one of those guys could not be stopped in college and could carry his team on his back. Zeller continues to get tossed around by smaller guys and has trouble taking over games when needed.
Jordan Hulls has improved his offense for this season, but continues to be a defensive liability. Butler sent their walk-on guard to take their final shot in overtime against Hulls, who was no match defensively.
Indiana is beatable (obviously). They could still very well be the best team in the conference or nation. This loss knocks them from the top spot, but they're talented enough to stay towards the top all season.
4. Illinois (12-0)
The Illini continue to roll and have kept their record spotless to this point. Brandon Paul continues to kill it and is averaging a cool 19 points per game. 
Illinois was able to easily take down Eastern Kentucky this past weekend, 66-53.
Illinois plays out-of-conference rival #12 Missouri on the road, which could tell the tale of how good the Illini actually are.
5. Michigan State (9-2)
State had a very easy week, like most of their conference brethren. Exam week limited the amount of time Sparty was on the court.
In MSU's one game against Tuskegee, the Spartans were able to light up the scoreboard, winning, 92-56, in a laugher.
6. Minnesota (11-1)
No. 13 Minnesota has climbed the rankings this week, higher than they've been since Tubby Smith took over as head coach at the program.
But, like everyone else, exam week limited their schedule.
In their one outing, the Gophers beat North Dakota State, 70-57.
7. Iowa (9-2)
In Iowa's one game, they defeated Northern Iowa in a close game, 80-73.
Iowa will be a contender in the Big Ten this season. Here's why:
Sophomore forward Aaron White has become a household name in the conference, averaging 14 points and seven boards per game.
Freshman (former Buckeye target) Adam Woodbury has made a difference down low. Woodbury is pulling down five boards per game.
Roy Marble proved that he is a consistent scorer (15 ppg).
Take a look at the bullets above. Iowa is a well-rounded team and has the tools to cause mismatches with any team in this conference.
8. Northwestern (7-3)
Northwestern takes finals seriously. The 'Cats were off for the entire week and haven't seen the court since their loss last week to Butler.
But the hits continued to come for Northwestern, who lost senior Drew Crawford for the rest of the season.
9. Wisconsin (7-4)
I am honestly a bit surprised Wisconsin has a winning record to this point.
A perennially consistent program, Wisconsin has struggled to play up to Bo Ryan's standard. You'd think they'd have at least one marquee victory over an opponent with clearly way more talent than them at this point.
Instead, they've struggled to handily beat a team like Green Bay, though the Badgers managed to win, 65-54.
Yet, I'm also somewhat confident that Wisconsin will peak sometime in February to finish in the top 5 of the conference and land as an 8 seed or higher for the NCAA Tournament.
10. Nebraska (6-3)
Man, the top of the conference is so strong and the bottom is so embarrassing once you hit 10.
Nebraska did not even compete with Oregon, getting blown out, 60-38.
C'mon Nebraska, please win your three cupcakes remaining on your schedule until you begin your conference slate at Ohio State on Jan. 2.
11. Purdue (4-6)
What a bad week for Big Ten teams from the state of Indiana.
First, IU lost to Butler. Second, Purdue fell to Notre Dame, 81-68. So it was a decent week for major Indiana basketball programs not in the Big Ten.
Purdue continues their struggles and it only gets worse come January and the conference slate. The Boilermakers play Illinois, Michigan State and Ohio State in a row to start.
12. Penn State (6-4)
I was kind of tempted to move PSU ahead of Purdue on this list, but remembered that it's PSU basketball we're dealing with here. After all, this team lost to LaSalle, a yearly doormat for the Atlantic 10. 
This last week, PSU was taken to overtime by Delaware State but pulled out the victory, 80-76.
New Friends:
Maryland (9-1)
In Maryland's one game this week, they easily knocked off Monmouth (NJ), 71-38, to improve to 9-1. Their sole loss came in game one against UK.
Rutgers (7-2)