To better prepare for its new up-tempo offense, Ohio State has been using a 22-second shot clock in practice. During Saturday's 90-point effort against UNC Asheville, not even a 10-second shot clock would have slowed the Buckeyes down.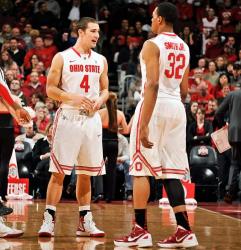 Ohio State shot 59 percent from the field and enjoyed contributions from nearly its entire roster in the 90-72 win. Four players scored in double figures with Sam Thompson finishing with a career-high 18 points while providing fans with several SportsCenter worthy dunks.
"We wanted to score in transition more to have a greater push in the game," Ohio State head coach Thad Matta said. "I think the spacing is getting better with our team, and we're getting the ball to the open man a lot better."
Deshaun Thomas finished with 17 points and 10 rebounds, Lenzelle Smith Jr. 16 points and Evan Ravenel tied a career high with 12 points, all in the first half. Ravenel connected on six of his seven field goal attempts, continuing a recent hot streak after a lackluster start to the season.
The highlight of the day came late in the second half when Thompson rose up for a windmill dunk and completed the task with authority. The 15,041 fans in Value City Arena roared with approval.
"I didn't have the space to get the ball all around, but Deshaun made a great pass," Thompson said. "It helped me to get the crowd into the game and our guys fired up."
Asheville played into the Buckeyes' hands by attempting to go along with the fast-paced game speed. While guard Keith Hornsby filled up the rim – 26 points on 9 of 12 shooting from the field and 6 of 8 from three-point range – the rest of the team only made 16 field goals. That allowed Ohio State to use its athleticism and ball movement to get up and down the court, which created easy scoring opportunities.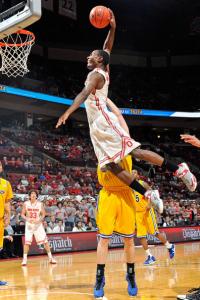 "We didn't get back on defense all night long, and we didn't penetrate," UNC Asheville head coach Eddie Biedenbach said. "We didn't play defense like we can. I know Ohio State is really good, but they shouldn't have been able to do that against us. I was disappointed with the way we played overall."
The Buckeyes scored 26 fast break points and assisted on 25 of 36 field goals.
Ohio State led, 50-35, at halftime and already had three players in double figures. Any semblance of a comeback in the second half evaporated for the Bulldogs after the Buckeyes used a 15-3 run to extend their lead to 27 points.
Despite the large deficit, Asheville shot 52 percent from the field in the first half. But a 34-percent effort in the second half doomed them.
The play of Ohio State's bench has been a recurring story this season. In the three games prior to Saturday, they scored at least 32 points. That number fell to 21 against Asheville, but it continues to be a bright spot for Matta.
"I hope that we've got three or four guys coming off the bench that can make an impact somehow, some way (all season)," Matta said.
Another trend is Shannon Scott's all-around game. His assist-to-turnover ratio is reaching epic proportions. He had nine assists and one turnover Saturday and complemented it with seven points and six steals.
Meanwhile, fellow point guard Aaron Craft got his shot making back on track after a horrific five-game stretch. He converted on three of four shot attempts and finished with six points.
"I think Ohio State is one of the top six teams in the country," Biedenbach said. "Talent-wise I think they can get all the way to No. 1."