In present-day college basketball, one-and-done players have become the norm. No school or coach has displayed this better than the Kentucky Wildcats and John Calipari. Since arriving in Lexington four years ago, Calipari's 'Cats have lost a grand total of 17 games, appeared in two Final Fours and won a national championship.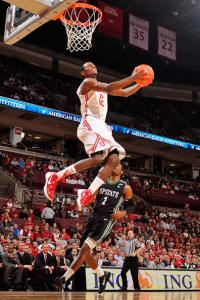 In the young 2012-13 season, Ohio State head coach Thad Matta has used a different formula. The seventh-ranked Buckeyes have leaned on a quintet of sophomores to help engineer a 7-1 start. Surprisingly, neither factored very significantly in Ohio State's Final Four run a year ago.
But one year later, Sam Thompson, Shannon Scott, LaQuinton Ross, Amir Williams and Trey McDonald are regular characters in the Buckeyes' exploits. They're averaging a combined 30 points and 17 rebounds per game. Ironically, that's nearly the same amount of points and rebounds that disappeared with Jared Sullinger and William Buford's exit.
Thompson, the lone starter of the group, worked over the summer to reinvent a jump shot that disappeared during his freshman season. He arrived at Ohio State as a prized recruit, but he only played 10.6 minutes per game. Even worse, he made one of his 15 three-point attempts on the season.
It hasn't gotten a whole lot better this year. Through eight games, Thompson has made 25 percent of his 3s, but his field goal percentage is hovering around 50 percent.
"Teams didn't really guard me (last season)," he said. "They didn't have to guard me. I think I was a very good role guy, but I wasn't scoring much."
As has been the case with his fellow classmates, Thompson's role is much greater this season than just being a role player. He's providing Ohio State with 7.4 points, 4.9 rebounds, 1.5 assists and one block per game. For less than 24 minutes a night, that's a bargain.
"The biggest growth I've had is the mental aspect and the preparation necessary to succeed at the college level," Thompson said. "But this year my jump shot is the greatest improvement I've had."
What Thompson is best known for is a plethora of dunks that seem to prove gravity on Earth doesn't exist. It's a nightly experience in Value City Arena, and sometimes fans get an encore. Thompson's defensive prowess also has won him admiration from the coaches. His athletic 6-foot-7 frame allows him to guard almost anyone on the court.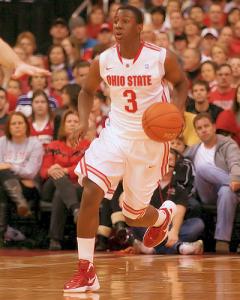 "Sam has a much better feel and understanding for the college game and the way we do things," Matta said. "He's the ultimate team guy."
The entire roster features unselfish players. But few would argue that Scott is at or near the top of that list. He, too, came to Ohio State as a can't-miss-prospect. The son of a former college and NBA star, Scott has been in father Charlie's shadow his entire career.
Instead of attending North Carolina, the same school as his father, Shannon ventured north to Ohio State. The goal was to make a name for himself, and he's certainly doing that this season.
Scott has 36 assists and eight turnovers so far. The addition of 17 steals makes his production level all the better. And there hasn't even been any mention of his seven points and two rebounds per game yet. It leads one to wonder why the backup point guard couldn't reach this oasis last year.
"I was probably thinking about not turning the ball over too much," Scott said. "I was trying to make sure every pass was perfect."
Scott has cleared his mind this season, and nearly every pass has been perfect. Ross has benefitted with being in the same rotation as Scott. Ross is already athletically gifted and the owner of a sweet shooting stroke, but it helps when a point guard gets you the ball in high-percentage situations.
In 20 minutes per game, Ross is averaging just under 11 points per game. That number is on the rise, though, as Ross has been on a three-game tear, scoring 17 per outing.
Even better is Ross' improved defense and offensive fundamentals – rebounding, passing, patience, etc.
"I think the big thing with LaQuinton is continuing to focus on all the little aspects of the game," Matta said. "He's really dialed in and tuned in to everything. To get him playing his best basketball is obviously good for our team
"I think he's getting better at that in terms of just a mental toughness."
He's also displayed an attitude that's infectious. Instead of carrying a scowl when he sat for long stretches of the Duke game, Ross encouraged his teammates and never showed a hint of disappointment.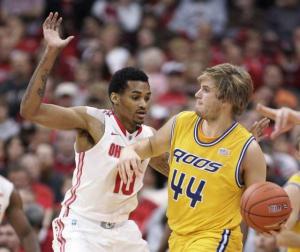 In Wednesday's win over Savannah State, Ross had zero points in the first half. He kept his head in the game and scored 13 in the second half. That was off a Saturday performance versus Long Beach State where his three-point shot wasn't falling, so Ross took the ball to the basket.
"Coming off the bench is always hard, but you've got to get into the game quick because you have to produce," Ross said. "Even if you're not making shots at the offensive end, you got to play defense at the other end."
During Sullinger's December back injury a year ago, Williams, along with Evan Ravenel, helped fill in. The then-freshman was still a raw talent and scrawny for a center.
In a way, Williams was thrown to the wolves at Kansas. The first significant playing time of his career came on the road against a Final Four team with a national player of the year candidate. Welcome to college basketball.
Williams held his own, though, for 15 minutes. His two-point, three-rebound stat line may have told a different story, but the experience took away his freshman classification. In March, that would become more evident.
Elite Eight. Boston Garden. Sullinger and Ravenel pick up two first-half fouls. There was no other way for Matta to go, Williams had to enter the game. He had barely played in Ohio State's NCAA Tournament run, but there he was in its biggest game of the season.
All Williams did was excel. He finished with four rebounds and two blocks in nine minutes, helping Ohio State build a 10-point first-half lead en route to another Final Four. That shot of confidence has carried over into this season.
The 6-foot-11 Williams is giving the Buckeyes 4.1 points, 3.4 rebounds and a blocked shot per game. The biggest flaw has been a lack of consistency.
"Coach talked about me being more aggressive offensively and defensively and just attacking the offensive glass," Williams said.
He's been in position for rebounds and easy buckets, but for one reason or another, the ball seems to slip through Williams' grasp all too often. When he does hold on to it at the offensive end, Williams has been uncanny at reaching the free-throw line.
He's shot more free throws than anyone else on the team, yet he's only averaging 15.4 minutes per game. Even more surprising is the rate the ball has gone in the hoop. Williams made a whopping 36 percent of his free throws last season. That number actually fell to 18 percent in Ohio State's first four games this season.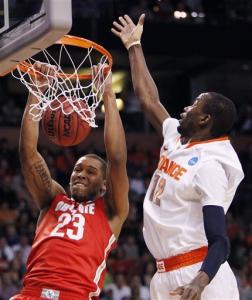 But a switch went off at, of all places, Duke, and Williams has been nearly automatic ever since. In the past four games, he has made 72 percent of his attempts from the charity stripe. That's boosted his season average above 50 percent.
"He made 42 in a row in practice," Matta said last week.
It's an asset that could come in handy in the Big Ten.
There was a member of Ohio State's 2011 recruiting class that wasn't considered a Big Ten talent. Many believed that to be the truth when he played sparingly his freshman season. But in Year 2, McDonald has shown he is one of the most improved Buckeyes on the roster.
He didn't learn anything overnight. Instead, he spent an entire summer crafting various aspects of his game. When he returned to the gym for practice in October, McDonald's game was almost unrecognizable – for the better.
"I've watched the evolution of Trey and the progress he's made since he got here," Matta said. "There's no doubt in my mind his best basketball is right around the corner."
Nine minutes of playing time per game might not seem like much, but when you consider McDonald only appeared in 13 games last season, nine minutes each night seems like an eternity.
Still raw, McDonald is only averaging 1.3 points and 1.5 rebounds per game, but the experience has sped up his progress quicker than expected. Matta has even considered using a three-man rotation at center.
"Trey is very athletic," he said. "He's very strong. He's one of the strongest guys we have on the team."
Combined, Ohio State's new "Super Sophs" have kept the program elevated. Forty-four years ago, a group of unheralded sophomore football players led Ohio State to a national championship in one of the greatest seasons involving any sport at the university. Eight years prior to their run, Ohio State won its only basketball title with a group of sophomores forming the nucleus.
Realistic or not, the expectation for this season is to win the program's second national championship. At the heart of that is a group of five sophomores. The title may not arrive this season, but the yellow brick road has been discovered.
"There's a natural progression from their freshman season," Matta said. "I like to see supernatural progression."