New Jersey hasn't traditionally been much of a hot bed for Ohio State recruiting, but under Urban Meyer the Buckeyes leave no stone unturned.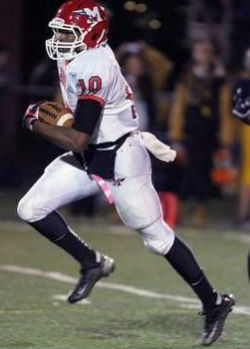 Fans have seen the Bucks look to the Garden State in the past few years for a number of prospects, including DL Garrett Sickels (Penn State), DE/LB Alquadin Muhammad, OL Quenton Nelson, DB Jabrill Peppers, RB Jonathan Hilliman, and others.
A new name to that list is 2014 Manalapan WR Saeed Blacknall. Blacknall, 6-3/195, and the Braves made it to the state championship this year, falling to South Brunswick last weekend, but in the process of their run, the speedster (mid 4.4s in the 40-yard dash) has made quite the name for himself.
Word of his excellent season traveled to Columbus, and while Urban Meyer was in New Jersey the last few days to check on some prospects, he stopped into Manalapan to check on Blacknall and chat with Braves' coach Ed Gurrieri about his talented junior receiver.
We caught up with Saeed to hear how Meyer's visit to the school went, what is going on with his recruitment, what his plans are for making a college decision, and more. Join us after the jump to hear more from one of the faster rising junior receivers in the country, Saeed Blacknall.
Your team had an excellent season that unfortunately ended last weekend with a loss in the state championship. Can you talk about your junior season and the experience of going undefeated and making it as far as you did?
The season really went well for us. Our team got closer as the season went on with each and every game. Things didn't turn out how we would have liked them to in the end, but looking back it was still a great year. We had a record year for the school in terms of wins and we made it to the state championship.
I had a really good year individually as well with 40 catches for 743 yards and 11 touchdowns at receiver, with 16 total touchdowns on the season (5 rushing and returns). Most importantly, I improved greatly from my sophomore to junior year and I expect to make an even bigger leap next season.
How is recruiting going for you so far?
Recruiting is going pretty well. I just started to get my name on the map this year, so it's all really new to me and I'm focused on learning how the process goes. I am enjoying it though. Everyone says the process is so stressful and you just want it to be over, but so far everything is really exciting, especially when Urban Meyer comes to your school.
As you mentioned, Urban did come to your school. How did that come about and how did it go?
My coach had told me that Ohio State would be stopping by the school. Originally the offensive coordinator came by and told my coach that he liked me and said they would be coming by to see me. I didn't know it would be Urban Meyer though until my coach told me the morning of the visit. 
I was actually in gym class playing soccer when Coach Meyer got to the school. He just walked right into my gym class with my coach and it was like a scene from a movie as everyone just stopped mid-game and was in shock that Urban Meyer was standing there. The school was insane and everyone was talking about it in the hallways during the entire day. We don't get too many coaches like that coming into Manalapan too often. Joe Paterno was the last one a couple of years ago, so this was a really big deal.
I couldn't really talk to Coach Meyer because of the rules, but he spoke to my coach for a long time and it went great. He said they really like me and are definitely interested in me, which was really exciting to hear.
What is your interest in Ohio State?
I have really high interest in Ohio State. It's a really good school, a big school, and they play in the Big Ten. If they offer me they will be right up at the top of my list for sure. I would be extremely happy to have the opportunity to be a Buckeye one day.
What schools have offered so far? What other schools are showing interest and may be close to offering?
I have four offers right now. They are from Rutgers, Boston College, Pittsburgh, and Old Dominion. North Carolina has been by the school twice to visit, so they are definitely a school I am interested in and I think they could offer soon. Obviously Ohio State is interested, as well as Miami and Georgia Tech. Those four schools could be next to offer.
Have you taken any visits yet?
I have only been to Rutgers so far. It is close and easy to get to and with my football schedule I haven't had much time or even been able to see anywhere else. I'm trying to decide now where I will visit over my winter break and spring break. I know I want to get to all of the schools that have offered so far and I definitely want to get out to Ohio State to see what they are all about.
What are you looking for in the school of your choice?
From an education perspective, I would love to do something in the sports field, maybe medicine or training. Law enforcement is something else that may interest me if I decide not to go the sports medicine route. When it comes to football, I want to go to a program that has a great offense that features a good quarterback. As a receiver you want to be able to catch the ball and make plays. I also am looking at the wide receiver depth at each school before I talk to them.
When do you think you'll make a college decision?
I really don't know at this point, but if I had to guess it would be either in the beginning or middle of my senior season. I just want to see all of the opportunities I will have and go check those schools out to see what they have to offer me before making a choice. 
What is one thing you feel you do well on the field and what is something you'd like to improve on before next season?
I feel like I am really good at turning smaller routes into big plays. I can take a five-yard screen and bring it to the house at any time. I want to work on my route running. When I get to the next level everyone will be just as good as I am, if not better, so it's the little things like running precise routes that will be the difference at the next level. I also just want to work hard overall on my entire game to get better in all areas.