Awards shows and bowl games dot college football's postseason landscape. Another annual happening is decision day. It occurs multiple times in December and January, and oftentimes more than once at the same university.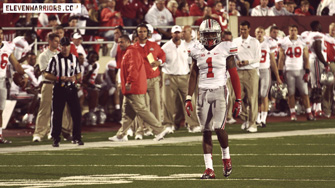 Staying or going?
That is the question posed to college football's elite players after each season.
For one Buckeye, the answer came early. On Monday, junior defensive lineman Johnathan Hankins opted for the NFL, foregoing his senior season of eligibility. For Hankins, the decision was a no-brainer. He's been projected as high as a top-10 pick in April's draft. But even if he slips, Hankins is all but assured to be a first-round pick.
For ESPN NFL Draft expert Mel Kiper Jr., that is the key.
"If they aren't guaranteed first-round picks, they should go back," Kiper said during a conference call on Tuesday.
While Hankins is likely to hear his name called by commissioner Roger Goodell on the first night of the draft, it could come later than what was once expected. Before the season, Hankins was thought by many to be a possible top-five selection. That number has since fallen, somewhat unfairly.
After a sophomore season that saw Hankins finish with 67 tackles, 11 tackles for loss, three sacks and a fumble recovery, 2012 was labeled as the encore. It never materialized. Hankins, an All-Big Ten honoree and second-team All-American, wasn't bad, but more a victim of outsized expectations.
"Hankins," Kiper responded Eleven Warriors, "I expected more from. He was high on the big board and was a guy everyone thought going in would be a dominant defensive tackle, a dominant presence up front, and it really wasn't the case. You just kept waiting and waiting. He made the play in the Michigan game when he created the fumble and he did occupy (space and defenders).
"He has ability and is obviously a tremendously talented player. What you have to weigh is he didn't have the production, but neither was Dontari Poe coming out of Memphis last season. He ended up being an early first-round pick (11th)."
Kiper has Hankins listed at No. 17 on his list of prospects, while his ESPN cohort Todd McShay has Hankins slotted inside the top 10 at seventh.
The dip in Hankins' numbers – 55 tackles, four tackles for loss and one sack – was in part due to the double teams he faced throughout the year. But once the affable Hankins gets in front of general managers and performs at the combine, they'll remember why Hankins is such a valuable commodity.
"He's still in the middle of that defensive front," Kiper said. "He could be a real factor. You go back two years ago, I liked what he did. You expected more this year and didn't get it, but he's still going to be talked about heavily in that mid-first round discussion. Defensive tackles, historically, although their production may not be great, get drafted early."
When they have the size, speed and athleticism, all of which Hankins possesses, a defensive line prospect verges on can't-miss. Hankins is versatile enough to play all the way across the line, from defensive end to nose tackle to nose guard. His ability to clog running lanes contributed to Ohio State owning the 13th-best defense against the run.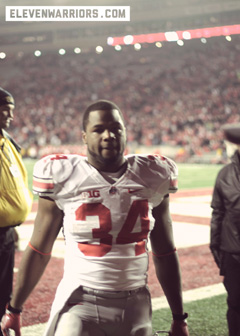 "John is at that point now where he's starting to recognize formations, he's starting to recognize plays and he knows how teams are going to try to attack us and him specifically," defensive line coach and 14-year NFL veteran Mike Vrabel said. "He's got a pretty high comfort level out there."
A fringe NFL prospect at the moment is running back Carlos Hyde. As recently as October, he was not even on scouts' radar. But a strong finish to the season made his stock rise. Hyde finished the year with 970 rushing yards and 16 touchdowns. He also caught eight passes for 51 yards and a score. All of Hyde's production came in 10 games. 
He's currently rated as the No. 10 running back prospect by NFLDraftScout.com, which would slot him in the middle rounds. In last year's draft the 10th running back was taken in the fifth round. 
What makes Hyde so desireable is his speed and size. He might not be the tallest running back, but his physical style translates to production in the NFL. One drawback, however, is only one full season of work. Most front offices would like to see how Hyde put up another year of solid numbers. 
But it's clearly weighing heavily on Hyde. 
Big time decision.

— Carlos Hyde (@king_hyde34) December 10, 2012
Whether redshirt sophomore cornerback Bradley Roby and Hyde, a junior, follow Hankins remains to be seen. All Meyer wants is to be alerted about the process. But that doesn't mean he's a fan of how the NFL handles underclassmen. Meyer also isn't enamored with the deadline to declare (Jan. 15) and National Signing Day (Feb. 6).
"There's a process in place by the National Football League that, at first, I was very disappointed in," he said "It's very vague and I didn't like it at all. I actually talked to Roger Goodell several times about it.
"It's a very imperfect system. You send it in, they watch the film and give you a grade. I read the letter, 'You could be drafted as high as this round.' I'm thinking to myself, 'He's not going to get picked in that round. Why would you ever say that?'"
Roby's draft prospects are up in the air. He's a fringe first-round pick and, as Kiper said, if you aren't certain you're going to be selected in the first 32 picks, another year of college is in your best interests.
"Roby is a very talented kid," Kiper said. "He can fly and he can recover. He's probably going to clock in at the 4.3 range (in the 40-yard dash). He played with confidence, he has the return game going, he has the interceptions. He's got a lot of good things going on as a cornerback with his skill set. It's a hard call.
"Cornerbacks are going to get pushed up. It is not a great year at all for cornerbacks. In fact, it's a very subpar year, whether it is the seniors or the juniors. You don't see that elite corner from either class right now. Dee Milliner from Alabama is potentially the top overall corner. He's a junior and he's only No. 14 on the big board. No other corner is in the top 25. As a guy with the skill set Roby possesses, it will be interesting to see what his decision is."
If the decision were up to Roby's position coach, he'd be back in school. The energetic Kerry Coombs said he believed Roby needed one more year of development.
"I don't think he's ready for that yet," Coombs said. "I think his best days are ahead of him. I think he's going to be a great player. I think he needs more time, more seasoning."
Roby finished the season as the nation's leader in passes defended. He was the third-leading tackler on the Buckeyes with 63 tackles, including two tackles for loss and a sack. Against Nebraska, Roby scored a touchdown after intercepting Cornhuskers quarterback Taylor Martinez.
But it wasn't just defense where Roby made a name for himself. He returned kicks, blocked a punt and scored after a mishandled snap on a punt. Roby earned All-Big Ten honors and was named a second-team All-American for his efforts.
Roby has over a month to decide what path he is taking. He's likely given it more thought since November, when it was far from his thought process.
"That's not really on my mind," Roby said. "I don't really want to say anything that's going to cause speculation. I'm just taking it one day at a time."
Ohio State is losing seven defensive starters, including the entire line, next season. Roby's absence would leave an even bigger void. The Buckeyes have an opportunity to win the national championship next season.
With Roby returning, he would headline the defense. The Jim Thorpe Award would be a possibility, as would first-team All-American accolades. What that could do for Roby is shoot him up the draft board.
Coombs is already planning on his return.
"I would expect Bradley to be here," he said. "I'm looking forward to coaching him another year."