When Urban Meyer was hired, his first acts as head coach at Ohio State were addressing his current team and phoning prospective recruits. In the current era of college football, coaches must always stay one step ahead.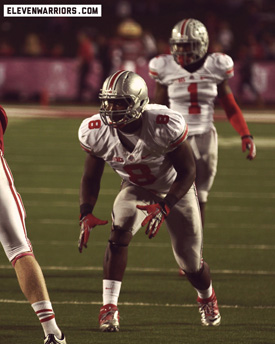 Meyer proved that when he turned a middling class into a consensus top-five group. A handful of the Buckeyes' commits were thought to be on their way to other programs. But Meyer and his group of assistants swayed their decisions as National Signing Day approached. It drew the ire of opposing coaches, though recruiting isn't meant to build friendships.
The 25-member class – wide receiver Ricquan Southward left the program during the season – included several players who contributed immediately and played a key role in Ohio State's 12-0 season. Meyer's philosophy on freshmen has been to let them play right away. If you're recruited to a big-time program such as Ohio State and are capable of on-field production, there's no reason to waste a year on the bench, according to Meyer.
"There's no redshirting," Meyer said prior to the 2012 season. "We're moving forward. Now, there will be some guys that will redshirt, but that's just because they weren't good enough to play, not because we're holding them back."
Crafting statements isn't one of Meyer's strong suits. He speaks the truth and offers a straightforwardness that leaves no mystery. If you can't handle Meyer's frankness, well, quite frankly, that's not his problem. Ohio State is big-boy football.
If you don't play as a freshman on a Meyer-coached team, there's chance your time may have already passed. During the recruiting process, Meyer wants his staff to seek out impact players. And they aren't just supposed to be good their junior and seniors years – Meyer wants them turning heads upon their campus arrival.
"You're here to try to play," freshman offensive lineman Taylor Decker said this year. "I'm sure there's guys that redshirt that turn out to be good players, but (Meyer) has been around longer than I have, so I'll trust him."
Decker battled with senior right tackle Reid Fragel for the starting position throughout the fall, but lost out. He still gained playing time in a reserve role.
Throughout his career, Meyer has shown time and again that he isn't interested in saving players for future seasons or slotting guys at certain positions. Brian Johnson was a true freshman backup to quarterback Alex Smith at Utah in 2004. Johnson eventually guided the Utes to an undefeated season. Tim Tebow played in Year 1 despite Florida having a three-year starter in Chris Leak. It led to a national title. Tebow was an immediate sensation, and he took that experience and built on it. He won the Heisman Trophy as a sophomore and delivered another national title his junior season.
As Tebow was on his way to a landslide victory in the Heisman campaign, another young quarterback was setting his path to stardom. Instead of resting freshman Cam Newton, Meyer chose to let him roam for a year, even though he could have spaced two years between the dynamic quarterbacks.
Three years later, Newton won the Heisman Trophy at Auburn in arguably the greatest single season in college football history. He capped it off with a national championship.
"Every freshman in the way we recruit, the way we develop, the way we work these guys, we're developing them to get ready to play right now," Meyer said. "Who knows what's down the road.
"A lot of these guys will leave after their third year if you do a good job of recruiting. We have to get them ready, so we're going to recruit with the intent to get them on the field right now."
In fact, Ohio State has been down that road before. In the early 1990s, Dan Wilkinson, or Big Daddy, came to Ohio State as a 348-pound offensive lineman. After dropping down to the 300-pound range during his redshirt season, Wilkinson was moved to defensive end, where he turned into one of the top players in the country. After only two seasons of play, he left for the NFL. In April of 1994, Cincinnati selected Wilkinson with the first overall pick.
There's a chance the Buckeyes could lose another third-year sophomore in the coming weeks, as cornerback Bradley Roby weighs his NFL future.
Among the play-now group of 2012 was running back Bri'onte Dunn. He finished the season with 133 yards rushing and two touchdowns. In Ohio State's 52-22 win over Illinois, Dunn carried the ball 13 times for 73 yards and a touchdown. It was enough to earn Big Ten freshman of the week honors.
Defensive linemen Noah Spence, Adolphus Washington and Tommy Schutt all received significant playing time, and once they were on the field, the trio showed why. 
They combined to make 25 tackles, 4.5 tackles for loss, four sacks, a forced fumble and a blocked field goal.
Another group of defensive freshmen – David Perkins, Camren Williams, Devan Bogard, Jamal Marcus, Josh Perry, Luke Roberts,, Armani Reeves and Najee Murray – some of which were piranhas, provided Ohio State with depth at linebacker and in the defensive backfield. They made 30 tackles between them.
Regardless of their first-year status, freshmen were incorporated into the team atmosphere one at a time. A tradition Meyer started at Bowling Green continued at Utah, Florida and, eventually, Ohio State.
The black stripe.
Each fall at the start of camp, the helmets of freshmen have a black stripe adorned to them. Once a freshman proves himself on the field, the initiation process is over and the stripe is removed.
For Meyer, it's a harmless form of hazing.
"It's a rite of passage to become an Ohio State Buckeye," Meyer said. "You have to earn it."
Bogard was the first freshman of 2012 to shed his stripe. It probably isn't a coincidence that he played in the season opener.

How the 2012 redshirts fit in to the 2013 season:
It seems like an annual topic – which Ohio State running back will draw the short straw. In 2012, it was freshman Warren Ball, though an injury contributed to Ball being sidelined. In fall camp, he suffered a sprained foot that ultimately required surgery, thus ending his season. Running back Jordan Hall also had his season cut short by an injury. He is seeking a medical redshirt and is likely to be granted another year. That means Carlos Hyde, Hall, Dunn, Rod Smith and Ball will all want carries. There are only so many footballs to go around, though. Ball, the least experienced of the five, could be the odd man out once again.
The brief spat between Meyer and then-Wisconsin head coach Bret Bielema started after Meyer pried Cleveland Heights offensive tackle Kyle Dodson away from the Badgers. How ironic that one year later, Bielema, the man who preached loyalty and sticking to your commitment, left Wisconsin high and dry for Arkansas.
Ohio State is no stranger to heady offensive line recruiting classes. But the Buckeyes are hoping the 2012 edition lives up to the hype more so than the famed "Brew Crew." Dodson will be a big part of that legacy or the lack thereof.
While Dodson was a sought-after recruit, it was mostly due to his raw skills and potential. Injuries and personal matters caused Dodson to miss large chucks of his high school seasons. After a year of working with offensive line coach Ed Warinner and another offseason with strength coach Mickey Marotti, Dodson could finagle his way on to the second-team line.
Pickerington native Pat Elflein joined Dodson as an offensive line recruit. An injury in the fall hindered any chance he had at playing in 2012. Meyer did speak highly of him on a few occasions. Any significant playing time is still a few years away, though.
Will he punt? Will he play receiver? Might he do both? No one knows for sure what's in store for Frank Epitropoulos. Chances are incoming freshman Johnny Townsend will handle punting duties, which would leave Epitropoulos to being a slot receiver for the Buckeyes. The Upper Arlington native reminds many of Anthony Gonzalez. With all the offensive weapons minus Jake Stoneburner returning, it will take a specialized skillset to get playing time.
A redshirt season for Epitropoulos was expected, and when he suffered an injury in fall camp, it became a foregone conclusion. His main goal from now until the beginning of fall camp should be adding muscle to his thin frame. He might be scrawny, but Epitropoulos is still an athletic receiver who can create big plays with Wes Welker-like abilities.
When the first-string quarterback is a Heisman Trophy candidate and the guy behind him led a stirring game-tying and then a game-winning drive, you probably aren't going to be getting much playing time. That's the position Cardale Jones found himself in during the 2012 season.
However, Jones did make an impact on the scout team. Meyer lauded his efforts at imitating opposing quarterbacks and, in some occasions, running backs. But just as Jones was making strides he fell out of favor with Meyer due to an "ignorant comment," as the head coach called it.
Jones was suspended for the Nebraska game after tweeting, "Why should we have to go to class if we came here to play FOOTBALL, we ain't come to play SCHOOL, classes are POINTLESS."
Braxton Miller and Kenny Guiton return next season, so playing time isn't on the horizon for Jones. But Jones does possess a strong arm and his 6-foot-5, 235-pound frame gives him the ability to make plays few athletes are capable of.
Joey O'Connor came to Ohio State with many accolades. The Colorado native was on the fast track and was almost certain to be on the Buckeyes' two-deep as a true freshman had a knee injury not sidetracked his progress. Surgery sidelined O'Connor for the season. There isn't a starting job open for him this season, but he could find his way in the rotation at guard.
Se'Von Pittman was a Michigan State commit before Urban Meyer and Co. snatched him away, much to the chagrin of Mark Dantonio. The defensive end entered Ohio State with a loaded line – Spence, Washington and Schutt played immediately. A knee injury in the spring limited Pittman and put him behind his fellow classmates.
With the departure of Johnathan Hankins, along with every other starting defensive lineman, Pittman should find himself in the rotation next season. Spence, Washington, Michael Bennett and Joel Hale will likely form the starting line, with Pittman, Schutt, Steve Miller and JT Moore providing depth.
Tyvis Powell, also known as Kerry Coombs' yelling target, enrolled last spring and appeared to be an early candidate for one of the backup cornerback spots. Adam Griffin beat him out, however, and proceeded to be a valued special-teamer during the season. Combined with the production of Murray and Reeves, Powell was left out. He was, perhaps, best known for being a frequent target of the animated Coombs during spring practice.
One corner spot is open with the graduation of Travis Howard. But Doran Grant is likely to seize that opportunity. Another could open if Roby goes pro, which isn't expected. If he did, though, Powell would have a more realistic chance at being a backup before being elevated to a leading role. 
A product of revered St. Ignatius, Blake Thomas could have a few more years of minimal to no playing time. It's not that he isn't good – Thomas was one of the state's best tight end prospects a year ago – but his career happens to coincide with Jeff Heuerman and Nick Vannett. That duo is unlikely to be upstaged anytime soon.
Where Thomas could make a difference is with his blocking. Walk-on William Houston will be one of two fullbacks on the roster next year. That means Thomas could work his way into an H-Back spot.
As the 2012 season fades into the distance, 2013 comes clearer into focus. The opener is more than eight months away, but that doesn't mean preparation isn't already underway. For the group of freshmen that didn't have their number called last season, these next eight months will be about pushing themselves that extra distance in the weight room and on the practice field. John Simon and others exhibited what it takes to not only be a Buckeyes, but be one of the greatest Buckeyes. 
Four to six seconds of relentless effort became a Meyer staple last season. But on the practice field, it was a different number the head coach wanted – plus two. 
When the whistle blows, Meyer and his staff want an extra two seconds of effort. For the Buckeye Nine who sat out 2012, eight months of plus two could be 14, as in the number of games for the 2013 season.