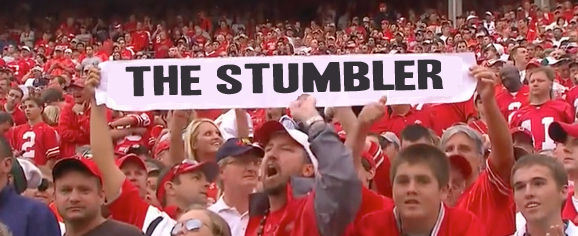 Hello and welcome to the first installment of The Stumbler.
This weekly column will scour the nether regions of the Interwebs to deliver interesting and obscure Buckeye related bits of goodness. 
The hope is to feature at least one "For Sale" item as well as some form of Scarlet and Gray multimedia that harkens back to Buckeye teams of yesteryear, ultimately delivering a warm jolt of nostalgia during these trying winter months.
The Stumbler invites you the reader to peruse the World Wide Web as well. If you find something interesting, odd or generally awesome with a Buckeye tie-in feel free to share a link in the comments.
After all, the Internet is a great big place and I am only one man.
With that said, saddle up and let's gun it full bore into this week's edition. Don't be afraid, follow me into the light.
The Item: "Football At Ohio State" By Woody Hayes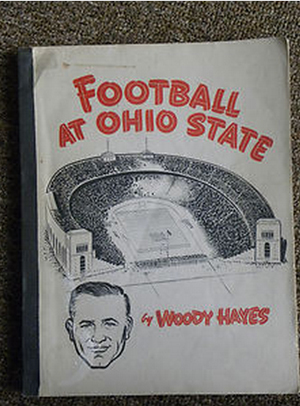 Heading into the 1957 season (his seventh at OSU) Buckeye head coach Woody Hayes decided it was time for his writing career to take off. That's why he penned "Football At Ohio State", a copy of which was being pedaled on Ebay until roughly 3:40 EST today. The book was meant to serve as a manual for up and coming coaches and included offensive and defensive strategy, training regimens, practice drills and sketches of plays. 
This from the Ebay seller:
"Self published by Woody Hayes in 1957, the book includes strategies, techniques, plays and philosophy of the legendary Ohio State coach. Hayes says in the Foreword that he compiled the book in five weeks because he did not want to interfere with the 1957 season preparation.

Chapters include Offensive Strategy, Our Running Game, The Split T Series, The Power Series, Trapping and the Draw Play, Offensive Drills, Passing, Training the Quarterback, Our Defense, The Kicking Game, Scouting, Statistics, Organization and Planning, Athletic Injuries and The Coach Player Relationship. Sketches of some actual plays and vintage photos can be found in some chapters. Softcover throughout. Limited color on cover. B&W photos."
Hayes not wanting to "interfere with the 1957 season preparation" wasn't just talk as the 1956 squad largely underperformed on their way to two consecutive shutout losses to Iowa and Michigan. The defeats rounded out a 6-3 season that saw the Buckeyes finish a measly 5th in the Big Ten (when there were actually ONLY ten teams).
Eleven members of the '56 team were drafted in the NFL including tackle Jim Parker, who was taken as the 8th overall pick by the Baltimore Colts.
The disappointing end to the '56 season coupled with a large talent turnover had many fans thinking rebuilding year, but the '57 season delivered much more.
Nuggets of truth must have been written into "Football at Ohio State", because Woody's methods catapulted the '57 Buckeyes to a 7-0 record in Big Ten play, a 9-1 overall record, a Rose Bowl win and a Coaches Poll National Championship (Hayes' second).
Needless to say, if you were a high school football coach in the late '50s, "Football at Ohio State" should have been on your wish list. 
After all, how could you pass up QB development excerpts like this: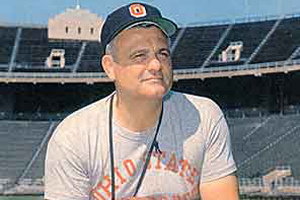 "When you throw be sure to step forward. Just like a baseball pitcher, and unload quickly. Aim at the belt buckle of your receiver."
Shakespearean.
The Clip: Losing your Head…Set
Many fans know about the Gator Bowl punch heard 'round the world, but a lesser known Wayne Woodrow Hayes random act of aggression occured in the 1973 Rose Bowl against USC.
Watch closely. 
Interceptions aren't Woody's favorite.
As you can see at roughly 0:12, Woody chucks his headset at USC safety Charles Phillips after picking off OSU QB Greg Hare.
Comically this wasn't his only outburst on the day, as Hayes also pushed a camera into the face of a Los Angeles Times news photographer, and allegedly screamed "That'll take care of you, you son of a bitch."
Woody had ample reason to be peeved. Simply put, his Buckeye squad got worked, 42-17, by a more talented USC team that included five first-round NFL selections (Charle Young, Lynn Swann, Sam Cunningham, Pete Adams and Steve Riley) and 33 overall draft picks.
Here are some choice quotes via the Cleveland Plain Dealer following the game.
USC tailback Anthony Davis on how Ohio State compared to other teams the Trojans played:
"Washington and Washington State hit harder,' he said. 'Notre Dame had more balance. Maybe [the Big Ten] could have had a better representative out here."
And this from Buckeye All-American offensive tackle John Hicks:
"They were better than we were, but we were Ohio State and we just didn't lose like that. We were embarrassed. They were national champions and a good football team, and Sam Cunningham had about six touchdowns. [Lynn Swann] caught a big deep one over the middle."
Ouch.
Luckily the Buckeyes wouldn't have to wait long for revenge as OSU and USC squared off once again in the Rose Bowl the following year.
The '74 result was much different as underclassmen Cornelius Greene (6-8 for 129 yards), Archie Griffin (149 yards and 1TD) and Pete Johnson (97 yards and 3TDs) stole the show on the way to a 42-21 victory.
We're happy to report that no tempers and/or headsets were lost during the '74 meeting. Ahhhh, the pageantry.
Thanks for stumbling in. Let's do this again sometime.