Staff continuity is one of the leading reasons for successful football seasons. During Urban Meyer's six seasons at Florida, his high-level assistants staying put for several years greatly contributed to the Gators' two national championships.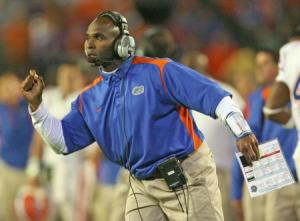 Many of those assistants are now leading BCS programs of their own. Charlie Strong is the head coach of Sugar Bowl-bound Louisville, Dan Mullen ventured west to fellow SEC school Mississippi State, Steve Addazio recently took the head coaching job at Boston College after two successful seasons at Temple, Doc Holliday heads the Marshall football program and Dan McCarney is at North Texas. And those are only the head coaches.
Greg Mattison turned around a completely inept Michigan defense, Billy Gonzales is the offensive coordinator at Illinois after a successful stint at LSU, Chuck Heater was most recently at Temple, while Stan Drayton and Zach Smith have been reunited with Meyer at Ohio State.
Kyle Whittingham, an assistant under Meyer at Utah, is the Utes' head coach and Tim Beckman, who served on Meyer's original Bowling Green staff, is the head coach at Illinois.
So it comes as no surprise to Meyer that current members of his staff would be considered for head coaching jobs around the country, especially after a 12-0 season. The carousel of assistant coaches, after all, means the head coach and football program are probably doing something right.
"The one negative thing about success and hiring good coaches is they're hot items," Meyer said following the season. "If I have guys that people never call and want to hire them, it probably means I got bad coaches. I had a turnstile down at Florida of guys leaving to become head coaches."
Assistants most closely linked with current openings are co-defensive coordinators Luke Fickell and Everett Withers and co-offensive coordinators Tom Herman and Ed Warinner.
At one point this season, Meyer thought he might be hiring a new defensive staff, but it wasn't because they'd be leaving for other jobs. Meyer instead would have been replacing them.
The first half of the 2012 season was not the Silver Bullets' bright spot. The capper was 87 points in back-to-back wins over Nebraska and Indiana. The Hoosiers' 49-point output prompted players to call the display "embarrassing."
"I did have the same concerns probably everyone in America had watching our defense," Meyer said. "But you could see the steady growth of our defensive staff. The comfort level between Everett Withers and Luke Fickell, and Mike Vrabel had never coached defensive line before. I'm very pleased with the way the last half of the season went, especially on defense."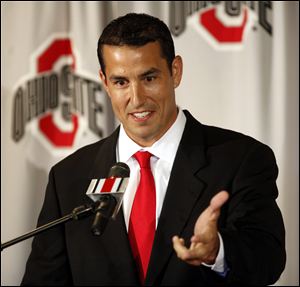 In the final five games, opposing offenses only averaged 303 yards per game, down nearly 100 from the first seven. The second half of the Michigan game was the best display of the improved unit.
The Wolverines led, 21-20, at the half as Denard Robinson sliced up the defense for 124 yards rushing and a touchdown. In the second half, he had minus-2 yards. Michigan only gained 60 yards and four first downs and never crossed midfield.
Opponents scored 10 touchdowns on the defense in the last six games of the season.
That is why Meyer isn't going to make any changes to his staff. It is also why, combined with Fickell and Withers' interim head coaching experience, the two are being interjected into coaching searches.
"Staff continuity is a high priority," said Meyer, a 25-year college coaching veteran. "I also understand the profession. I understand guys taking care of their families. That part of the game is a business, so I understand that.
"I'd like to think at a place like Ohio State, you only leave here to become a head football coach. If a guy is leaving here to become an assistant, I would look at him like 'What the hell are you doing?' But I get it."
Another part of the business is alerting your superiors that other employers are interested in your services. Former Wisconsin coach Bret Bielema kept athletic director Barry Alvarez in the dark throughout his interview process with Arkansas, despite Alvarez picking Bielema as his hand-picked successor. The two had a very close relationship, making the departure feel more like a messy divorce than a "good luck, thank you for all the memories" ending. The Badgers' loyal fans also were not thrilled.
"Oh yeah, I better know about it," said Meyer, when asked if he'd be alerted about possible moves. "But they're good. I've always had very professional guys."
Withers, one of the most respected assistants in the country, has been rumored as a candidate to interview for the Southern Miss job. From 1992-93, Withers was the defensive backs coach in Hattiesburg. He dipped his toes into the head-coaching waters in 2011, at North Carolina, in a situation very similar to what Fickell faced at Ohio State. A 5-1 start gave way to a 7-6 final record, but Withers showed promise and gained valuable experience.
"I watch Coach (Meyer) a lot," Withers said this season. "I'd love to be a head coach one day. Why not watch one of the best guys?
"I think at this point in my development it's all about continuing to learn from guys who do it right and guys who are successful."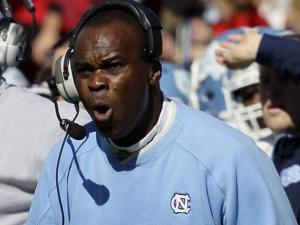 The opening Fickell's name is most often linked with is Kent State. Former Buckeye assistant Darrell Hazell left the position vacant after leaving for Purdue. Fickell got his first coaching gig at fellow Northeast Ohio school Akron before finding his way back to Ohio State.
His credentials make him a sought-after assistant. Fickell has coached at Ohio State for 11 years, including one as its interim coach. Seven seasons have been spent as the co-defensive coordinator.
"It's been a real growing, humbling experience," Fickell said. "I don't know that I'd be the same person if I didn't go through it – last year and this year. But it's still coaching, and it's amazing to think that sometimes you think you're teaching these guys something and they're teaching you so much."
What the Kent State job likely wouldn't offer is a high salary – Hazell made just $300,000 per year. As the Buckeyes' defensive coordinator, Fickell is making $750,000. But what it would offer is a possible jumpstart to a great career.
Hazell is the 13th former MAC head coach to land a job in a bigger FBS conference. Five are in the Big Ten and two – Nick Saban and Brian Kelly – will meet in the national championship game in January. Overall, 21 percent of the FBS teams have MAC head coaches leading their program. Meyer is a member of that club.
Developing a coaching tree is a plus. It sheds positive light on the head coach and in turn attracts good assistants as replacements. But as Meyer said, the longer the same staff is intact, the better the team is.
At Florida, when Meyer's assistants began leaving, a drop off in on-field success occurred. It eventually affected Meyer's health. Delegating to his staff became nearly non-existent due to the divide between Meyer and his new assistants.
"I tried to do other people's jobs," Meyer said.
Don't expect a relapse at Ohio State. Meyer's goal when he was hired was to have the best staff in the country. If he loses pieces, they'll be replaced with comparably talented coaches – ones Meyer can trust.
"When I put the staff together, I never once thought there was any character flaws with any of our guys," Meyer said. "I love them. The No. 1 thing I look for first is a good husband and a good father. The ultimate responsibility here is to be examples to these young guys. I hear people make smart-aleck comments about coaches, that their only job is to win – that's not true.
"Our ultimate job is to show high character and do things right."