In less than 24 hours, the Big Ten lost the head coach from one of its premier teams and gained one of the country's biggest up-and-comers. Bret Bielema and Darell Hazell's comings and goings were at complete opposite ends of the spectrum. Bielema's departure from Wisconsin stunned the college football world. How could the head coach from the three-time defending Big Ten champions leave for a middle-of-the-road SEC team? The ultimate answer was money – Bielema will be paid $3.2 million annually and be the 10th-highest paid coach in the country.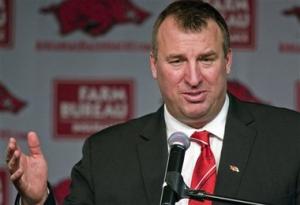 But a closer examination at Bielema's overall body of work at Wisconsin gives way to holes in his perceived impressive resume. While the Badgers have won three consecutive conference titles, they were only 6-6 against ranked opponents during those seasons. The third title, in 2012, also came with an asterisk the size of the Empire State Building.
Wisconsin actually finished third in the Leaders Division this season, but benefitted from Ohio State and Penn State's NCAA sanctions. Both the Buckeyes and the Nittany Lions defeated Wisconsin. In fact, Bielema was just 1-5 against Ohio State, the team he loved to hate, during his seven years in Madison.
During the summer of 2011, Bielema expressed his disappointment in Terrelle Pryor's absence from the Buckeyes. During the 2010 season, Wisconsin upset No. 1 Ohio State and Pryor spouted off after the game, saying Ohio State would win nine out of 10 games against the Badgers.
"There wasn't any question who won that football game," Bielema said. "The only bad thing about Terrelle leaving is the week after he called it a fluke, they'd beat us nine out of 10 games. So we really wanted to play that game against him. Unfortunately, we won't. But our kids know what they did last year."
Ironically, it was a freshman named Braxton Miller who would defeat a highly ranked Wisconsin team that fall.
It was in February when Bielema tweaked Meyer for what he viewed as recruiting irregularities. During that same time, Bielema infamously said, "We at the Big Ten don't want to be like the SEC, in any way, shape or form."
So now he joins the most competitive division in sports – the SEC West. If Bielema thought going up against Urban Meyer and the rest of the Big Ten was tough, he ought to enjoy recruiting battles against Nick Saban, Les Miles and the rest of the SEC.
"I can't wait to stand in front of you and be the favorite," Bielema said at his introductory press conference in Fayetteville. "Right now we're going to embrace being the underdog. We're going to throw two arms around it, we're gonna kiss it and make it feel good.
"I'm not going to promise you anything. I will tell you I'm here because I want to give you something you've never had."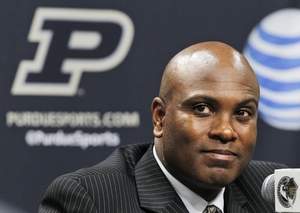 Six of the top 10 teams in the current Associated Press Top 25 are from the SEC and three of the top 9 are SEC West members. Bielema's career record against top-10 teams: 3-7. When you include the entire Top 25 that number improved but it still lagged below .500 at 11-14.
Bowl games, which are generally played against quality opponents, were not Bielema's strong suit. He was 2-4 overall and lost both BCS games. Against Ohio State, Michigan, Penn State, Michigan State, Iowa and Nebraska, generally considered the upper-half of the conference, Wisconsin was 15-16 under Bielema. The Badgers' overall Big Ten record was 37-19.
Ohio State fans are eager to send Bielema packing, but they are losing a rivalry that has been building over the past decade. Bielema wasn't shy with his words or afraid to prod Meyer. The most likely replacement at Wisconsin is former offensive coordinator and current Pitt head coach Paul Chryst, and chances are he won't bring the same brashness to Madison.
Bielema's exit is similar to that of USC head coach Lane Kiffin, when he left Tennessee for the West Coast. For one year, he pestered Meyer, then at Florida, before deciding to hit the road.
Now a program that has been a model of consistency since Barry Alvarez became head coach in 1990 is left reeling and wondering what just hit them.
Going through a different set of emotions is Purdue. The final years of the Joe Tiller era were lean followed by the disastrous four-year tenure of Danny Hope, who inexplicably beat Ohio State twice.
Now the Boilermakers have a young coach that appears to be primed for success in big-time college football. Hazell has spent the past two seasons at Kent State, arguably the worst program in Division I, and managed to turn the Golden Flashes into a MAC juggernaut. Kent State was one win away from playing in the Orange Bowl this season. Go ahead, take a minute to process that.
The former Ohio State assistant had a 16-9 record, including 15-3 in his final 18 games. Kent State was just 1-6 after the first seven games of Hazell's career.
Purdue athletic director Morgan Burke had his eye on an offensive coach, and that's exactly what he found. Hazell has spent his career working with wide receivers, a position that's been spotlighted in Purdue's basketball-on-grass offense.
He also carries all the traits one would want in a head coach. Hazell is smart, personable, well-liked by his players, no-nonsense but not a drill sergeant and a master tactician when it comes to planning and organization. He's also charismatic, a characteristic that will work well on the recruiting trail and with donors. All told, Hazell is extremely similar to his former boss at Ohio State, Jim Tressel.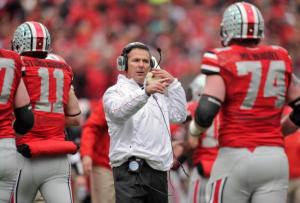 Burke actually said he spoke with Tressel during the coaching search and said conversations with the former head coach were a reassuring force.
"I had a considerable discussion on two occasions with Jim," Burke said. "I've known Jim Tressel for a long time, and I admire him for the many great things that he's done in his career. He knows Purdue.
"He just said that this is the perfect spot for Darrell. He gets the work ethic, and he went on and on and gave me some great examples. He was helpful."
Hazell now joins Michigan State's Mark Dantonio and Illinois' Tim Beckman as former Tressel assistants who are head coaches in the Big Ten. Both Wisconsin and Purdue's opening could have an even bigger impact on Ohio State.
If Chryst leaves for Wisconsin, will defensive coordinator Luke Fickell, who interviewed for the Pitt job last season, be a candidate again? Will Fickell or any other Buckeye assistants be candidates at Kent State? And would any of them leave for jobs at Purdue?
Fickell is being paid $750,000 by Ohio State, while Hazell made just $300,000 as the head coach at Kent State, so if Fickell leaves for Northeast Ohio, he would likely be taking a massive pay cut.
But what about former defensive coaches Jim Heacock, Paul Haynes and Taver Johnson? Heacock, the Buckeyes' former defensive coordinator, took the year off. Haynes was the defensive coordinator at Arkansas and Johnson was the Razorbacks' linebackers coach. Bielema isn't expected to retain either. One former Buckeye expected to make the trek to West Lafayette with Hazell is Marcus Freeman, Kent State's linebackers coach.
It would make sense for Hazell to target the former coaches for several reasons: past working relationships, familiarity with the Big Ten and an idea of what type of player to recruit.
Ohio State is still the class of its division and the Big Ten, but the past two days offered a considerable shakeup. Wisconsin, the Buckeyes' chief competition in the Leaders Division, is trending down during a time period in which Penn State, No. 2 on the pecking order, is in the midst of severe scholarship reductions. Meanwhile, Illinois nearly fired Beckman after his first season, and improvements or not, the chances of Indiana becoming a viable threat under Kevin Wilson are slim.
That leaves Purdue – who knows about expansion and the future divisional lineup – as Ohio State's Indianapolis roadblock.
"We (hired Hazell) because we want to get back to Pasadena," Burke said.
That journey west starts in the East – much like Christopher Columbus's voyage, ironically – in Columbus, Ohio.