Being an Ohio State fan has given me the luxury of seeing the Buckeyes play in various places around the country, not only in the Midwest, but also from coast to coast.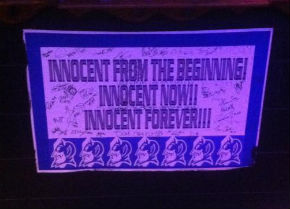 I've been to the majority of football and basketball arenas in the Big Ten, the Coliseum in Los Angeles, the Superdome in New Orleans, both Sun Devil Stadium and University of Phoenix Stadium in Arizona, Mohegan Sun in Connecticut, TD Garden in Boston, Madison Square Garden in New York, and many other venues to see OSU compete.
The latest trip I made to see the Bucks in action came last week, when I had the luxury of flying down to Durham, North Carolina, to see our highly ranked basketball team take on the Duke Blue Devils in Cameron Indoor Stadium, possibly the most prestigious and storied place I would ever step foot in.
Growing up in New Jersey, I didn't really have a college team to root for, but my father grew up idolizing Dean Smith and thus was a North Carolina Tar Heels fan. He raised me as one as well, and because I spent my childhood rooting for Ed Cota, Rasheed Wallace, Vince Carter, Eric Montross, Antawn Jamison, Joseph Forte, and many other Carolina greats, I also spent it hating the Duke Blue Devils.
Due to my upbringing, it was easy to walk into enemy territory last week, this time as a fan of the Ohio State Buckeyes but still displaying that same hate for Duke. While I was wearing scarlet and gray instead of Carolina blue and white, the goal was the same: taking down another talented Mike Krzyzewski-coached team. 
Last year I was on hand for the game that "made Coach K's butt sore", as the Buckeyes played their best game in my memory, dismantling the Blue Devils, 85-63, in Columbus.
It's no secret basketball is second fiddle to football at Ohio State, but the atmosphere at the game last season was strong and energy certainly filled the Schott for the prime matchup in the ACC-Big Ten Challenge.
After the game I was elated with the outcome, but celebration wasn't on my mind. Rather, I was just thinking how awesome it would be to go down to Cameron to see the Bucks try to top the Blue Devils the following year after seeing plenty of blue around Value City Arena that night.
Fortunately for myself, one of my good high school friends is a second-year student at Duke Law School, making the decision to venture down to Durham an easy one (he's also a Michigan grad, so this was a double-root against his teams). Flights to Raleigh-Durham airport are relatively cheap these days and I was informed I could get a student ticket for close to nothing (ended up paying $35) as well, sealing the deal for my plans.
Seeing many games in Cameron Indoor Stadium on television, I didn't quite know what to expect attending a game there in person as a fan of the opposing team. I knew the arena was small, meaning there wouldn't be too many other OSU fans in the building, and that the Cameron Crazies were, well crazy, leaving me worried for my safety in sitting amongst them. I expected extreme hostility at the game, but in fact, I got the complete opposite.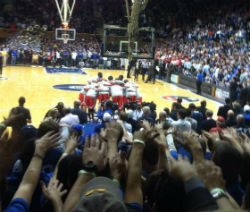 My friend and I met up with a bunch of his law school buddies prior to the game at the Armadillo Grill, a Mexican restaurant at the Duke's student union, the Bryan Center. The place was pretty empty when we got there, but I did see a couple Buckeye fans who gave me an "O-H" upon my arrival.
The restaurant quickly filled up as we got closer to game time, as it was just a five-minute walk to the arena and it was hard to resist their $3 domestic drafts, $4 Blue Devil Margaritas, and multiple TVs showing the other ACC-Big Ten Challenge games. With so many Blue Devils fans at the bar, I was expecting to get a couple jeers, but everyone was pretty courteous and welcomed me, and the five to six other Buckeye fans there, to Durham.
Walking to the stadium I expected things to start to heat up, as we walked through campus, passing student housing and frat row. Again, not really a peep from the Duke faithful, although it was dark out with the 9:30 EST tipoff and I was wearing a coat since temperatures were in the high 30s.
Walking down Lane Avenue on game day you can feel the excitement in the air around Ohio State football, and I wasn't feeling that just yet for Duke hoops, but as we got closer to the arena I got a first-hand look at what things were all about.
Heading to the grad school student line, we got to pass where the undergraduate students camp out, in what is called "Krzyzewskiville". Ohio State has had some pretty good turnouts when it comes to camping out for games like UNC in the past, but it was nothing like what I saw at Duke.
The students had to be lined up for miles, with high quality tents and various other supplies and items needed for multiple days of camping out in order to get front row seats for the game. You could tell how excited they were for this big time matchup and anyone there could start to feel the energy that the Cameron Crazies would bring inside the arena with them.
Once we got into the venue, which looks like just another school building from the outside, I was shocked to see how the student seating worked. I knew it was first come, first serve and that it was bleacher-style, but had no idea there literally were no actual seats for students. It was basically a metal standing area and if you wanted a place to sit or even six inches of room on either side of you to breathe, you better watch from your couch, because it wasn't happening inside Cameron Indoor Stadium.
As the clock got closer to tipoff, the students started to make their presence known. Everything from heckling the Ohio State players during warmups to jamming to "All I Do Is Win", the Crazies rocked the arena prior to the game starting. You could definitely sense this was going to be a "Carolina game type of atmosphere" like many of their students could be overheard saying, but I didn't realize the true magnitude of this until the unofficial Duke pump-up song came on, Cascada's "Every Time We Touch":
Just like "Seven Nation Army" at OSU, every time that song was played by the band the place erupted and set the tone for the hostile atmosphere that would help contribute to the Buckeyes' fate.
After player introductions and the jump, the crowd started its infamous "Let's Go Duke" chant, but the Buckeyes did their part in silencing the crowd for the most part, taking an eight-point lead into half. The experience of watching a game in Cameron Indoor was everything I hoped for, and even with my squad leading at the break, the fans were still courteous and polite to me, except for one drunk student who kept knocking my hat off, but being that he was part of the group I was sitting with, I let it slide.
The second half started and you could definitely feel the crowd turn it up a notch as the Blue Devils closed in on the lead. After Mason Plumlee, Rasheed Sulaimon, and Ryan Kelly buried shot after shot, giving the home team the lead, I expected to start feeling the heat from the fans, but nothing gave. 
Eventually the final horn blew and despite the Buckeyes falling by five in a game they certain could have won, I felt pretty good about what I had just experienced. Cameron Indoor was everything I hoped it would be, from the intimacy of the arena to the electricity brought to the stadium from the fans.
I even got to take a picture on the court after the game, without security turning their head or flinching once to look at me or the other groups of students walking on the floor, and also overheard an usher saying in his 30 years on the job that he never heard the stadium louder than it was that night.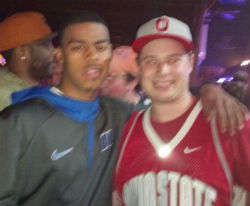 Following our departure from Cameron, we headed out to downtown Durham to a local student spot, Shooters II Saloon. A couple of more intoxicated students came up to me and were a little chippy about me being in "their bar", but overall people came up to me and gave me a "good game" or "props for coming down".
That included Duke sophomore point guard Quinn Cook (bar is 18+) who walked into the bar and quickly headed my way. He came up to me and told me it was a great game and that he respected me "repping my team" down in Durham. He talked about how Aaron Craft was such a challenge to play against and said that OSU would be a really good team by the time the tournament rolls around.
The Cook interaction was certainly the icing on the cake for my visit down to Durham and I'm glad I made the trip. While the Buckeyes didn't pull off the unexpected and leave Duke victorious, I still got to watch my favorite team in one of the most historical venues in the nation, regardless of sport, and had a once-in-a-lifetime experience of sitting with the Cameron Crazies, who weren't so crazy (in a bad way) after all. 
If the Buckeyes ever head down to Cameron Indoor again, I suggest all of you make the journey to Durham to see them compete, as well as experience a big-time contest in the arena. After this trip, I'm very interested to see if my next Ohio State athletic experience can top anything like it.