Having been teased the last two summers with reports about how LaQuinton Ross was filling it up in workouts against current and former Buckeyes, fans have been waiting for what feels like ages to see what this kid can do.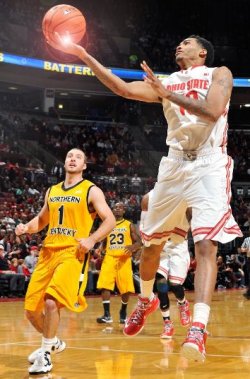 Last year was virtually a lost season for Ross as he took classes and practiced all summer with the Buckeyes, only to find out he would have to leave the team just days before official practice was set to being thanks to some issues with meeting the NCAA's academic qualification requirements. 
He got his academic house in order but not before December 9, which meant he wasn't around for those valuable October practices where Thad installs the offensive sets and overall fundamentals and philosophies. Not to mention, he missed the first 12 games of the season, the majority of which came against cupcakes, costing Ross a chance to log experience gathering minutes. 
As Matta noted, while it was nice to have Ross back on the roster, he was so far behind from being absent in those crucial preseason practices that Thad felt it was almost a disservice to Ross to put him out there. The fact Ohio State was now well into the season meant practices were mostly spent watching film and working on the upcoming opponent, leaving no time to waste on revisiting the basics when Ross was the only player who needed such sessions.
Throw in the reality that the team was already stacked with seasoned scorers in Sullinger, Buford and later Thomas, and there wasn't a real need to see if Ross could be a factor. 
The sum of these factors led to Ross failing to see the court in 30 of Ohio State's 39 games. In fact, playing in just nine, he totaled only 35 minutes on the entire season. 
Now, with an uninterrupted offseason under his belt and a roster lacking scoring punch, Ross is making his case for more minutes. 
After playing just 12 and 14 minutes, respectively and scoring just four points in Buckeye victories over Rhode Island and Washington, Ross logged 22 minutes against UMKC and recorded a then-career high of 11 points on 3/6 from the floor along with five boards. 
Five nights later, Ross scored nine points in 11 minutes against Duke and afterward, Matta rightly came to the conclusion that he should've given him more minutes. Instead, Q's growth was stunted a bit as those were his first truly meaningful minutes in a Buckeye uniform and those are precious for a kid that Matta needs to develop if this year's team is going to evolve into an Elite Eight-plus type of squad. 
The time snub at Duke was even more ridiculous in that the general consensus is Ross is held back by his defensive shortcomings, but the guys known for defense ahead of Q in the rotation, particularly Sam Thompson and Shannon Scott, saw a great deal of PT in a 2nd half as Duke was busy scoring 50 points. 
Yesterday, Ross checked in at the first media timeout, the 15:49 mark, and played the rest of the half. Matta rightfully kept Ross on the floor as he hit 4/6 from the floor including 2/4 from distance and 3/3 from the stripe, scoring 13 of OSU's 36 points along with five boards, a steal and a block.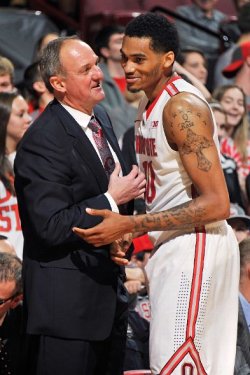 The game got out of hand in the 2nd half and Ross again shot 4/6 to finish with a career-high 22 points on 8/12 from the field, 3/6 from downtown and the perfect 3/3 at the line. He added eight total boards including three at the offensive end, two of which led directly to points. 
Obviously, Northern Kentucky is a cupcake of epic proportions and Ross isn't going to score 22 every night, but the kid impressed. Despite taking a career-high 12 shots, his shot selection was solid and his career-high eight rips, along with a nice block of help side rotation, portrayed a player that is at least playing defense a little more instinctively instead of thinking so much that he paralyzes his feet or causes teammates to be set up on screens, as we've seen from time to time. 
Overall, Ross has played his best ball as a Buckeye these last three games, totaling 42 minutes. He's averaging 14 points and 5.3 rebounds per game while shooting 56% from the floor (14/25), 50% from beyond the arc (5/10) and 9/11 from the stripe. 
With Craft and Smith struggling to consistently fill their expanded offensive roles, allowing opposing defenses to focus even harder on taking away Deshaun's looks, a Ross emergence would give the Buckeyes one more option to put points on the board. Plus, Ross looks to be much more of a threat from distance, not only decreasing the number of double teams Deshaun will face but also creating some space on the floor as his man is forced to guard 22+ feet from the basket. 
Of course, much still depends on whether or not Ross can achieve scoring consistency and also be a factor against legit teams if he does see extended minutes, something he'll have to do at both ends of the floor because Matta has shown how much he loves to play guys based on their defensive abilities. 
At the same time, Matta needs to get more comfortable with the notion that Ross will only get better on defense if he gets more minutes and that unless Thomas, Craft and Smith are all clicking offensively, he simply can't put Thompson and Scott out there together for such long stretches because while solid defenders, they've yet to show they can hit a jumper despite all the offseason talk to the contrary. 
I will say I think it makes sense to leave Ross in a reserve role so he can come off the bench and provide an offensive spark, but I can only envision this team making a run of any kind in March if Ross is in the middle of it offensively. 
All the more reason to make a more concerted effort in laying the groundwork now.