Ohio State and Northern Kentucky's only previous meeting came in an exhibition game. Eight years later, the two teams met again in a game billed as a regular-season contest between two Division I schools, but it doubled as an exhibition.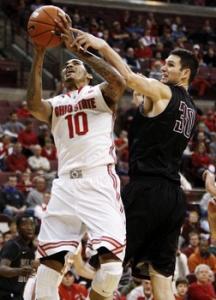 The Buckeyes, coming off a heartbreaking loss at Duke on Wednesday, had a bit of a hangover the first 10 minutes on Saturday. But a two-point lead grew to 14 at the half after a 12-0 run.
An 18-7 Ohio State spurt to begin the second half put the game out of reach, as Ohio State notched win No. 5 on the season, 70-43, over the Norse.
"Coach told us to put that game behind us and more forward," sophomore forward Sam Thompson said. "Our motto was we were 'punched in the mouth,' but it's over now and we are moving on. We had some 'what ifs' but it doesn't matter now."
After a porous shooting night at Duke, which ultimately was Ohio State's undoing, head coach Thad Matta said putting the ball through the basket was the top objective in practice. A month-long eight-game homestand against mostly mid- and low-major competition would serve as a proving ground for a roster in need of a scoring threat to complement Deshaun Thomas.
LaQuinton Ross appears to have answered the call. In the most extensive playing time of his career – 29 minutes – Ross scored a career-high 22 points. He added eight rebounds, a block and a steal.
"It was definitely great," Ross said. "My coaches really pushed me. Tonight I just got that opportunity so I had to take advantage of it."
Ross scored nine points in 11 minutes at Duke, but Matta opted to keep his better defenders on the floor to guard Rasheed Sulaimon, who scored 17 points in the second half. Ross only played one minute after the break.  
On Saturday, Matta chose offense.
"The one with LaQuinton, you constantly have to point out the little things and how important they are in the overall picture," Matta said. "I thought he was very efficient today in what he was able to get done while he was on the floor."
The sophomore forward's final stat line proves that: 8 of 12 shooting from the field, 3 of 6 from behind the arc and a perfect 3 of 3 from the free-throw line.
"It's going to help us a lot having guys like Shannon and Q come off the bench," said junior forward Deshaun Thomas, who finished with 14 points and eight rebounds. "Teams are going to double team me a lot and having them there to step up is what we need."
As a team, Ohio State was anything but a model of efficiency. Without Ross, the Buckeyes made just 15 of 49 shots from the field. In the first half, Ohio State shot 30 percent from the field. But the second half acted as a confidence booster with a 46 percent conversion rate. Still, Ohio State only shot 38 percent for the game.
Thompson tallied 10 points.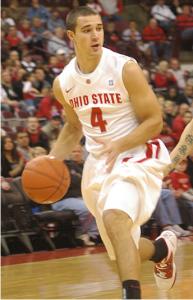 After struggling mightily at Duke, guards Aaron Craft and Lenzelle Smith Jr. did not exactly put things back on track. They were a combined 7 of 27 from the field Wednesday. That number was an unimpressive 4 of 19 Saturday.
Craft, however, had four steals and created a traveling and five-second violation. Ohio State forced 20 turnovers.
"You can't simulate the defensive pressure of Craft in practice," Northern Kentucky head coach Dave Bezold said. "He is like having two guys on you. He changed the game in the second half to disrupt our offense. We wanted to send whoever he was guarding to the other end of the floor, so he couldn't get near the ball and disrupt our offense."
Northern Kentucky is in its first year of transitioning from a Division II power to a Division I cupcake. NKU head coach Dave Bezold and Ohio State's Thad Matta debuted at their respective schools against one another in that 2004 exhibition. In the eight years since, each had built their program into one of the best in the country.
Northern Kentucky has won 20 games in five of the past six seasons and has participated in five NCAA Division II Tournaments. But the Norse are now 0-5 as a Division I school. 
They became the 35th consecutive non-conference victim at Value City Arena. Ohio State has not lost a home non-conference game since 2008. The next test in that streak comes on Dec. 22, when Kansas travels to Columbus.
If the Buckeyes play like a kid who got a fat lip from the schoolyard bully, Value City Arena could play witness to win No. 40.