The first time Urban Meyer took over a floundering football program and immediately tacked six wins onto its previous win total, sanity prevailed.
Bowling Green had completed its sixth consecutive losing season under Gary Blackney when it hired Meyer away from Notre Dame to fix things. The Falcons had just gone 2-9, losing the first four and last three games of an utterly forgettable season.
That included a 51-17 shellacking in the finale to MAC bully and arch-rival Toledo. So Meyer's first head coaching job, as is the case in many takeovers, involved picking up the pieces and making them fit  – until he could acquire pieces of his own.
Those pieces would play two BCS conference teams in 2001 and beat both of them in their own backyards. That first season also concluded with Toledo on the receiving end of the shellacking, losing 56-21 to BG in the finale. The Falcons got payback and gained six more wins in Meyer's first year with largely the same roster.
And that's when sanity prevailed. Meyer was named the MAC Coach of the Year. It was impossible to overthink it.
Meyer eventually left BG to take over at Utah, where this time he inherited Ron McBride's pieces. Though they had gone 5-6 in McBride's final season, those Utes went 10-2 in Meyer's first and won the Mountain West Conference.
That MWC Coach of the Year award was academic in 2003. It was again in 2004 when Utah ran the table while failing to play in a single competitive game. Going undefeated tends to suck the controversy out of subjectivity-based awards – at least in the Mountain West.
We can go ahead and skip Meyer's accomplishments at Florida after he took over for Ron Zook, since that section of his resume is still relatively fresh – and because too many of those Gator pieces bring back hideous memories.
In addition to winning all of those conference honors, Sports Illustrated and The Sporting News both named Meyer their Coach of the Decade. He's probably finished winning those types of awards, now that he's likely going to end his coaching career at Ohio State, where doing so is practically impossible.
Consider that John Cooper won ten regular season games four times in Columbus (during the 11-game era) and never collected a conference Coach of the Year award. Neither of Jim Tressel's undefeated seasons were meritorious either, not to mention all of the other years when he ruthlessly owned the conference.
That's because the Big Ten's awards season is where sanity gets eaten by sympathy.
Meyer coaches in a league where very recently Bill Lynch was willfully hired and retained despite having had a 1-25 stretch at Ball State with all of his own pieces in place. He coaches in a league where Kirk Ferentz, with his sterling 100-74 career record, is guaranteed to pocket $29.6MM over the next eight years.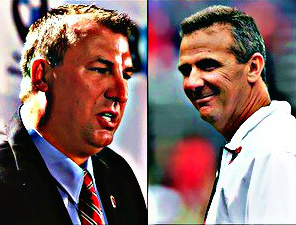 He coaches in a league where dollar store hires like Danny Hope had the audacity to be cocky, not unlike a fruit fly with an erection backstroking down a river while howling that the drawbridge needs to be raised immediately.
But most of all, he coaches in a league where an 8-4 season proudly ends up in 75% of the trophy cases. And he coaches at a school where going 12-0 isn't good enough for Coach of the Year honors. 
The B1G's version of this award is granted only for temporarily overcoming institutional mediocrity. That is categorically how this thing is decided every year.
The drought for Ohio State coaches extends back to 1979, when Earle Bruce was rewarded for taking Woody Hayes' refugees to the Rose Bowl. See, Earle wasn't supposed to be that good so quickly – filling Woody's shoes was expected to be more challenging. That's why he won it.
Since then, none of Ohio State's conference titles (13) or undefeated regular seasons (3) have merited the honor for its head coach.
Going undefeated at Ohio State has happened at just a four-percent clip over its 122 football seasons. Apparently that's not rare enough, especially with Bill O'Brien winning eight games at Penn State – which obviously benefited from having a functioning head coach and no staff nepotism for the first time in about ten years.
There is a solution to this admittedly minor problem: The Big Ten is keen on having two names for everything, so it could make sense to install two Coach of the Year award categories, as too many of the past 33 seasons have demonstrated the need for delineating this recognition.
It doesn't have to be too complicated: Issue one award to the coach that exceeds everybody's expectations (call it the "John L. Smith-Zook Trophy") and another for the coach who simply meets them (the Tressel-Tressel Trophy).
This was really Meyer's only shot under the current one-trophy system. He inherited a shell-shocked seven-loss team with nothing to play for and promptly ran the table. He picked up the pieces and made them fit as he had done three times before, even if it meant taking a senior fullback and making him his starting middle linebacker.
Hell, Meyer deserved the award for transforming what had been a cratered 2012 recruiting class into one of the nation's very best in the midst of a fresh bowl ban, unrestricted transfers and recruiting sanctions.
So since running the table at Ohio State doesn't function as a tiebreaker or a trump card – yet again – two distinct coaching awards makes a lot of sense.
This should not be viewed as a concession to Meyer or Ohio State's future coaches, but more to just level-set in a league where only a few football programs compete nationally while the majority is content to simply keep cashing checks (with apologies to Penn State and O'Brien, who are temporarily in a very rare and unfortunate third category).
The first time Meyer took over a floundering football program in BG and immediately tacked six wins onto its previous win total, sanity prevailed. It wouldn't be the final time he pulled off such a turnaround.
Because after this most recent time, it was sympathy that prevailed. Again.