Oh, a perfect season. It's such a rare, elusive creature that it's hard to complain too much about the year Ohio State's had. Even though a number of us were prescribed new heart meds due to all the close, tense games, it seems sort of charming now because it speaks to the gritty nature of the 2012 Buckeyes.
To unironically borrow a phrase from John L. Smith1, the kids played their tails off in a season many said didn't matter. Their reward is an immortal place in Ohio State football history and the eternal praise of Urban Meyer. 
You don't make it through 12 games unscathed without doing it as a team, but there were some standout performances that deserved to be honored. So when the All-Big Ten teams were selected yesterday, there was plenty of outrage to go around when several Buckeyes were snubbed or not given enough recognition. 
Granted, 12-0 trumps any individual award, but for the coaches to neglect naming one Ohio State offensive player to the first team reeks of haters gonna hate.
We'll be a little more prepared for it tonight when the Big Ten Offensive Player of the Year and Defensive Player of the Year awards are announced. Despite being relegated to the second team by the same coaches who couldn't stop him, Braxton Miller is still expected to take home the Graham–George Trophy. 
Ryan Shazier was thought to be one of the front-runners for the Nagurski–Woodson but when the BTN's fan poll failed to include him as an option, it was pretty clear to me that it wasn't in the cards for him this year. However, I didn't think that he would also be overlooked by the coaches and named to the second team, a slight that even the Ohio State Alumni Twitter account couldn't believe:
Bill O'Brien will most likely receive the COY award over Meyer, but most fans assumed that would happen anyway. Ohio State coaches are apparently not allowed that particular accolade. 
Meyer wants an angry team next season and he could use this to his advantage, especially if guys like Bradley Roby and Big Hank, who have legitimate beefs with how these conference honors played out, return2.
VOTING RIGHT. While some may have issues from time to time with the writers at ESPN's Big Ten Blog, Adam Rittenberg and Brian Bennett would undoubtedly put together better All-Big Ten teams.
Bennett on Shazier:
No two defensive players were more valuable to their teams than Mauti and Shazier. In addition to their great performances, Shazier held a thin linebacking corps together, while Mauti helped an entire program stay together. 
And on Big Hank and John Simon:
I'd also throw Ohio State's Johnathan Hankins in there, as he was a dominant run-stuffer. But I'm with you on Simon. He not only put up some great stats, but he played through a lot of pain this year and was unquestionably the emotional leader for the 12-0 Buckeyes.
Rittenberg on Roby:
The sophomore has been the best defensive back in the league this season, tying for second nationally in passes defended with 19, recording two interceptions and scoring three touchdowns. The play he made at Wisconsin covering two different players in the end zone was one of the best I've seen in recent years.
Neither one of them had an actual vote, even though it's their job to pay attention to every Big Ten game of the season, which many others who can vote seemingly don't do. There were simply a slew of baffling choices, and not just in regard to Ohio State. 
But hey, four Badgers were named to the media's first-team offense, so good for them. They are going to the B1G Championship Game, after all. 
TURN AROUND, BRIGHT EYES. Okay, enough griping. Let's commend the defense and their coaches on turning things around this season after the 49-points-to-Indiana nadir.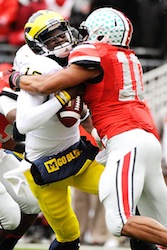 As Doug Lesmerises reminded us, it was just six weeks ago that a pizza delivery guy criticizing co-defensive coordinator Luke Fickell was somehow "news." Luckily, Ohio State wasn't in the darkest timeline and that's but a distant, eye-rolling memory as the defense quickly improved:
"When (Meyer) challenged us, when he challenged the entire defense, I think we knew we weren't satisfied," Fickell said after Saturday's 26-21 win of that midseason change. "Not that we made big changes but we made some changes, we got back to basics and we grew as a staff, too. We had some growing to do."
And did they ever. Except for the first half against Michigan, the defense became much stingier and only surrendered 10 total touchdowns to their final five opponents. 
It's been an up-and-down year for Fickell, but with the way the staff and players came together for the second half, no one will lose his job. Except for the pizza guy.
U MAD, MICHIGAN? Michigan fans are hoping they'll have Devin Gardner around for two more seasons, and Brady Hoke expects that he'll be granted a redshirt. That's the good news for them. 
The bad news, not only for Michigan but for the rest of the Big Ten, is that Ohio State still has Urban Meyer, who's a whiz in rivalry games. Bob Wojnowski of the Detroit News wrote:
If Michigan thought this was tough, look what's ahead. The Wolverines left Columbus bitterly disappointed because they knew they blew a prime chance. Here's what they don't know: How many prime chances they'll still get.

Brady Hoke has done an excellent job restoring order in Ann Arbor. The next level is the really difficult one, because Urban Meyer has been there before, and already has dragged the Buckeyes back.
Yes, all four of Michigan's losses came to teams ranked in the top 15, but when a team can't get over that hump, the losses count just the same. And now I'm thinking about a Michigan troll who tweeted at me before the season started that Urban would be calling Hoke "Daddy", and I laugh and laugh. 
A BAN OF BANS. I don't really care for "what ifs", unless we're talking about fiction (especially if it involves time travel). So to me, there's not much point debating whether Ohio State should have self-imposed a bowl ban last season because it doesn't alter the present. It's a shame, but I accepted a while ago that Ohio State's not going to a bowl. 
According to USA Today's Mike Lopresti, Ohio State shouldn't be facing a postseason ban, and neither should most teams who violate NCAA rules because bowl bans almost never punish the ones who commit the wrongdoings.
Skip over the hot sports take paragraph where he thinks it was ridiculous for Tressel to be cheered on Saturday because Lopresti's main point is that penalties should exclusively hit schools where it hurts — in the wallet with fines and scholarship reductions. 
Still, fewer resources would also hurt the innocent, so guys who did nothing wrong will continue to pay the price. There may not be much justice in that, but this is the NCAA we're talking about.
CHALLENGE ACCEPTED. The ACC/Big Ten Challenge begins this evening, and Ken Pomeroy likes the B1G's chances even as he warns that the league's advantage might not be quite as big as the stats suggest.
In eight of the games, the Big Ten team is a favorite to win, though Ohio State is not one of them. Pomeroy gives Duke, who jumped to #2 in this week's rankings, a 64% chance of beating the Buckeyes. BTN's Brent Yarina considers this matchup the second most interesting in the event, after Indiana-North Carolina tonight.
While the season is still young, Bob Baptist tweeted a couple of surprising stats about this Ohio State team. They're currently ranked No. 1 in the country in three-point percentage and points per possession.
IN THE CLICK OF THE NIGHT. Ohio State Reloaded... An elaborate Ohio State proposal that ends in a blasphemous November wedding date3... I hope the Heisman comes with a better sense of humor because Johnny Manziel thinks his nickname is funny... SEC coaches are so much more open about hating each other... Jon Embree and the Colorado players aren't happy about his firing... High schoolers perform The Shining: The Musical... Coffee oatmeal? I'm listening... The Big Bad Wolf finds an accomplice.