The day before his first Ohio State-Michigan game as head coach, a choked-up Urban Meyer addressed the crowd at Earle Bruce's Beat Michigan pep rally and grabbed headlines by saying, "Let's beat the shit out of Michigan."
Whether it was calculated or not (it probably was), Meyer's words at least seemed impulsive, and the emotion behind them was certainly genuine. Although the game was not a thorough beatdown on the scoreboard, a physical Ohio State team topped their rivals from up north, 26-21.
Meyer was prophetic in the only sense that mattered — the outcome of the game. 
Eleven years prior, first-year head coach Jim Tressel led the Buckeyes into the Big House and upset the Wolverines by a nearly identical score of 26-20. That January, when he was introduced to Ohio State fans at a basketball game, the even-keeled Tressel told the crowd, "I can assure you that you will be proud of your young people in the classroom, in the community and most especially in 310 days in Ann Arbor, Michigan, on the football field."
It was a premeditated move, one that worked so well that he only lost to Michigan once in his tenure at Ohio State. While it's too early to tell if Meyer will dominate the rivalry in similar fashion, Saturday could be seen as an auspicious beginning for him.
It wouldn't be all that the two coaches with such contrasting personalities — the equivocal Tressel vs. the heart-on-his-sleeve Meyer — have in common.
For starters, both coaches know how to get the best out of their players, and though their styles differ, the results on the field don't lie. Tressel's winning percentage at Ohio State — .810 or .828, depending on your views about asterisks — mirrors that of Meyer's in his head coaching career, which now stands at .835 after a 12-0 season.
Wins are important at Ohio State, but wins against Michigan are especially important, which is a mindset shared by the current coach and the former one. But it's not solely about beating Michigan; they understand and appreciate Ohio State football and the significance of The Game.
Following Saturday's victory, Meyer attempted to explain what made it so special:
"Obviously, this is the state I grew up in. This is the state I made a comment on last (year), that our objective is to make the great state of Ohio proud."
Even though both Meyer and Tressel were born and raised in Ohio, you don't have to be a native to grasp what it means to be a Buckeye, yet it's a trait practically inherent in the two men who idolized the legendary Woody Hayes and coached under his protégé, Earle Bruce. When hired at Ohio State, each revered and embraced the program's traditions and quickly brought about a renewed sense of pride. 
And the players responded.
The Ohio State head coaching gig certainly pays handsomely, but there's more to the job than that. Meyer and Tressel have often spoken about how they enjoy teaching young men, building teams, and forging relationships with the players and between the players.
Under both coaches, Buckeye teams have had a fighter's mentality and never fail to mention how they're playing for the seniors. Members of this year's team have repeatedly said that they're a tight-knit group. For example, Orhian Johnson revealed:
"Honestly, I can go from the bottom of the list to the top and if I needed to I would take a bullet for these guys. They are like my brothers, for real. I truly love them."
That kind of affection extends to their coach, who was visibly moved more than once this season discussing the senior class and the team's selflessness. The admiration goes both ways, with Zach Boren saying, "Coach Meyer and I have an unbelievable relationship."
Those who played for Tressel have expressed the same sentiment. When the 2002 national championship team was honored on Saturday and Tressel was hoisted in the air, players such as Reid Fragel, Nathan Williams and Jake Stoneburner were touched:
"I kind of teared up a little bit, because (Tressel) is who I came here to play for," senior receiver Jake Stoneburner said. "He's a legend and an incredible guy. He still loves me to death and loves my family to death. To see him up there, and the crowd giving him the ovation they did, it was pretty awesome."
For two men whose fates are as intertwined as Meyer's and Tressel's, it seemed like kismet that Ohio State was commemorating the 2002 Buckeyes on the same day as Meyer's first Michigan game. Of course, the timing made sense with it being the 10-year anniversary of their 14-0 national championship season, and the tribute had been planned long before anyone knew that another undefeated season would be on the line.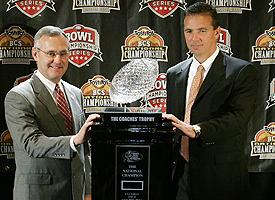 And another undefeated season would be had, albeit without a trip to the national title game.
Outside of Columbus, many thought the Buckeye faithful were being obtuse for celebrating Tressel. However, it's myopic to blame Tressel alone for the bowl ban1, and even if he had been solely responsible, Ohio State fans do not let a coach's ignoble exit define his legacy when there's so much more to it.
Despite what his detractors and their moral grandstanding might suggest, there are no saints in college football. Tressel proved he was fallible like everyone else, though his misdeeds pale in comparison to countless others in his profession whose own fans would cheer them on in a similar situation.
Then again, it's easy to harshly judge another team's coach — it's not like Urban Meyer was popular among Ohio State fans until he became their head coach2 — particularly one with a large number of victories to his name. Critics of Tressel and of those who gave him a standing ovation were just seeing the worst in him.
But Buckeye fans were recognizing the best in him, as well as the most recent national championship team, who took home the crystal football eight years before Tressel violated NCAA rules and cost himself his job.
Jim Tressel did more good than harm to Ohio State, whether in terms of his contributions to the community, the university, the football program or the players themselves. A coach does not receive such glowing praise and goodwill from his former players for being the human equivalent of the Bubonic plague.
It's true that winning forgives many sins, and Buckeye supporters unquestionably enjoyed the unflagging success in Tressel's decade as head coach, most notably against Michigan. And while that certainly matters a great deal, it's not all that matters.
Ohio State fans want a coach who loves the school and the team as much, if not more, than they do.
They want a coach who cares deeply about his players and inspires them to fight to the end for O-hi-o.
They want a coach who takes immense pride in being a Buckeye and knowing all that it entails.
They want a coach who wants to beat the shit out of Michigan. 
Ohio State had that in Jim Tressel. From everything we've seen in 2012, Ohio State has that in Urban Meyer, too. 
1 Tressel is at fault for the vacated season, but the Bobby DiGeronimo situation was probably what put them over the edge in the NCAA's mind and resulted in a postseason ban. So, blame Tressel, but also blame the failure of compliance and monitoring on the players and the athletic department. ↑
2 Guilty as charged. ↑