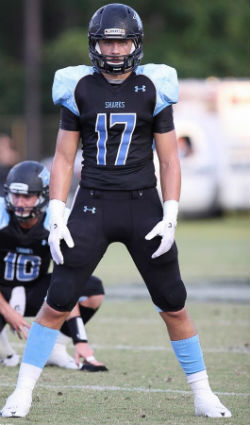 After watching the first full season of the Urban Meyer era, it's obvious the Buckeyes need more depth at the linebacker position heading into the future if Ohio State fans want their head coach to have the success he's had at previous stops.
While the Bucks currently have zero linebacker commits in the 2013 class, they still have a couple of targets left on the board in Mike Mitchell, Trey Johnson, Daniel McMillan, Skai Moore, and a couple of others. None of these players are by any means a "sure thing" to eventually commit to OSU, although the staff does stand in a very good place with at least Mitchell and Johnson.
The Buckeyes are "in" on many prospects in the 2014 class including the likes of Raekwon McMillan, Clifton Garrett, Dante Booker, and others. One of the "other players" who was recently offered is Ponte Vedra (FL) LB Dillon Bates, who came to Columbus for the Illinois game back in early November and left campus with a scholarship in hand.
The 6-3/215 Bates is the son of former Dallas Cowboy, Bill Bates. He is not too shabby of a football player himself, boasting offers from Florida State, Georgia Tech, Miami, Notre Dame, Oklahoma, South Carolina, Tennessee, and others, in addition to the Buckeyes.
We caught up with Dillon to get the scoop on his interest in Ohio State, see how his junior season went, find out what it was like to grow up in an NFL family, and much more.
Keep reading to learn more about one of 2014's top prospects, LB Dillon Bates.
First off, how did your junior season go?
It went pretty well. I had over 100 tackles, 3 interceptions, and 2 sacks. We lost a really close playoff game, which was really tough.
How is recruiting going so far?
It's good. I have over 20 offers right now. It's exciting and a once in a lifetime experience. I want to make it as fun as it can be.
How did you feel when Ohio State offered?
It was really exciting. It's just one of those schools where there's a wow factor.
How was your trip to Columbus a few weeks ago?
It was really good. I got a chance to talk to some of the coaches and they offered me on the visit. It was really cool to see the game environment, the fans were great. I also thought the pep rally (Skull Session) before the game was really cool.
Do you have any upcoming visits planned?
Not right now. I took visits to Florida and Tennessee after OSU. I'll probably go to a few bowl practices and take visits in the spring. I'm just not sure where yet.
Will you visit Ohio State again?
Definitely, I'm just not sure when.
Are any schools standing out to you at this point?
Right now I'm not really sure with all the recent offers and there are still a lot of schools that haven't offered yet that I am still interested in. There are also many schools I still want to look at (visit). There's no top list, but I'll narrow it down sometime soon.
When would you like to make a decision?
I've been talking to my family and we would like to have it done by my senior year so I can focus on the season. However, if I fall in love with a school I could commit on the spot. I'm not afraid to commit early.
What was it like growing up in an NFL family?
I just remember living in Dallas and going to all of his games and going on the sidelines. It was a great childhood experience and was great growing up and learning about the game. I learned things I put in my work ethic when I go to practice or lifting. I rely on my dad for advice and do what he tells me to do.
What kind of impact will he have on your decision?
He'll have a pretty significant impact. I will definitely sit down with him, my mom, a few coaches, and my brothers before deciding. My dad will be a big influence in giving advice and telling me what to look out for.
What will be the biggest factors in your decision?
I really want to go somewhere that I feel comfortable and want to be for 4-5 years. Also I want to go somewhere where after football, I have a good degree so I can support my family. Lastly, I want to be somewhere with a family environment.
What are your strengths on the field?
I'm a vocal leader and very physical on the field.
What goals do you have for the rest of your high school career?
Everybody's main goal is to win a state championship. Also being a better teammate and helping wherever I can like running back on offense, linebacker on defense, and wherever else my team may need help.