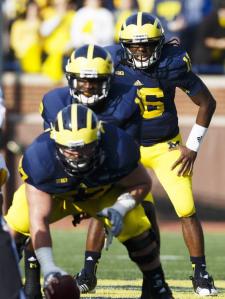 The 2012 Ohio State season has shared many similarities to the 1979 and 2002 seasons. In 1979, Ohio State was entering the season without its legendary head coach and many didn't know what to expect from the Buckeyes.
But their sophomore quarterback – sound familiar? – led them through the schedule unbeaten. When Michigan week arrived, intrigue dominated. Earle Bruce was a former player and assistant under Woody Hayes, but could he produce the same results against Michigan?
On that Saturday, the answer was yes. Trailing 15-12 in the fourth quarter, Ohio State sent 10 guys after the punter and blocked it easily – the Freak Show before the Freak Show. Todd Bell scooped the ball up and raced to the end zone. The Buckeyes won the game and went on to the Rose Bowl, where a dream season and national title hopes ended.
In 2002, Ohio State came out of nowhere to finish undefeated. And it did so with a flair for the dramatic. Seven of the Buckeyes' 14 wins were by a touchdown or less, and two came in overtime, including the classic Fiesta Bowl win over Miami in double overtime.
Five of Ohio State's 11 wins during its 11-0 start this season have come by a touchdown or less, two in overtime. And those wins have come with a sophomore starting quarterback and first-year head coach.
But before the Buckeyes can complete an unlikely 12-0 record, they must first conquer Michigan. It's a task that has ended several promising Ohio State seasons in the past.
Ohio State is 12-18-2 all-time versus Michigan when the Buckeyes enter The Game with zero losses. However, fourteen of those defeats came in the early years of the rivalry, before it was the regular-season finale. Since 1935, when the game moved to the final game of the regular season, Ohio State is 8-4-1 when unbeaten.
Three losses came during a four-year period, in 1993, '95 and '96. Three times in the mid-90s Ohio State entered the Michigan game with national championship aspirations and all three times John Cooper's Buckeyes lost.
Each defeat served up excruciating pain for Buckeye Nation. But the eight wins offered euphoria. It's the latter that the scarlet-and-gray clad fans are hoping for on Saturday.
Opponent
At first glance, some observers see a so-so football team. The evidence is three losses, one the familiar score of 41-14. But that blowout came to then-No. 1 Alabama, Michigan's second loss came to now-No. 1 Notre Dame and the Wolverines' third loss came to Nebraska, currently ranked 17th, in a game that Denard Robinson was injured.
So to completely dismiss Michigan would be ludicrous.
Robinson has defined Michigan football for the past three seasons. But in a stroke of luck, an injury to Robinson may have set Michigan up for success in the next two seasons.
Robinson suffered a nerve injury to his elbow at Nebraska, leading backup quarterback Russell Bellomy to play a majority of the game. It did not go well for Michigan, as Bellomy completed 3 of 16 pass attempts for 38 yards with three interceptions.
The next week, Devin Gardner, who came to Michigan as a dual-threat quarterback but was moved to wide receiver this season, started at quarterback. And so began Michigan's offensive onslaught. It's been ongoing for three games now, coinciding with Gardner's move to quarterback.
Michigan receivers Roy Roundtree, Jeremy Gallon and Drew Dileo have become much more dangerous with Gardner passing them the football. The trio has over 1,300 yards receiving and five touchdowns on the season.
Ohio State cornerbacks Bradley Roby and Travis Howard, with six interceptions between them, including a pick-six, will be in charge of patrolling the wide receivers' turf.
Gardner has completed more than 65 percent of his pass attempts for 834 yards with seven touchdowns and three interceptions. He's also averaging nearly four yards per carry and has run for seven touchdowns. The junior has been named the Big Ten offensive player of the week the past two weeks.
In Michigan's 42-17 win over Iowa, Gardner threw for three touchdowns and ran for three touchdowns, becoming the first quarterback to accomplish that feat since 2000.
Still, Robinson is listed as the starter this week. What is more likely to be the case is Gardner taking most of the snaps at quarterback, while Robinson roves from QB to running back to wide receiver. The uncertainty of where Robinson will be combined with Gardner's presence creates a host of issues for the Ohio State defense.
"You just don't know what to plan for," senior linebacker Zach Boren said. "You don't know if you're going to show up on Saturday and Denard's going to be the starting quarterback and Devin's going to be at wide receiver or Devin's going to be the quarterback and Denard's going to be at tailback. You don't know, and that's the hard thing about scheming for them."
Starting running back Fitzgerald Toussaint will miss the game due to a broken leg, which further lends credence to the theory that Robinson will be featured as the running back.
Last week, Robinson never attempted a pass but finished with 122 total yards. He ran for 98 and caught two passes for 24 yards.
"The attention that he gets is amazing," Gardner said of Robinson.
Meyer, who recruited Robinson to attend Florida, called him "one of the finest athletes in America" during his weekly press conference. The athleticism and elusiveness gave Ohio State fits a season ago. Robinson completed 14 of 17 passes for with three touchdowns and zero interceptions. He added 170 yards and two touchdowns on the ground.
Michigan had Robinson and Gardner on the field together for 15 plays last week. The Wolverines scored on its first six possessions.
"That's what makes this game fun for coordinators," Al Borges, Michigan's offensive coordinator, said. "There are so many things you can do with 11 guys. It's like no other game."
Replacing Toussaint is Thomas Rawls and Vincent Smith. The duo has combined for 316 yards rushing and six touchdowns.
Attempting to hold the resurgent Michigan offense at bay will be an Ohio State defense that ranks 17th against the rush and 84th against the pass. The Silver Bullets are allowing 117 yards rushing per game and have only surrendered 12 touchdowns on the ground in 11 games.
The Ohio State defensive line will be the first layer Michigan has to go through. Senior defensive end John Simon is coming off a school-record tying four sacks last week at Wisconsin. He, Johnathan Hankins, Garrett Goebel and Nathan Williams will be out to harass the Michigan quarterbacks like they did Curt Phillips. But Michigan's offensive line has only allowed 11 sacks all year.
That's where names like Boren, Ryan Shazier and Etienne Sabino come into play. The Buckeyes' linebacker corps could play a central role in neutralizing Gardner and Robinson.
"The good thing is that we know that they're going to run or pass the ball," senior safety Orhian Johnson said. "Either way it goes, the ball is going to have to be declared some way, so we just have to go out there and make sure once it's declared, we're in our right spots and go out there and make plays."
Buckeye Breakdown
The focal point for Ohio State's opposition has centered on quarterback Braxton Miller. From Miami (Ohio) to Wisconsin, the dual-threat quarterback has warranted eyes and spies.
The strategy doesn't change for the Michigan Wolverines. And unlike a majority of the Buckeyes' opponents this season, Michigan has the personnel to limit Miller's production.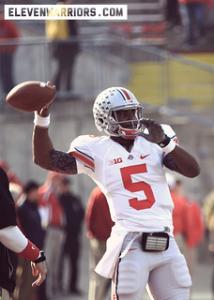 The Wolverines field the 12th-best total defense in the country, top-ranked pass defense and 51st run defense. Michigan has also held opponents to 18 points per game this season. It's quite a reversal from just two seasons ago, the final year of the Rich Rodriguez era, when defensive coordinator Greg Robinson's defense allowed 35 points per game.
"I saw them a couple years ago, and it was bad," Meyer said. "It was about as bad a defense as I've ever seen. To see what they've done in two years, that's a heck of a job."
The architect is Greg Mattison, Meyer's co-defensive coordinator and line coach at Florida.
"That enhances it a little bit, but once again, it's about players," said Meyer, referencing he and Mattison's past relationship. "Probably the way it enhanced it, I know we've spent a lot of time now having conversations about how they'll play us, and that's probably the only thing that really matters now."
Mattison was an assistant alongside Hoke at Michigan from 1992-97 and then with Meyer while the two were at Notre Dame from 1997-2000.
Since returning from a neck injury against Purdue, Miller's play hasn't reached the pre-injury level. He's completed just over 50 percent of his passes with three touchdowns and one interception. Miller's rushing production also has taken a hit, averaging less than three yards per carry the past two games.
But it's that pass defense that could really hurt Ohio State. Running Miller and Carlos Hyde for 60 minutes isn't likely to yield a victory. One-dimensional offenses rarely come out victorious in the Ohio State-Michigan game.
Miller and Hyde have combined for more than 2,000 rushing yards this season and 28 rushing touchdowns. Miller is also completing 57 percent of his passes for 1,850 yards with 14 touchdowns versus six interceptions. But Meyer's spread offense is built for power.
"(Miller) is way too fast for you to say, 'Hey, I'm going to catch him, I'm going to take a chance here,'" Mattison said. "You have to try to keep him inside all the time."
Michigan is giving up just over 150 yards per game through the air and has not allowed a 200-yard passing game all season. Alabama's A.J. McCarron only completed 11 of 21 passes against Michigan, though two of them went for touchdown passes. He finished with 199 passing yards.
"They don't blitz a lot," Meyer said. "They play a fair amount of man coverage, but they're very good zone-droppers and they understand schemes. They're a pattern, drop-read team, and they do a very good job."
Miller only has two games all year in which he's eclipsed the 200-yard mark.
With a veteran secondary returning this season, Michigan was expected to have a solid pass defense. But it was an underclassman, sophomore cornerback Blake Countess, which was supposed to headline the group. He suffered a season-ending injury against Alabama, though.
The Wolverines have stood tall, however, and regrouped. Now they face Miller, who has shredded many opponents this season. In an up-and-down freshman season a year ago, Miller had his best game against the Maize and Blue, throwing for 235 yards and two touchdowns and rushing for an additional 100 yards and a touchdown.
Senior strong safety Jordan Kovacs and linebacker Kenny Demens are Michigan's best defenders.
"We're not throwing the ball well at this point," Meyer said, offering up a snapshot of what the Buckeyes must improve on Saturday.
But where Ohio State can attack is with the option. Michigan's defense struggled mightily against both Air Force and Northwestern. Mattison, Michigan's miracle worker, will likely be waiting for it, though.
"He was the first phone call I made when I got the job at University of Florida to find out if he'd go with me," Meyer said. "We lived next to each other at Notre Dame for a long time. I know he's a great recruiter. We recruited together for many, many years. I've just got a lot of respect for him as a coach."
It was Mattison who befuddled Ohio State's high-powered 2006 offense and Heisman Trophy winner Troy Smith, when Florida defeated the Buckeyes, 41-14, to win the national championship.
Ohio State was limited to 82 total yards.
"Every place you're at, you put everything into that, and it's almost like you don't remember what happened before and you don't focus on that," Mattison said.
"We've played against some good quarterbacks this year, and we play against a great one (Denard Robinson) every day in practice," Mattison said. "We'll be ready to go."
How it Plays Out
It's The Game. Seasons are defined by the result, coaches' legacies are built on whether they win or lose and players' careers are judged by how they did in The Game.
For Ohio State, the Michigan game has been highly anticipated since last year's contest ended. For the first time in seven seasons the Wolverines came out on the winning side.
Then Meyer was hired and the fans expected the same dominance against Michigan that Jim Tressel gave the program for a decade.
During his 10-year career, Meyer has excelled in rivalry games, winning 21 of 24 games that have the "rivalry" designation. With an undefeated season on the line, a loss would rank with the three during the Cooper era when the Buckeyes had zero losses.
A big performance is needed from Miller to clinch a spot in New York for the Heisman ceremony, but Saturday is about team results. That being said, this is the game when legends are born, so to speak.
In an already historic season, Miller caps it off with a stat line that would make Troy Smith proud.
Ohio State 30, Michigan 21