A group of Ohio State players was visiting a Columbus hospital last December when they heard the news: the Buckeyes would not be eligible for the postseason in 2012.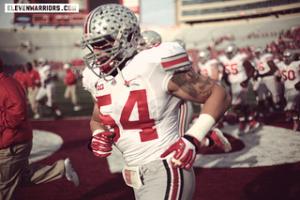 The immediate reaction was one of shock. The players didn't even hear the news from a coach; instead hospital visitors and workers were asking them about their opinion of the ban.
"We were like, 'What are you talking about,'" senior linebacker Zach Boren said.
For a year, Buckeye Nation and those inside the football program were reassured by Ohio State athletic officials that a bowl ban was not on the table. But when the NCAA came back with the sanctions, Ohio State's worst fears were realized.
Urban Meyer had been the head coach for less than a month. He said it felt like he was punched in the gut when the NCAA's punishments were read to him. Of immediate concern was the upcoming senior class. Part of the guidelines from the ruling stated that seniors would be permitted to transfer to any FBS school and be eligible to play without sitting out a season.
The same scenario played out in the summer of 2012, when Penn State was hammered with unprecedented sanctions by the NCAA after the Freeh Report outlined recklessness inside the football program in regards to Jerry Sandusky's child sex abuse scandal.
A handful of Penn State seniors opted to leave and finish their careers elsewhere.
No Ohio State seniors left.
At Michigan, legendary head coach Bo Schembechler coined the now famous phrase, "Those who stay will be champions." For Ohio State, that saying came to fruition last Saturday in Madison. When Christian Bryant knocked down a desperation fourth-down pass in overtime, the Buckeyes clinched an outright Leaders Division title.
In two days, that group of 21 seniors has an opportunity to close out their careers and one of the most improbable seasons in Ohio State's 123-year football history with a win over archrival Michigan in Ohio Stadium.
"Those kids could have all went wherever they wanted to go," said Meyer, fighting back tears. "I had no idea who they were, and they didn't know me, so it was a leap of faith. I think it was also the love for their school.
"Now that I know them, I know exactly why they stayed, for the love of Ohio State. It's really cool in this day and age to witness that. We're forever indebted to them because they didn't have to do what they did."
The senior snapshots have helped define Ohio State's undefeated season. This week alone Meyer has talked about the "heart and soul" of the Buckeyes, John Simon, the defensive stabilizer, Zach Boren, and the savior on the offensive line, Reid Fragel.
"This team is honestly like my brothers," senior safety Orhian Johnson said. "Those guys really became close to me. The stuff we had to go through with all the coaching changes and with the bowl ban and then the sanctions. You could only get closer through all of that, and I really appreciate those guys being there for me and me being there for them."
Leading up to the 2011 season, the Buckeyes used the "shock the world" mantra as their rallying cry. It didn't work well, though, as the year included week after week of uncertainty and turmoil. Ohio State sleepwalked through a 6-7 season.
No talking points were needed as fall camp began in 2012. There was no clever motto, no motivational ploys and no speeches were needed. The team, without the urging of Meyer, knew the opportunity that lie ahead of them.
"I don't really know a word to describe it, but we just all stuck together," Boren said. "I think when Coach Meyer came in and especially the seniors and stuff, we just sat down and said, we have to stick together and help lead this young team.
"We knew we had to make a statement this year because a lot of our team are sophomores and they had a losing record last year. We knew we had to get Coach Meyer off on the right foot and have a successful season, and I think we've done that so far."
Have they ever. All of the above has been accomplished. But more importantly, the fourth- and fifth-year seniors that came to Ohio State in top-five recruiting classes have progressed the movement of the program.
When they arrived in Columbus, the Buckeyes were coming off consecutive appearances – and losses – in the national championship game. Combined, the two classes were supposed to lift Ohio State to a level that their predecessors were not able to attain.
Big Ten championships and bowl wins followed, but the national title never came. It probably won't come this season either. But the trajectory that the seniors have set Ohio State on will be remembered for years.
"It is starting to settle in," senior linebacker and captain Etienne Sabino said. "It's kind of surreal. It feels like you've been living a dream for the last five years, and to know it's coming to an end, it's hard."
Said Meyer: "It's an incredible group. If they find a win this last game, they'll go down in history books as one of the greatest senior classes of all time."