After months of neglecting the big picture, Ohio State is now aware and focused on what lies ahead. If the Buckeyes beat Michigan, an undefeated season will be completed. That comes with the possibility of being crowned AP national champions.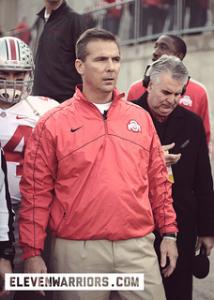 The first goal of Ohio State's season was already achieved in last Saturday's win over Wisconsin, clinching an outright Leaders Division title. The Buckeyes' season to this point has centered on the unspoken.
Before the season, Meyer considered coming up with motivational ploys for his team. With no postseason games, he thought they might have trouble approaching each game with intensity and enthusiasm. Meyer quickly realized, however, no added incentive would be needed for Ohio State.
When talk of going undefeated surfaced or the AP poll was brought up, Meyer dismissed it as unwelcome noise. The Buckeyes didn't need extra motivation and they certainly didn't need distractions.
But that wall came down at the conclusion of Saturday's dramatic game.
"We can talk about it now," Meyer said. "I kind of put a muzzle on everybody before. But our players won a ring tonight. They're champions of their side, which is, really, at the end of the day when you keep score, you want to go be a champion."
Ohio State enters its season finale as a five-point favorite over arch-rival Michigan, and with Kansas State and Oregon losing last week, a split national championship suddenly looks more realistic.
The Buckeyes are currently ranked fourth in the AP Poll. Notre Dame is No. 1 followed by Alabama and Georgia, who play in the SEC championship game next week. Notre Dame plays at USC on Saturday.
Everything about the past year inside the program has verged on the unrealistic. First it was the bowl ban. For months, Ohio State officials said the program had little chance at being denied the 2012 postseason. But when the NCAA hammer came down, it hit hard and painfully. Meyer called it a gut punch.
Then before the season even started, the media started diminishing Ohio State's prospects of going undefeated. Many called it far-fetched and impractical. The AP title? May as well not even ask about it – a bigger long shot than Chaminade beating Virginia.
But Ohio State has continued winning, often in heart-stopping fashion, and a funny thing happened Monday night. Chaminade pulled off another stunner 30 years after beating Virginia.
"I feel like we can't be beat," junior defensive lineman Johnathan Hankins said. "We're not settling for a loss. We want to go undefeated."
The Buckeyes' winning ways have set up a dream scenario for Saturday afternoon.
"It's something I'll look back when I'm older," senior linebacker Zach Boren said. "It's just kind of come full circle for us, and it's kind of a neat story."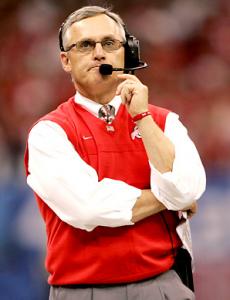 Vested Interest 
The storylines for Saturday's game are plentiful. But one of them doesn't even have an effect on the game. Well, not technically.
Jim Tressel, the man who, in many ways, is responsible for Ohio State's current bowl ban, will be in Ohio Stadium for Saturday's game. Tressel will be on hand for festivities recognizing the 2002 national championship team's 10-year anniversary.
The decision for Tressel to attend is expected to gain attention, some of it positive, some of it negative. By and large, though, he is still a popular figure among fans. The national championship win over Miami, a 9-1 record versus Michigan and his overall record speak more to Buckeye Nation than his role in the tattoo-for-memorabilia scandal that left the program in tatters for a year.
"Honestly, I feel like the fans never really lost their love for coach Tressel, because of the stuff that he did and the kind of guy that he was," senior safety Orhian Johnson said. "I know that I never did. All I can think of is guys going out there and praising him for what he did. I don't have any animosity toward coach Tressel in any way, shape or form."
With the very real possibility that Ohio State would be playing for a national championship this season if not for the postseason ban, a tinge of uneasiness would not be surprising. But current players don't think that should be the case.
"I would hope there would not be any awkwardness," senior punter Ben Buchanan said. "I was recruited and played for coach Jim Tressel for three years and just love him.
"I hope that Buckeye fans would welcome Coach Tressel back. The things that he did for this university were amazing. I have the utmost of respect for him, and for a lot of these seniors, we feel very honored that the man that recruited us and brought us here and developed us when we were younger players is going to be able to see us off in our final game. I'm very much looking forward to having him in the stadium."
The opinions of Johnson and Buchanan became the theme on Monday when the seniors who were made available to the media were asked about their former coach.
"I am looking forward to seeing Coach Tressel," right tackle Reid Fragel said. "He's a great person who I admire very much. I don't really think it will be awkward. I think everybody is kind of looking forward to seeing him since we haven't really seen him in a while. I don't think there's any bad blood with him and the guys on this team at this point. What's done is done. It happened, and I think everybody has kind of moved on."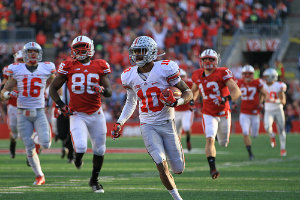 Quite a Loot
Perform well in a big game and chances are you'll be recognized. That is exactly the scenario that played out on Monday for several Ohio State Buckeyes.
Two performances in particular that stood out Saturday at Wisconsin belonged to defensive end John Simon and punt returner Corey Brown. Simon tallied a school-record tying four sacks, the most for a Big Ten player since 2010. He leads the conference with nine sacks on the season, and his total on Saturday led to Big Ten defensive player of the week honors.
Brown's 68-yard punt return for a touchdown jumpstarted Ohio State in its 21-14 overtime win over Wisconsin and served as the special teams highlight of the week in the Big Ten. He averaged 23 yards on three returns and was named the conference's special teams player of the week.
Michigan quarterback Devin Gardner was named the offensive player of the week for the second straight week after throwing for three touchdowns and rushing for three touchdowns in a 42-17 win over Iowa.
Gardner completed 18 of 23 passes for 314 yards and rushed for 37 additional yards. Still, Denard Robinson was listed as the Wolverines' starter for this week.
"It definitely makes it a little bit harder to prepare, but you don't think about it too much," Ohio State senior defensive lineman Garrett Goebel said. "You prepare for everything and react to what happens.
"It's always hard to even prepare for one quarterback, even when it's Denard. Two quarterbacks makes it tougher. You have to rep more stuff in practice, different looks. It's a big challenge.
"Obviously their quarterbacks are hard to defend. They're dual threats, great players and make people miss. We have to have a lot of guys run to the ball and got to get them down."