Michigan.
Utter that word in June or November and you'll elicit the same response in Columbus: hate, laughter, disdain and the like.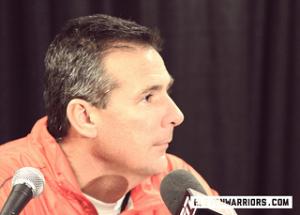 It's The Game, and the stakes are as high as they've been in years. Ohio State is 11-0 for the first time since 2006, but the Buckeyes were atop the polls beginning in Week 1 that year.
High expectations began for the 2012 season days after a 6-6 regular season ended last November. The day Urban Meyer was hired as head coach, Buckeye Nation started whispering about an undefeated season.
Then December 22 happened. On that afternoon, Ohio State's worse fear became reality – the NCAA hit the program with a postseason ban for the upcoming season.
Meyer called it a gut punch, but the team banded together. The season has been defined similarly to Ohio State's last unbeaten season in 2002 with close finishes and the "a win is a win" mentality.
On Saturday, the Buckeyes have a chance to beat their arch rival and cap a season that will be talked about for as long as they play football in Columbus.
Defensive champions vs. Wisconsin: John Simon (player of the game), Ryan Shazier, CJ Barnett, Zach Boren, Christian Bryant and Orhian Johnson.
Meyer called Boren's season one of the great stories of the year and in the history of Ohio State football. "He's an incredible human being," Meyer said.
Barnett played his best game of the year, according to Meyer.
Offensive champions vs. Wisconsin: Carlos Hyde (player of the game), Corey Brown and Evan Spencer.
Special teams champions vs. Wisconsin: Johnson (player of the game), Ben Buchanan, Corey Brown, Evan Spencer, Taylor Rice, Armani Reeves and Devin Smith.
Meyer said he is disappointed Johnson doesn't have another year of eligibility. He said Johnson has really come on as the season progressed.
When he put his staff together, Meyer said he wanted people who knew what the Ohio State-Michigan game was about.
Co-defensive coordinator Everett Withers is the only OSU staff member not familiar with OSU-Michigan. Meyer said he's being educated this week.
"He's one of the finest athletes in America." -Meyer on Denard.
Meyer said the first phone call he made at Florida was to Greg Mattison, who became his defensive coordinator. Mattison is now the DC at Michigan.
Ed Warinner and Kirk Barton deserve the credit for turning Reid Fragel into the tackle he is today, Meyer said. Fragel wasn't anywhere close to that in spring.
"He's the best," –Meyer on Simon.
Meyer shared the vivid memories of the 1987 Michigan week when Earle Bruce was fired.
"No one had more success than Jim Tressel." -Meyer on the Michigan game.
Meyer said he researched how Tressel handled the Michigan game and the week of the game. He said he will use some of the same tactics.
"Now that I know them, I know exactly why they stayed, because they love Ohio State...We are forever indebted to them." -Meyer on OSU's Srs.
"That's something I still don't get." –Meyer on Brady Hoke being from Ohio but liking Michigan.
Ohio State will have Senior Tackle on Thursday.
Earle Bruce will speak to the team this week, according to Meyer.
Meyer said yesterday was the first time he heard anything about Maryland joining the Big Ten.