Even after one of the top defensive performances in school history, John Simon doesn't like to talk about himself.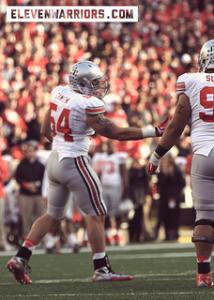 The questions came as soon as he walked into the interview room after Ohio State's thrilling 21-14 overtime win at Wisconsin. How does it feel to own the school record for sacks in one game? Was this the best feat of your career?
Instead, the consummate teammate went into praise mode – for the 10 players around him.
"It was great coverage," said Simon, whose four sacks tied him with Jason Simmons, Bobby Carpenter and Vernon Gholston. "That quarterback was holding the ball for an awfully long time. One time he ran into me. Another time, we ran a great stunt where Nathan Williams ran him into me."
But Simon's teammates were quick to recognize his sacks that added up to 36 lost yards for the Badgers.
"He's unbelievable," linebacker and fellow captain Zach Boren said. "He was flying around. He's so quick off the edge, and it's so hard for those 330-pound offensive tackles. He knows what his game is and he strives at it."
It wasn't just sacks where Simon made an impact, though. In the first quarter, he batted down a pass from Wisconsin quarterback Curt Phillips that could have gone for a first down, but the Badgers were forced to punt. On the ensuing special teams play, Corey Brown went 68 yards untouched to give Ohio State the early momentum and a 7-0 lead.
On the Badgers' first play from scrimmage on the following possession, Simon sacked Phillips, and in doing so, sent a message to tackle Rob Havenstein that it was going to be a long day. And it was for nearly two quarters. But Havenstein suffered a game-ending knee injury, so Simon took to his replacement and the occasional double team.
When Wisconsin took over on the short side of the 50 on the final possession of regulation, Simon put an end to the good field position on the first snap. He beat his man easily, getting to Phillips and taking him down for an 11-yard loss.
The Badgers still managed to score, but on 4th-and-6 in overtime, Simon harassed Phillips for what seemed like the 83rd time – the number of plays Wisconsin ran. The hurried throw was knocked away by safety Christian Bryant and Ohio State was on its way home with win No. 11 secured.
"It means a lot that we got the win," Simon said.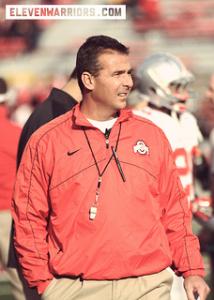 A victory came tougher than the Buckeyes might have imagined after they took a 14-0 lead early in the second quarter. At that point, Phillips, a fifth-year senior starting his second career game, had missed several open receivers. Ohio State dared him to beat them as running back Montee Ball racked up 191 yards and a touchdown on 39 carries. 
Ohio State created a turnover when they needed it most, causing Ball to fumble at the one-yard line late in the fourth quarter. But Wisconsin got the ball back and forced overtime with a touchdown in the final 10 seconds.
"We really wanted to stop that run game," Simon said. "I really thought we did a good job, except for that one series where they slammed it down our throat."
Simon was referencing the same series that ended with Ball's fumble, which would have given him the NCAA career touchdown record. Ball carried the ball seven times for 42 yards on the drive.
Phillips came back on the next series, though, and orchestrated a 41-yard game-tying series. Then the Silver Bullets buckled down in overtime, limiting the Badgers to four yards and a low-percentage pass on the decisive 4th down.
"We just had to shore everything up for overtime," Simon said. "We knew it was going to be another battle."
The Buckeyes won that battle royale, and the overriding theme following the game was similar to that of the season: sending the seniors out in style.
"(Simon is) a senior, and he said we weren't going to lose this game," defensive line mate Johnathan Hankins said. "I backed him up on that and continued to fight as hard as I could."
Ohio State has 21 seniors on the roster, eight of them starters, including senior captains – all on defense – Simon, Boren, Etienne Sabino and Garrett Goebel. Ten years ago when Ohio State won the national championship in Arizona, it was head coach Jim Tressel who mentioned the seniors first in his postgame remarks.
That group of 13 fourth- and fifth-year players had been through rough patches similar to their 2012 cousins. The Buckeyes lost six games in 1999, four in 2000 and five in 2001. They also lost to Michigan in two of those three seasons. But that wasn't all.
Following an embarrassing loss to South Carolina in the Outback Bowl on New Year's Day 2001, 13-year head coach John Cooper was dismissed. A bulk of that performance fell directly on a group of selfish and undisciplined seniors who grew disenchanted and disinterested.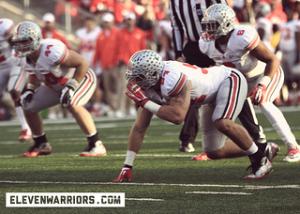 That environment changed when Tressel was hired and the same leadership traits in the locker room took hold after Urban Meyer took over. 
Players could have bailed on an Ohio State program that was barred from the postseason in 2012, but no senior left, largely because there was unfinished business.
"I stayed because it's a team sport," Simon said. "We (the seniors) would never consider leaving those guys. When I committed to being a Buckeye, I was a Buckeye through and through. I wanted to be here for four years."
He might not have the most tackles on the team, but Simon clearly has the biggest impact. On the field, he is constantly chasing quarterbacks and running backs and generally making an impact in some way on nearly every play. In the locker room, Simon commands respect from his peers, even giving a tearful speech after he played with one arm in a heart-stopping game against California in September. And whether it's during the season or not, Simon's mentality and dedication to the team draws admirers numbering in the triple digits – the amount of players on the roster.
"I'm so proud of him," linebacker Ryan Shazier said.
Simon is someone who wakes up well before sunrise and traverses to the Woody Hayes Athletic Center. But it got to the point that Meyer and strength coach Mickey Marotti instituted the "Simon Rule."
They loved Simon's work ethic, but they also wanted to use it to the team's advantage. So Simon was no longer permitted to enter the monstrous football facility alone – he had to bring along a teammate or two, preferably underclassmen.
The Simon mystique began rubbing off on the team and low and behold, the defense clamped down. Ohio State's 2011 defensive unit was part of the equation in the Buckeyes' seven losses, tied for the most in school history and a figure that hadn't been equaled since 1897.
The Silver Bullets have spent portions of 2012 being a bend but don't break defense. But they say defense wins championship and Ohio State has the Leaders Division all to itself.
"We knew how physical it would be," Simon said. "The tougher team always wins this game.
"Great team effort."
Now the final week, final practice, final game in Ohio Stadium, final game as a Buckeye and final chapter of Simon's stellar four-year stay at Ohio State all collide at a crossroads on Saturday afternoon.
When he sits down and recalls his career years down the road, you'll likely hear an awful lot about coaches and teammates from John Simon.