After dispatching the Wisconsin Badgers' hopes of a Leaders Division title, Michigan Week is finally here.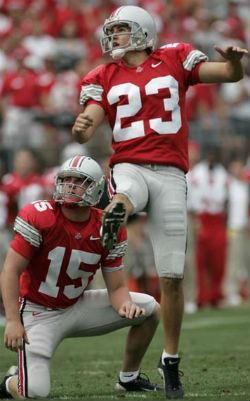 It doesn't matter what has happened in Ohio State's season up until this point, as now one mission lies ahead for the Buckeyes: beat the Wolverines.
Last year's loss to the school up north was somewhat of an anomaly for fans in recent years, who had gotten used to making the Maize and Blue the Buckeyes' rag doll, as OSU under Jim Tressel had won seven straight games in the rivalry and nine of the last ten contests.
One of the players who was a part of four of those wins during Tressel's great stretch is former Ohio State kicker, Josh Huston.
Huston came to Ohio State in the fall of 2000 after being recruited by John Cooper out of Findlay High School, where he played his final two prep seasons as a teammate of current Pittsburgh Steelers' quarterback Ben Roethlisberger.
The son of a special teams coach, Huston had both a strong and accurate leg, but it took him some time to earn his chance in Columbus. The star kicker battled it out with Mike Nugent for the starting job before injuries set him back and forced him to have to spend six seasons with the Buckeyes.
It turns out everything happened for a reason, as Huston went on to eventually land the starting job for the Scarlet and Gray, leading to an opportunity in the NFL.
We caught up with Josh to hear him reflect on his OSU playing days, give us some insight to what life in the NFL is like, see what he is doing now, and get his thoughts on Ohio State's current season. 
Join us after the jump to hear more from former Buckeye kicker, Josh Huston.
Walk us through what you have been doing since you left Ohio State.
After Ohio State I became an undrafted free agent and signed with the Chicago Bears. I spent camp and pre-season with the team, but got cut right before the season. I then went to New York to play for the Giants and they liked me and decided to sign me the next year over Jay Feely who was their incumbent starter. 
Everything was going well and it looked like I was going to win the starting job, but then had an emergency appendectomy during OTAs, which caused me to be sidelined for a while. The Giants signed Lawrence Tynes from the Chiefs and we battled it out during the pre-season. I thought I had won the job, but in the end he got the starting nod (and still is the Giants' kicker), as Coach Tom Coughlin cut me, telling me that I didn't have as much experience.
I then went through a bunch of workouts and got to sign with the Bengals when Shayne Graham got hurt one week, but he came back and took the starting job over. The next season the Giants brought me back when Tynes got hurt, but I caught some bad luck, tearing my groin which led to my release. I tried to rehab my groin, but I was never the same after that and decided to hang it up.
After my playing days were over I got into sales, selling extended warranties on vehicles. I did that for a little while, before getting hired by my current company in Central Ohio working in the C&F field, which I am loving.
You spent six seasons at Ohio State. What lessons did you learn there that are helping you with life after football?
I would say perseverance. I didn't spend six years at Ohio State only because I loved college. I had to deal with injuries and waiting my turn to get on the field, so I learned how to work hard and persevere to reach my goals.
Second I would say just learning how to battle when the chips are down. In my industry you have to deal with rejection often or things not going your way. Learning how to deal with those types of things at Ohio State has helped me greatly in my career.
Finally, I would say time management. At OSU we had to learn how to balance going to class, practice, study time, games, personal life, and other things. Learning how to do that in college has certainly helped me manage my time in the working world.
You played high school football at Findlay with Ben Roethlisberger. At the time did you know how special of a player he would be? Do you still keep in touch with him?
I played my junior and senior seasons at Findlay with Ben. We went on a lot of recruiting trips together, including Ohio State. He was an all-state wide receiver as a junior and then an all-state quarterback as a senior, so I knew he was really talented. He was pretty spectacular back then and what he was able to do on the field was pretty impressive. He never got hit square and was always a playmaker, which still holds true today.
I do not keep in touch with Ben anymore. To be honest I'm not really a big fan of his and he's the type of person who expects things from people just because he's good at sports.
At Ohio State you were a member of the 2002 national championship team. Will you be at the reunion this weekend for the Michigan game? What are your thoughts on Jim Tressel possibly attending?
I don't know yet if I'll be there. I've kind of been slacking on that so I'll have to look into it more seriously now. As for Coach Tressel, I would love to see him there, but knowing him he may not feel right going out of respect to Urban Meyer. I could definitely see him seeing everyone outside of the game, but I'm not sure he'll be in the stadium that day. If Urban encourages him to be there and he feels it is right, great, but knowing Coach Tressel and what kind of man he is, I could see him not wanting to intrude on the new staff at OSU.
Who do you still talk to from your OSU playing days?
Mike Doss and Jesse Klein are both in the same industry as me so I see them around. Andy Groom is a good friend of mine, as is Robert Reynolds. Aaron Pettrey, who kicked after me, is still someone I stay in touch with. There are a bunch of guys from the teams I play on that I still talk to.
You were behind Mike Nugent on the depth chart for a number of years. How difficult was it for you knowing that you could perform at a high level, to have to wait your turn?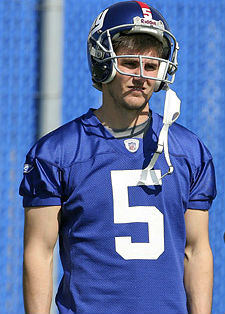 Mike and I battled for the job in 2001. He got to handle the field goal kicking duties and I handled kick-offs. I got hurt at the end of the year and Mike got to kick in 2002, where he earned All-American honors and I didn't handle that as well as I should have at the time.
I was a 20-year-old kid back then and knew I had great ability, but my mind wasn't what it should have been at the time and instead of realizing that competition would make me better, I took it as a threat. Having to wait my turn was definitely difficult because I wasn't looking at things the way I now know I could have.
Thinking back, it made me stronger, because I learned over time that competition was about bringing out the best in me and wasn't about having any ill-will towards the other guy, which definitely helped me in my NFL career and later at Ohio State.
After OSU, you had your kick of the can in the NFL. What was that experience like as an undrafted free agent kicker trying to find his way as a professional?
It was stressful. The income was not there, so I had to work a lot of odd jobs and jobs for friends that would enable me to make some money, but also gave me the luxury to leave in the blink of an eye if a call from the NFL came.
It was really exciting to get calls from teams and to go through workouts. I had a lot of fun competing, but at the same time it was really hard waiting for a decision from the teams that I worked out for when it came time for cuts.
Once you signed with a team it was a really cool experience, though. It was great being with guys like Eli Manning and all the great players you got to be around. Going through camp, watching film, playing in the pre-season, it was a fantastic experience, but it was also very demanding. The NFL works you very hard and it takes a lot of dedication to play at peak performance.
Overall though, the best part of the experience when signed was knowing that at one point I was good enough to do what only 31 other people in the world could do.
Have you gotten to watch the Buckeyes this season? What is your opinion of Coach Meyer and the team thus far?
I have seen just about every game so far this season. From what I've seen and heard, Urban Meyer demands excellence all the time from his team and I think he's really establishing what his dynasty is going to be about at Ohio State.
As for the team, the offense came a long way this season. Braxton's throwing has greatly improved since last season, and his ability to read the defense both before and during the play has been key to his success. Carlos Hyde has emerged as a big time threat and the offensive line has been much improved, not only giving Braxton time in the pocket, but also being dominant in the run game. 
The defense is hanging by a thread when it comes to injuries. A lot of those guys are banged up and they just need some rest and to be healthy. There have been lapses in coverage and they have been a little shaky at times this year, but they are improving each week as a unit.
Finally, if you could say one thing to Buckeye Nation, what would it be?
I have always been proud to be a Buckeye, but I think in the next couple years I am going to be more proud than ever. I want to tell Buckeye Nation that there is a lot to look forward to in the very near future from their team.
Thanks to Josh for taking the time to sit down with us and get us up to date on his life.