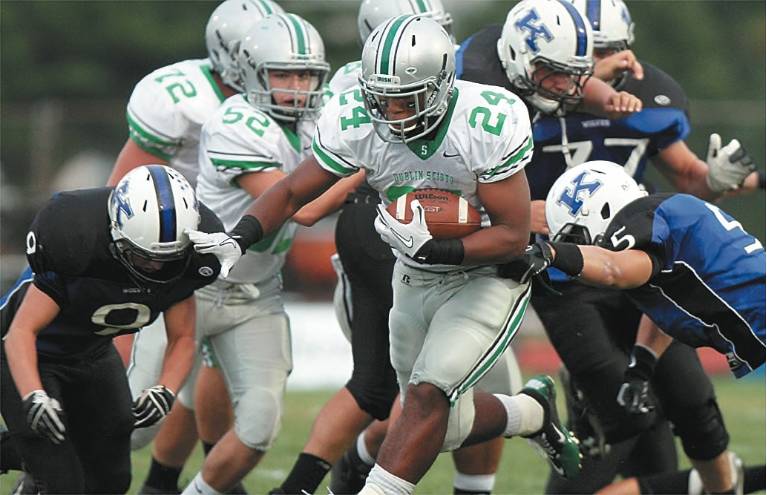 Coach Meyer and the Ohio State coaching staff are always looking to add pieces to their team, especially on the offensive side of the football.
With Zach Boren and Adam Homan set to graduate after this season, there is no true fullback/H-back on next year's team, and with the way the Bucks want to continue to pound the football in the run game, it is a position that certainly could be needed.
With Jeff Heuerman and Nick Vannett expected to hold down the traditional tight end role in the offense, the coaches turned close to home to fill this need by offering Dublin (OH) Scioto FB/LB William Houston a preferred walk-on spot a couple of months ago.
Houston looked around for a while, including weighing accepting a scholarship offer from Bowling Green, before ultimately deciding to take the opportunity the Buckeyes were offering after observing a practice earlier this week.
Standing at 6-0/230, Houston figures to fit in well at the H-back role at OSU. As he put it, he will play a role similar to the one Heuerman and Vannett are playing on this year's team, and he will be enrolling this coming January, giving him a head start to work his way towards earning a scholarship one day from the Bucks.
We caught up with Williams to find out why he decided to become a Buckeye, what he's looking forward to, how the staff plans to use him, and more.
Keep reading to find out more about the newest Buckeye, William Houston.
Why did you decide to become a Buckeye?
I picked Ohio State because it's close to home, I grew up a Buckeye fan, I've been around the program a lot the past couple of years, my dad played at Ohio State, and it just feels like where I belong.
How did you commit?
I was standing with Coach Gillum at practice this week and he took me over to speak to Coach Meyer. I committed right then and there.
How did Coach Meyer react when you told him you were accepting the offer?
He was really excited, especially because I'm enrolling early, so he'll get me in January.
How is Ohio State planning on using you?
I will play H-back there, which is not much like the traditional fullback. I'll be doing a lot of motion in the backfield, kind of how Nick Vannett/Jeff Heuerman are being used right now. I'll also be playing some special teams.
Do you have relationships with any current players/commits?
I played with Nick Vannett. He was a senior when I was a sophomore. I also played against Joshua Perry and I'm friends with Darron Lee.
What goals do you have for your upcoming year at Ohio State?
Work hard, prove that I belong on the big stage, and eventually earn a scholarship.
What have the coaches told you about a potential scholarship offer?
It depends on how well I do in the spring. Coach Meyer told me if I perform well that I could be on scholarship by the fall.
Which other schools did you consider?
I had an offer from Bowling Green and also had preferred walk-on offers from Michigan and South Carolina.
What are you most looking forward to doing once you arrive at OSU?
Getting there and playing early because I'll be the only fullback on campus.
How did your high school season go?
It went well. We finished 8-3, which was a nice turnaround from 2-8 the year before. I'm really proud of how hard we fought as a team.
What would you like to say to Buckeye Nation?
I look forward to what's in store. I want to make Buckeye Nation proud.
JUNIOR HIGHLIGHTS: