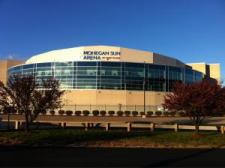 Ohio State goes back on the neutral site circuit this week. But barring some sort of unforeseen events, it actually gets to play real games. Ohio State is playing in the Hall of Fame Tip-Off Classic in Uncasville, Conn., at the Mohegan Sun.
The Buckeyes will play two games this weekend in the event that jump-started Kentucky's national championship a year ago. It won't be learned until April if that happens again this season, but the expectations for Ohio State remain the same.
"Every game is an opportunity for us to grow as a team," junior guard Lenzelle Smith Jr. said. "I'm stoked about it."
The camaraderie grew last week away from Columbus; the only problem was the Buckeyes didn't get to gel on the court.
"We've got the travel part down," Ohio State head coach Thad Matta said. "We got all the way to tip-off, warmups and everything on an away court. Now we just have to play a game."
The teams awaiting Ohio State are Rhode Island and either Washington or Seton Hall. Those teams might not be Final Four caliber, but Ohio State is almost certain to face a challenging opponent – either on the court or in the unfamiliar surroundings.
The Buckeyes' early-season schedule was set up to bring the young team together and have them face adversity early. Four games in the first three weeks of the schedule were slated to take place away from Value City Arena – Carrier Classic, Hall of Fame Tip-Off and Duke. 
"Most of the time when you play on the road, you have to find different ways to win," Smith said. "You have to do extra stuff. It's not like being at home and feeding off your own crowd's energy. You come together more as a team and feed off of each other."
Said Matta: "I think it will tell us quite a bit about our team. You play the first day and win or lose you have to go back and prepare for your next opponent. It's a real quick turnaround and you're playing again."
Matta also wants to see how his players react in different environments. He's currently shuffling through eight- or nine-man rotations, evaluating who should earn playing time and who should appear on the court together.
"He told us at the beginning of the year he's using his bench," senior forward Evan Ravenel said. "He had the depth he's wanted to use. He has a trust level where he can play everybody."
| # | Name | YR | HT/WT | PTS | REB | ASST | P | # | Name | YR | HT/WT | PTS | REB | ASST |
| --- | --- | --- | --- | --- | --- | --- | --- | --- | --- | --- | --- | --- | --- | --- |
| 4 | A. Craft | JR | 6-2/195 | 20.0 | 2.0 | 7.0 | G | 1 | M. Powell | SO | 5-11/175 | 3.5 | 2.5 | 2.5 |
| 32 | L. Smith Jr. | JR | 6-4/210 | 18.0 | 5.0 | 0.0 | G | 12 | A. Malone | SR | 6-6/210 | 10.0 | 3.0 | 0.0 |
| 12 | S. Thompson | SO | 6-7/200 | 4.0 | 5.0 | 3.0 | F | 5 | X. Munford | JR | 6-2/180 | 16.0 | 4.5 | 0.5 |
| 1 | D. Thomas | JR | 6-7/215 | 19.0 | 3.0 | 2.0 | F | 23 | N. Malesevic | SR | 6-7/200 | 16.0 | 6.5 | 1.5 |
| 30 | E. Ravenel | SR | 6-8/250 | 0.0 | 4.0 | 1.0 | F | 33 | R. Brooks | SR | 6-8/220 | 1.0 | 5.5 | 0.0 |
Opponent
Dan Hurley takes over a Rhode Island program that is two years removed from 20 wins. The problem is the Rams followed it up by going 7-24 a season ago. It is now Hurley's job to take Rhode Island back to the upper reaches of the Atlantic 10 Conference.
Rhode Island has a proud history and tradition, but it will be a challenge for Hurley and the Rams to get back to where they want due to the expanded and now tougher A-10.
The results so far this season have not been good – losses to Norfolk State and Virginia Tech. But this is all about baby steps. During the Jim Baron era, URI reached the NIT five times and won 20 or more games the same amount. But the Rams could never get over the hump and reach the NCAA Tournament like previous head coaches Tom Penders, Jim Harrick and Al Skinner did during their time in Kingston.
Under Hurley, it's been back to the basics for Rhode Island. The team focused more on fundamentals in the preseason than a glamorous offense. With good facilities and a heightened profile now due to the A-10's upgrades, it is not difficult to win at Rhode Island.
The Rams have many areas to improve on, but being competitive shouldn't be impossible. It's a senior-laden team that also features a big-time recruit in 6-foot-10 center Jordan Hare. He joins a front line that already includes Nikola Malesevic. The problem is, a lot of the veterans didn't play much last season. Rhode Island lost more than 60 percent of its minutes played.
The losses will be felt the most on defense and rebounding. Of 11 scholarship players on the roster, only eight are eligible this season. That's because Rhode Island has three transfers that will make a huge impact, just not this season.
Malesevic is the leading returning scorer, averaging 11 points per game last year. In two games this year that output is up five points. Sophomore Xavier Munford has been the Rams' biggest surprise so far. He's contributed 16 points and 4.5 rebounds per game in two starts.
Rhode Island's guards aren't real heavy on points, though Andre Malone is scoring in double figures. Mike Powell is the distributor, while Malone is the thief – on the basketball court, not the court of law.
Despite the bottom falling out last season, Rhode Island had four consecutive 20-win seasons and has a five-year win percentage nearly 60 percent. For Hurley, continuing those winning ways should lead to a breakthrough in the ever-competitive Atlantic-10.
Buckeye Breakdown
Less than a week into the season and there have already been a couple notable surprises for No. 4 Ohio State.
First came the game that wasn't. The Buckeyes were supposed to begin the 2012-13 campaign in grand fashion on the deck of the USS Yorktown. But Mother Nature had other ideas. Then came the actual first game, when point guard Aaron Craft put on an offensive show. Notice the "o" not a "d." Have no fear, though – his defense was still superior.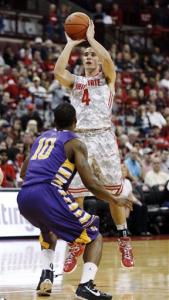 Craft scored a career-high 20 points and made five three-pointers, also a career best, in Ohio State's 82-60 win over UAlbany. The junior from Findlay talked all preseason about the time he took during the summer to hone his offensive skills.
The proof was in the pudding.
"In the offseason I worked to make those shots," Craft said. "We put a lot of effort in having guys shooting behind screens. My teammates have to trust me to make those shots and I'm earning their confidence. It's not hard to knock down wide-open shots when you have great players working with you."
With William Buford no longer shooting from outside or driving into the lane and Jared Sullinger removed from the post, Craft had no choice but to take his offensive game up a notch. Without him – or someone else – boosting their production, the Buckeyes would have a hard time living up to their lofty expectations.
"Craft is going to be a NBA player for the next 10 years," UAlbany head coach Will Brown said.
When a reporter joked about Craft becoming the team's best long-range shooting threat, Craft said, "Can you repeat that so these guys can hear it," as Deshaun Thomas and Smith sat nearby.
The person who helped Craft was who else but Chris Jent. The Ohio State assistant, who worked as LeBron James' shooting coach for several years with the Cleveland Cavaliers, has worked with shooters and big men in Columbus. Smith has also benefitted from Jent's tutelage.
Smith started last year, but wasn't a huge keystone of the offense. He had occasional games where he became a concern for defenses, though it was never consistent. In the opener, however, Smith scored 18 points on 8-of-11 shooting.
"I think if this team finds some more consistency at the five spot, they can surely go far," Brown said.
This weekend's Hall of Fame Tip-Off Classic will give Ohio State two more opportunities to get a return trip to the Final Four set in motion. 
Etc
This is the first meeting between Ohio State and Rhode Island. 
Mike Crispino and Dereck Whittenburg have the call.