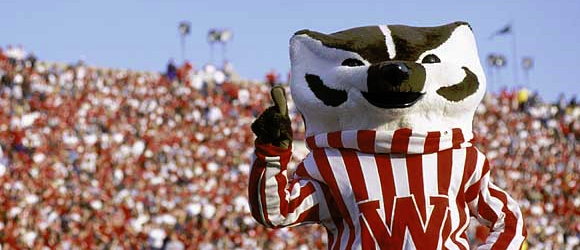 There certainly is no love lost between the Buckeyes and the Badgers. Even on the occasions where the result is heartbreaking, the games that feature these two teams are certainly memorable. As the 10-0 Buckeyes head to Madison to take on the Badgers during a bit of an upswing, compared to where they seemed to be headed earlier this season, Saturday should be no different.
Wisconsin is starting a backup quarterback who has been with the program for years and hasn't played much until their blowout win over Indiana last week. They are also favored in this game. Anyone who, unfortunately, remembers Jim Sorgi getting choked under a pile, and Lee Evans catching a 79-yard touchdown pass from backup QB Matt Schabert to defeat the Buckeyes and their 19-game winning streak, may realize anything can happen on Saturday. 
Then again, Urban Meyer seems to be on a mission and also seems to not be Bielema's biggest fan. So, again, anything can happen.
John Veldhuis of BadgerBlitz.com joins us this week, to share his thoughts on what to look for from this Badgers team, and what he thinks might happen.
Wisconsin is at 7-3, with games versus Ohio State and at Penn State left. How would you say this season, thus far, has differed from what you may have predicted for the Badgers preseason?
Well, it's definitely gone a lot differently than many of us expected. A lot of people (myself included) vastly underestimated how much change the program was going through at the time. The Badgers lost a lot of good players from last season, and had an almost entirely new offensive coaching staff to work with. Throw in the fact that the Badgers are on their third starting quarterback of the season, and I'd say things haven't exactly gone according to plan.
But despite all that, the Badgers have rebounded a little bit. New offensive coordinator Matt Canada seems to have found his footing, and the Badgers have still been able to run up large rushing numbers on most of their opponents. And above all else, they're still heading back to Indianapolis for the Big Ten Championship Game, and they still have a chance to head back there on their own terms.
Montee Ball is clearly one of the stars of this team, and the Badgers' rushing offense one of their greatest strengths. Who you would you say has had some success stopping the Badgers rushing attack, and why?
Well, you just have to look at the stats: Oregon State, Nebraska, and Michigan State all had the most success against Ball this season. And even Nebraska's a little iffy – Ball still had three touchdowns and 93 yards against the Huskers. But, not coincidentally, those are all three of Wisconsin's losses. Teams have to contain Ball if they want to beat the Badgers, and stopping him has become even more paramount now that Joel Stave is supposed to miss the rest of the season with a broken collarbone.
The Badgers' defense has also been impressive this year. Who are some of the Badgers Ohio State fans should watch out for when Ohio State has the ball?
Up front, keep an eye on defensive end David Gilbert and defensive tackle Beau Allen. They've combined for 6.5 sacks this season, and generally generate most of Wisconsin's pass rush from the front four. Wisconsin's defense funnels a lot of the action to linebackers Chris Borland and Mike Taylor, and it shows in the stats since they usually rack up a lot of tackles. Cornerback Devin Smith and free safety Dezmen Southward get a lot of praise from the coaching staff for their play-making ability, and will play big roles against Ohio State this week.
How do you think the defense will hold up against Braxton Miller and the new Ohio State offense?
It'll be tough, that's for sure. Smith and the rest of the defensive backs will have to hold strong and keep Miller from completing easy passes, as well as prevent the Buckeyes from breaking off big plays. They've been better at that this season, but Ohio State will definitely pose their toughest challenge yet. The linebackers and the rest of the defense will have to keep Miller from hurting them too much with his legs, but I think their success will stop and start with how well the Badgers can keep Ohio State's receivers in check.
5th year senior QB Curt Phillips will be making his 2nd career start against the Buckeyes on Saturday. What should Ohio State fans know about him, and how does he, if at all, change the game plan for the Badgers?
Phillips definitely changes the game plan a little bit. He's a more mobile quarterback than Stave or Danny O'Brien, but less so than Russell Wilson. Three ACL surgeries have taken a little bit of his old athleticism with them, but he's still mobile enough to move around and the Badgers have some designed quarterback runs that they like to employ with him.
The biggest question mark is his arm strength. It wasn't great in the fall, but the coaches insist it's gotten better as he's gotten his legs back under him during the season. We didn't see him throw the ball much at all against Indiana, and I think that's partly because they didn't need him to throw, and they didn't want too many of his throws on tape for the Buckeyes to study. It'll be interesting to see what he does if the Buckeyes are able to stop the run, that's for sure. Nobody outside of the program really knows what we're going to see.
Bielema and Meyer have had their share of drama in the preseason. How much do you think that, or the loss in Columbus last year, will play as motivating factors for the Badgers?
I think last year's game will be the bigger motivator. Bielema has said many times that his spat with Meyer was overblown, so I think that'll be reserved for the fan side of the rivalry. The Badgers are definitely still a little sore about their loss in Columbus, and I think they'll be much more motivated to try and ruin Ohio State's perfect season, in addition to playing for a Leaders Division Championship.
Do you have any Madison recommendations for our readers who may be traveling to the game?
Of course – the Kollege Klub off of State Street is always a hotspot after a game, and you can't really go wrong with State Street Brats, which is a little further up the street. My personal favorites are The Great Dane and The Old Fashioned. They're near the Capitol and have some of the best cheese curds you'll ever eat, so if you're into that kind of thing I would definitely think about making a stop there.
Final score prediction for the game?
I've gone back and forth about this game a bit, and having Phillips instead of Stave at quarterback makes a big difference. Phillips is kind of an X-factor for both teams, since Ohio State doesn't know what to expect out of his arm and the Badgers haven't seen him throw very much at all outside of practice yet. But I think Wisconsin's defense is good enough to keep Ohio State's offense in check, and it'll be up to the offense and Montee Ball to put up some points and keep them in the game. For now I'm going with a Wisconsin win, 30-27.
---
Many thanks to John for sharing his insights with us. You can read more from John, and Badger Blitz, by checking out the following links: