Urban Meyer's up-tempo, power spread offense took the college football world by storm in 2001 when he turned around Bowling Green. But it wasn't until 2004, when Meyer led Utah to an undefeated season, that the new creation made headlines.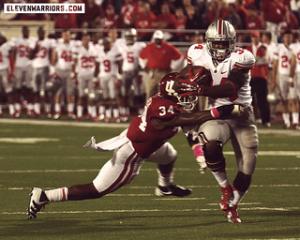 It would make more as the years progressed.
The 2004 Utes and Tim Tebow-led Florida Gators experienced a great deal of success with Meyer at the helm. Much of that came from an offense that proved to be nearly unstoppable.
Say the words spread offense and many immediately think of passing. But Meyer's version is centered on a balanced approach and is more power than lobbing footballs all around.
That philosophy has been reinforced this season with quarterback Braxton Miller and running back Carlos Hyde. The duo has rushed for more than 1,900 yards and 26 touchdowns through 10 games – and Hyde sat out two games in September.
"This is something that's new for Urban because we never had that type of physicality," running backs coach Stan Drayton, who coached with Meyer at Florida, said. "Now that we have it with these guys here, man, it's really fun to watch the offense develop.
"The beauty is that it fits the skills of our players. It can always be adjusted to the skill that we have with our personnel. We have always been a power, inside-zone outfit, no matter where we've been. It's just that down in Florida, you were doing it with guys who weighed 185 or 190 pounds. Now you're doing it with a 235-pound back who can break tackles."
Miller has helped offset some of his rushing production with 1,753 passing yards and 14 touchdowns. But Ohio State's run game has garnered the most attention.
Miller already became Meyer's first 1,000-yard rusher in 11 seasons as a head coach. Now Hyde is threatening to become the second. He has 737 yards on the season, needing to average 131.5 over the final two games.
After an up-and-down sophomore season on and off the field, Hyde has emerged as the clear No. 1 running back and a threat in the backfield along with Miller. Hyde has rushed for more than 130 yards in three games and has five games in which he has scored multiple touchdowns.
"I feel like I can't be brought down, and I run with that in my mind, which allows me to run hard," he said. "It doesn't matter who scores more running touchdowns between Braxton and me because I just want to help my team win in whatever way possible."
That Hyde could be a productive member of the offense is not surprising. But the level of his involvement is something that wasn't expected. Jordan Hall received praise from Meyer throughout the spring and was listed as the No. 1 running back on the depth chart. Then he stepped on a piece of glass, slicing tendons in his foot. That set him back three games.
Hall averaged more than five yards per carry in his first game back, a 17-carry effort for 87 yards against California. The next week he went over the century mark. But the first half at Michigan State brought another injury, this time to his knee. Hall has not played since and is expected to try and redshirt.
Hyde took the reins and hasn't looked back. It is a similar situation to last season, but that one ended worse for Hyde. The Florida native started in place of suspended starter Boom Herron and rushed for over 100 yards and two touchdowns at Nebraska. When Herron returned the next week, though, Hyde only received three carries.
After the game, he tweeted his displeasure and even hinted at transferring. The bad attitude persisted when Meyer became head coach.
"Carlos was a guy that didn't have a great reputation," he said. "Our first month together was not pleasant. I've actually grown to appreciate who he is as a person. I think the perception on him was incorrect."
Said Hyde: "I was just disappointed last year. I felt I didn't get the playing time I deserved. I moved past that and this year I have all the playing time that I want, and I'm loving it."
That newfound maturity has shone through all season, whether it's in the meeting room, in the locker room or on the football field. Hyde has been quick to credit Drayton - "He's the best position coach I've ever had," he recently said – and give love to his blockers.
"For me, it all has to do with my offensive line. When those guys go, I go because when they do better, I can do my job better," Hyde said.
In two weeks, he might have 1,000 reasons to say, "Thank you."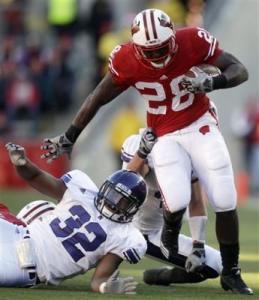 Ball Game
Wisconsin has a running back of its own. In 2011, Montee Ball finished the season with 1,933 rushing yards and 39 total touchdowns, tied for the most ever in a season. The numbers were Heisman worthy, but the Missouri native ended up fourth.
After spurning the NFL, Ball shot up the 2012 Heisman prediction charts. But a slow start to the season, including an assault on campus, put a halt to any player of the year thoughts.
He has rallied, though, and led Wisconsin to wins in four of its past five games while continuing to pack on yards and touchdowns. Ball helped lead the Badgers' historic rushing attack a week ago in Wisconsin's 62-14 dismantling of Indiana.
Wisconsin gained a school-record 564 yards on the ground. Ball had 198 yards and three touchdowns, boosting his scoring total to one shy of the all-time NCAA record. For his efforts, Ball was named co-Big Ten offensive player of the week.
"He started slow, and I don't put that on him," Meyer said about the early-season woes. "His strengths are great vision, and he's really a fast player. He pulls away from angles and his toughness – you can give him the ball a bunch of times and he just keeps getting stronger. He'll be a very good NFL back."
There's no place Ball would rather break the record than at home in Camp Randall Stadium. But to do so, he'll have to break through an Ohio State defense that has been improving considerably each week since allowing 49 points to Indiana the second week of October.
The Silver Bullets rank 16th nationally in rush defense and second in the Big Ten, allowing 108 yards per game. In 10 games, they've surrendered just 11 rushing touchdowns.
Making Saturday even more important for Ball is the fact that it's Senior Day.
"It's the ideal picture, basically for myself, to break the record here at home in my last home game," Ball said on Monday.
The last time Ohio State came to Madison, Ball was benched. For the first time in his career, he didn't appear in a game. It didn't matter for the Badgers, though, as they defeated No. 1 Ohio State, 31-18.
Chances are, head coach Bret Bielema will play him this year.
"After last season, we definitely want to beat them," Ball said.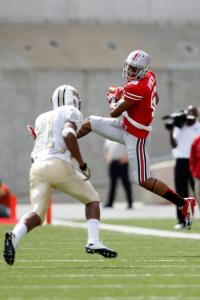 Family Lineage
Evan Spencer is well-versed in the history of Ohio State football. The son of the school's third-leading rusher, Evan grew up in the shadow of Ohio Stadium. His father, Tim, the owner of 3,353 rushing yards from 1979-1982, was the Buckeyes' running backs coach from 1994-2003. That gave young Evan ample time to spend around his beloved Scarlet and Gray.
After moving to Chicago when his dad took the running backs job with the Chicago Bears, Spencer's love affair with Ohio State never waned. That's why when it came time to make a college decision, the highly-touted wide receiver had a much less stressful choice than most of his peers.
"When it came down to it, it was an easy decision," Spencer said. "This is home for me."
Instead of just being a legacy player filling up a roster spot, Spencer is making a name for himself. In doing so, he's starting to make the playing field a second home.
Spencer came to Ohio State as a three-star recruit and one of the top players out of the state of Illinois. He was an all-state selection as a senior, having scored 19 touchdowns on top of 14 during his junior season.
There were high hopes for Spencer as a true freshman, but he got bogged down in the offensive woes of 2011. Spencer still managed to attract attention, though, with a spectacular one-handed touchdown catch versus Akron, the first reception of his career. He played in nine games last season, catching three passes for 78 yards and a touchdown. 
More hardships arrived during spring practice and fall camp in the form of injuries. Spencer broke a bone in his left shoulder in the spring and then suffered a deep bone bruise in his left knee in preseason drills. But he hasn't let either setback slow him down.
"It really bummed me out," Spencer said of the injuries. "I told myself that when it comes time for camp, just buckle down and give it everything you've got."
Through 10 games this season, Spencer has been held out of the end zone, but that doesn't mean he hasn't been productive. The sophomore has caught 14 passes for 203 yards, including a 44-yarder against Miami (Ohio). He has been named a "champion" four times this season, two behind offensive leader and fellow wide receiver Corey Brown.
"I'm just busting butt," Spencer said. "I made it a point to do everything I can this season – whatever is necessary to better myself."
Ten years later, Spencer still says the magical 2002 season is his best memory of Ohio State. 
"I've been around the Buckeyes my whole life," he said. "I still get chills thinking about it."
With two games remaining in an unbeaten season, it's now the younger Spencer that has an opportunity to be on an undefeated Ohio State team and make memories that last a lifetime.