When a new spring dawns each year, 120 FBS schools from Washington to Miami and Los Angeles to Boston dream about winning the national championship.
That goal is more realistic to some than others. In Troy, Alabama, national championships are about as likely as alien invasions. But up the road in Tuscaloosa, crystal footballs seem to appear at every turn.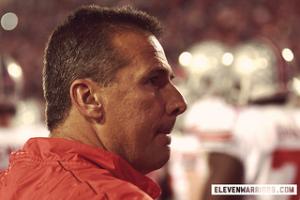 Titles also are what coaches and players are judged by in Columbus, Ohio. It has been 10 years since Ohio State won its last national championship. And before the 2012 season even started, the Buckeyes were relegated to the same fate as Troy, being a long shot title contender.
The 1974 Oklahoma Sooners were the last team to win the national championship while being forced to sit out the postseason. Ohio State set out to match that feat this season, and with two games left, it's inching toward the ever-elusive title.
With only two games left and no chance at a signature victory, the Buckeyes' chances of ending the season ranked No. 1 are not good. But at 10-0, they've already clinched at least a share of the Leaders Division championship.
Now their sights are set on hogging the trophy all to themselves.
Because Ohio State and Penn State are barred from appearing in the Big Ten championship game, Wisconsin has already booked reservations for Indianapolis. In reality, it trails the Buckeyes by two games in the standings and is even with Penn State.
Ohio State would like nothing more than to win Saturday in Camp Randall Stadium to mark its territory in the Big Ten. A victory gives the Buckeyes a division title all alone.
"At the end of the season, we want everybody to look at us as the best team in the Big Ten," junior wide receiver Corey Brown said.
With the two biggest games of the season approaching, Meyer won't have to do any motivating. The team knows what's at stake and how to handle the pressure that comes with big games.
Prior to the season, Meyer thought he might have to come up with some alternative goals to keep his team focused in a supposedly meaningless season. But as the year has worn on, he's found that it wasn't warranted.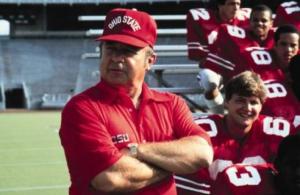 "I haven't had to," he said. "I like my guys. They're competitors. So, no, we've had zero discussion about it."
Certainly, Meyer and his coaches don't have to tell the team to get amped up for Saturday's game. Say the word Wisconsin in the locker room and blood starts boiling.
The series took off in the Earle Bruce era when Wisconsin, at the time a middling program, beat Ohio State in five of the nine meetings. One of those took place in 1987 at Camp Randall Stadium while a young graduate assistant named Urban Meyer was on the staff.
"Great college atmosphere. It's a great town and great atmosphere," Meyer said of the scene in Madison.
Ohio State leads the series history, 54-18-5. But 11 of Wisconsin's wins have come since 1980, including 2010, when the undefeated Buckeyes ran into a buzzsaw. Wisconsin returned the opening kickoff and never looked back. The Badgers won, 31-18, knocking Ohio State out of contention for the national championship.
"It's interesting hearing our players talk about it, especially guys that have been in some of those big games," said Meyer, about the series. "This is a rivalry game, and it's a rivalry game because you have to understand who you're playing and what they've done the last few years."
Finishing off a dream season is Ohio State's objective. Falling in line with that is the division. A rare Monday morning practice sent a message to the team. In full pads, Meyer said the Buckeyes were "excellent." There was concern the past week that Ohio State could lose its edge. But some of those fears were pushed aside after Monday's rejuvenation.
One thing the team isn't lacking is confidence. Player after player spoke of going 12-0, even offensive line coach Ed Warinner got into the act. After being told he was done with interviews for the year, Warinner responded, "Even after we win the last game?"
The 2011 team shared that same attitude, but the on-field performance was decidedly different. The Buckeyes were young at several key positions and had an inexperienced head coach. There was also turmoil around every corner.
One year later, with smooth seas, a new captain and more experienced shipmates, Ohio State is nearing a tropical paradise. But you first have to get there to enjoy the rewards.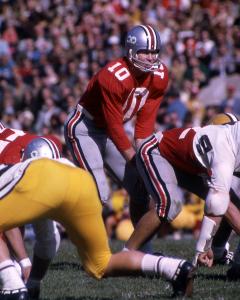 "We need to be 12-0," senior linebacker and captain Zach Boren said. "It's one game at a time. We're not thinking about injuries, we're not thinking about polls, we're not thinking about (the bowl ban after the Michigan) game."
Meyer's mind has wondered, though. He said it doesn't happen often, but he's caught himself thinking about Ohio State's lack of a postseason and what it means.
"I'll hear it and read it once in a while, and I have good friends in the profession that will make a comment, and I'll think for a second," he said. "But then I go back to knowing exactly who we were, and you go back to how we've won and who we are right now, and we're pretty fortunate where we are. Let's find a way to get No. 11.
I tried years ago not to control what we can't control."
Finishing undefeated in a college football season is the sport's shining achievement. In 122 years, Ohio State, one of the sport's most stories programs, has only accomplished the feat five times. Five of Ohio State's past nine teams – 2003, '05, '06, '07 and '10 – could be deemed national championship caliber. But none finished unbeaten or won the title. Two – '03 and '10 – lost their first game of the season at Camp Randall.
The 1916, 1944, 1954, 1968 and 2002 Buckeyes hold a special place in annals of Ohio State football history.
"We know how rare it is for a team to go undefeated," Brown said. "Coach (Meyer) talks about it all the time. This group is hungry enough and everybody wants to do it because we're all in, all the time.
"We realize we have a legitimate chance to go undefeated. There's no doubt in my mind that we'll do it."
The coaching career of Meyer is one instance in proving how difficult remaining unbeaten truly is. He's won two national championships and neither was the result of a perfect season.
Five of the past nine national champions have had at least one loss, including the 2007 LSU Tigers that finished the season 12-2, the only two-loss national champion.
"Our guys know where they're at," Meyer said. "We're good."
Finish off the journey and the 2012 Buckeyes will be elevated to greatness.