For many years, if you had to unwillingly be awake at 7:00 A.M., there was always one upside: a Saved by the Bell rerun would be on TBS. Unfortunately that time slot is now occupied by a My Name is Earl/Home Improvement block, but it was a comforting bit of nostalgia to be able to eat breakfast and, with heavy-lidded eyes, watch the cheesy exploits of Zack Morris and company.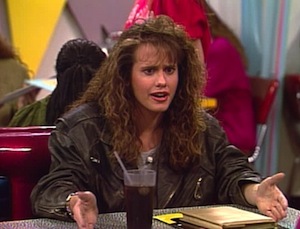 Unless, that is, the unthinkable happened and you turned on the TV to discover that—oh god, no!—a Tori episode was airing (a Wilhelm scream is implied here).
Even worse than installments of Good Morning, Miss Bliss or Saved by the Bell: The College Years, which were at least set at different locations, Tori episodes were nothing but a bastardized version of the show at its prime. 
Minus Kelly and Jessie—neither of whom were ever mentioned in the Tori bizarro world—SBTB lost two of its archetypes that couldn't be replaced with "the biker chick." And granted, the six main characters were all kind of awful people in their own right, but as a group, it somehow worked. Without the opposites attract, give-and-take between Slater and Jessie, and Zack's stalkerish behavior of Kelly that no one cared about because he managed to be sorta charming about it, there was no Zack Attack, caffeine pills, murder mysteries, The Attic, homeless blondes, or overnight stays at the mall.
Instead, we got Zack being part of a doo-wop group and falling for Slater's sister in her one and only appearance on the show, Zack delivering the Beldings' baby in an elevator during an earthquake, and Screech singing "Home at Our School" to the tune of "Home on the Range." Man, those suuuuuuuucked.
And that's what the Big Ten is when Ohio State has the week off: a Tori episode. 
While the Buckeyes were sitting back and laughing at the rest of the conference, they earned at least a share of the Leaders Division, who will be represented by Wisconsin in Indianapolis, as if there was ever any doubt about that. 
Elsewhere, Michigan Mr. Magoo'd their way to an OT victory, Purdue and Iowa spared their victims viewer(s) by narrowly avoiding OT, the officials continued their spiteful vendetta against Penn State, and Minnesota is now bowl eligible. Minnesota!
I know you're probably so excited, so excited, so scared to read recaps of the games, but hey, don't be scared! Listen, we'll get through this.
Wisconsin 62, Indiana 14
Leaving the bar mitzvah dejected and alone, Bret Bielema feared he would never live up to Barry Alvarez. He had to find a way to get back to the Rose Bowl and really win it this time, so he could prove to Ol' Barz that he was just as good of a coach and that he wasn't the boss of Mac Daddy Biel (except for the part where Alvarez is actually his boss, but Bielema was in the midst of an Oepidal moment and failed to recognize this).
Knowing he had to get his swagger back, Bielema had three choices: Ho-Chunk Gaming (besides being a casino, the name always made him guffaw), the sweet tunes of Warrant, or...oh yes, the third option was just what he needed. Hailing a cab, Bielema instructed the driver, "Buds, take me to the nearest Dave & Busters. And step on it!"
When he walked into the joint, Bielema smelled the familiar scent of cheesesticks and desperation and knew he was in element, then headed straight to the bar. "Give me an MGD for Maverick," he ordered the bartender, holding out his left hand. "And a D&B TNTea for Goose."
With a drink in each hand, he scoped out the place until he set eyes on his target: Daytona USA, named after his second favorite city in the U.S. of A. Sitting behind the wheel was a towheaded kid around the age of 10, and Bielema pushed him aside, telling him, "get ready for me to own you, you little twerp."
And racking up the points he did, just like Wisconsin against an Indiana team that, mirroring the students, seemed way more invested in the start of basketball season. Montee Ball and James White helped the Badgers set a new school record of 564 rushing yards, and while Bielema steered his way to a personal best on the racing game, he looked over at the 10-year-old who was about one-fifth his size and boasted, "Hoosier Daddy?"
Michigan 38, Northwestern 31 (OT)
Stop me if you've heard this one before: Michigan won because their QB launched a throw to South Detroit, a WR miraculously hauled it in, and kicker Brendan Gibbons proclaimed, "By the Power of Brunettes!" while Northwestern lost in the 4th quarter when their secondary was too busy trying to use the formula y = Vyt - 0.5gt2 to figure out where the ball would come down rather than, you know, defend it.
Devin Gardner once again filled in for the perpetually day-to-day Denard Robinson, and the junior played well, accounting for two touchdowns in the air and two on the ground. One of those rushing TDs came in overtime, which the Wolverines forced when Gardner's 53-yard pass somehow found its way into Roy Roundtree's hands. Gibbons kicked the game-tying field goal and Michigan took the momentum to OT.
Interestingly for, let's say Urban Meyer, Michigan's defense looked vulnerable when Northwestern called option pitches with QB Kain Colter and RB Venric Mark. Other Wildcat QB Trevor Siemian was more efficient through the air, going 6/7 for 87 yards and two scores, but he must be a jerk because Pat Fitzgerald was super pumped when he was the victim of a late hit. 
Purdue 27, Iowa 24
There was exactly one play from this game that anyone needed to watch and it just so happened to be the only one that I did: Purdue hit a 46-yard game-winning field goal as time expired.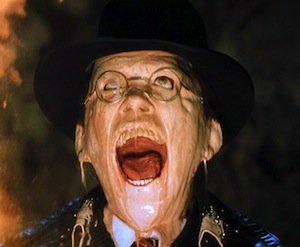 Not only was it Purdue's first conference win of the season, but it also ended their five-game losing streak and kept their bowl hopes alive. So what changed? Was it Ralph Bolden rushing for over 100 yards? Was it the Boilermakers converting 9/16 third downs? Was it kicker Paul Griggs making a career-long FG? Was it Robert Marve using his legs and arm to move Purdue down the field to set up that FG?
Well, yes to all the above. However, the main reason Purdue was able to pull it out was probably due to their offensive coordinator having to miss the game with a back injury. Free from his oppressive shackles, the Boilermakers put up nearly 500 yards against a not very good Iowa team.
As for the Hawkeyes, now owners of a four-game losing streak, it's all about the little victories. James Vandenberg managed to throw his fourth TD pass of the season, Micah Hyde scooped up a fumble for a TD, they apparently have a WR named Kevonte Martin-Manley, and AIRBHG did not strike, which is the biggest victory of all. 
Nebraska 32, Penn State 23
At home, Nebraska was down by double digits at the half, so obviously, they came back to beat Penn State. Well, if you're a Nittany Lion fan, you would probably say, "Nebraska didn't beat us; the refs beat us", and in this case, they at least have a legitimate gripe.
Down 27-23 in the fourth, Matt Lehman, one of Penn State's 14 tight ends, reached for the end zone and fumbled the ball, which Nebraska recovered. It looked like the ball broke the plane before he lost control, but the officials disagreed. McGloin must be reading too many Penn State message boards because after the game, he conspiracy theoried, "We're not going to get that call ever, against any team. It doesn't matter who the referees are."
Yeah, it was a bad call, but on the other hand, they still had time to get back in the game. Also, don't allow both Ameer Abdullah and Taylor Martinez to hit the century mark against you. And maybe, I don't know, hold a lead.
After another comeback win, Martinez said, "we know we can come back from anything." Except against Ohio State in the Horseshoe. 
Minnesota 17, Illinois 3
Tied 3-3 at halftime, Minnesota put up points in the second half, and that's all it took to give them their sixth win of the season. They only needed one score of any kind to get the W, but the Golden Gophers got fancy and scored twice. Illinois was up 3-0 for almost an entire quarter, so that was exciting...lol, no it wasn't.
Judging by the box score, the one somewhat interesting stat comes courtesy of Minnesota RB Donnell Kirkwood, who ran for 152 yards and the game's two touchdowns. By beating mostly terrible teams, the Gophers will be bowling for the first time since 2009, which is progress, so good for you, Jerry Kill. 
Ah, yes. Bowl season. Since Ohio State will be absent from that as well, looks like we're cursed with more Tori. Luckily, though, the next two weeks will bring classic episodes, and hopefully the Buckeyes back up all my trash talk.