Half a world away tonight, in Germany, a college basketball game will be taking place at Ramstein Air Base as the Michigan State Spartans and Connecticut Huskies begin the college basketball season in the Armed Forces Classic. 
It's the second consecutive season the Spartans have started their season in an innovative game. That's because Michigan State athletic director Mark Hollis is one of the most creative, outside-the-box thinkers in intercollegiate athletics.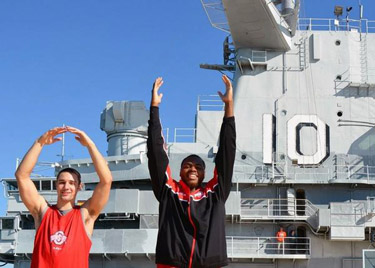 He won't be at the air base in Rheinland-Pfalz because of NCAA Selection Committee duties. But Hollis, no doubt, will be watching the game. He will also have one eye on the action going on in Mount Pleasant, S.C. That's where one of his many creations will be playing out – the second edition of the Carrier Classic.
Nine years ago an idea came to Hollis. While working for the Western Athletic Conference, he fondly recalled football players and service members interacting on carriers during Holiday Bowl festivities. But watching family members say goodbye to loved ones – possibly for the last time – as they ventured off to war-torn countries such as Iraq and Afghanistan, also struck him.
"As conflicts our men and women were involved in broke out, my mind immediately raced to the families that were left behind on those docks as I used to watch the carriers leave in San Diego," Hollis told Eleven Warriors.
So he traveled to Washington. In a meeting with officials at the Pentagon, Hollis pitched his idea for a basketball game on the deck of a United States aircraft carrier.
"Everyone thinks I'm crazy," Hollis said.
But big ideas are his M.O. Hollis was the brains behind the "Cold War" hockey game in 2001 at Spartan Stadium between Michigan State and Michigan. The game set a world record for attendance at a hockey game with 74,544 spectators.
Two years later, Michigan State and Kentucky played in the "Basketbowl," a basketball game at Ford Field in Detroit. The court was placed at midfield and the current regional final and Final Four setup was born. The game also set a college basketball attendance record: 78,129.
Later this season, Michigan State will play Tuskegee at Jenison Fieldhouse, the Spartans' home for 50 seasons before the Breslin Center, to commemorate the 1963 NCAA Tournament game between Mississippi State and Loyola (Chicago).
Mississippi State, consisting entirely of white players, defied a state prohibition against playing integrated teams and traveled to the tournament site in East Lansing in the middle of the night to avoid detection. Loyola won the game and, eventually, the national championship. The two teams will meet again in Chicago this season and Starkville in 2013.
When Hollis first pitched the carrier idea to the Pentagon, he described their initial reaction as curious.
"They definitely weren't in a 'no' stance," he said. "But they were looking for the reasons why something can't get done versus the reasons why something can get done. When we get something in the back of our minds at Michigan State, we get like little bulldozers – we look at the reasons why things can get done. I'm glad we worked so hard at it because it sends the right message that we respect and care."
It looked like the idea would finally take flight – or float – three years after the initial discussions. In 2006, a tentative plan took form that included two games – Michigan State-Navy and North Carolina-Air Force – on the deck of a carrier in San Diego. But the plan fell through after security concerns.
Undaunted, Hollis' vision never wavered or blurred. In 2010, he finally had the breakthrough he was looking for when a CBS producer introduced him to Mike Whalen, the founder of Morale Entertainment, a company that provides entertainment for troops.
On year later, Michigan State and North Carolina were on the flight deck of the USS Carl Vinson.
"I think they could see the passion we came in with," Hollis said of those he worked with at the Pentagon. "It was interesting that the office we walked into eight years ago was exactly the same office we came into to close the deal. Many of the same people were in the office. It was cool to see people that were involved eight years ago to put the finishing touches on it."
The game had finally come to fruition, but it wasn't until the teams stepped on the court the day before when Hollis was most impacted.
"(Game) night was absolutely surreal," Hollis said. "But the day before, to see Draymond (Green) and the other players interact with soldiers and the level of respect that flowed both ways – you had soldiers' jaws dropped as these basketball players entered their home. And, at the same time, our players' jaws dropped looking at the men and women of our areds forces.
"That practice, watching Carolina come on and our team come on the ship for the first time, I wish you could have sold tickets for that. That was the moment that was absolutely priceless and rewarding. It hit the vision that was there eight years ago of connecting."
The process of getting Ohio State's men's and women's teams, the Marquette men and Notre Dame women together for the 2012 Carrier Classic was much easier. Instead of eight years of legal wrangling, it took less than eight months of red tape. 
Ohio State men's head coach Thad Matta was the first person contacted about possibly playing in the game. Then women's head coach Jim Foster was notified. Both coaches were all for being part of a once-in-a-lifetime game.
"We felt like it was a good thing to do once we were asked and started to look at what it meant contractually," Ohio State athletic director Gene Smith said. "So we got down to the details and made it happen."
Making the second edition even more unique is the addition of a women's game. Ohio State will take on Notre Dame at 4 p.m., prior to the 7 o'clock start for the men's game.

Smith and his colleagues not only added the women's game, but took the necessary steps to make sure it was televised. There were concerns at the outset that the women would play second fiddle to the men. The original plan was to have the men's game first and be the only televised game. That would have meant the women's game started well into the night.
"That's not good for our kids," Smith said. "I felt really good that they were able to have that happen for our kids."
The women's game also made possible a family reunion of sorts for one Buckeye family. Cait Craft, the sister of point guard Aaron, is making her Ohio State debut. Aaron will be able to see her career take flight and the family's military roots will be a theme for the night. The Crafts' brother, Brandon, is currently serving in Afghanistan.
"It is definitely going to be special for me," Cait said. "I've thought about it a lot. I sit here and stress about games and being prepared when, in reality, my oldest brother is in Afghanistan fighting to give us the right to even play this game. So it holds a little bit of sentimental value for Aaron and me to play for Brandon. He hasn't seen the last couple years of my life. Obviously it's not his fault, but it will be very special. I will remember it for a long time."
Brandon was a three-year football player at his hometown University of Findlay before a knee injury put an end to his career. That's when he decided to enlist in the U.S. Army. The family was split on the decision at the time, with all the usual and warranted fears accompanying them.
But the Crafts, which have a past military history in their family, have supported Brandon and his choice to defend the country.
"I have a better appreciation for what he does," Aaron said. "Being able to talk to him every two weeks has been great for me. Just hearing the stories about how much guys over there love watching sports, being able to (play) is going to be bigger than a basketball game.
"It's going to be a good time for the Craft family."
Brandon was first deployed in March on the day Ohio State beat Syracuse in the East Regional final to secure its spot in the Final Four. He returns to the United States on Nov. 17, and Aaron said the family would see him during Christmas. Aaron last spoke to Brandon on Tuesday.
The game will also hold special meaning for Marquette sophomore guard Derrick Wilson, whose father is a 20-year veteran of the US Army. Dennis Wilson is a retired service member with the rank of Sergeant First Class. He served in Operation Desert Storm.
"The men and women of the armed forces go over seas for months and months at a time," Hollis said. "I think all of us that are left behind have a tendency to take that for granted. These events really bring home the dedication and the work that they put in to protect the freedoms we take for granted. That's why the event was done. I view it as our responsibility as leaders to make sure that we can take sport and recognize social and cultural events."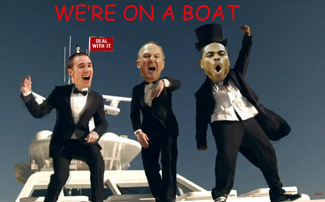 The Michigan State-North Carolina game was a rousing success by nearly every statistical measure. What may have been most important, however, was the nearly half a million dollars raised.
"It's cool to be a part of that," Smith said. "They have a charity event (today) where the dollars go back to military families. We don't receive funding, we're paying our own way down and we don't get a guarantee. It's a nice deal where we can support our military families. It's really cool."
Supporting the troops, giving a few hours of time back to those who protect the country and raising dollars is the main focus of the event. Winning is important for the teams involved, as well, but the experience is greater than a season-opening win.
The consensus among Ohio State's men's and women's players is excitement.
"I'm really excited," senior forward Evan Ravenel said. "It's a once-in-a-lifetime opportunity to do something like that."
Tayler Hill, a preseason All-Big Ten selection and starting guard for the Ohio State women, shared Ravenel's opinion. 
"It's exciting," she said. "It's something a lot of people don't get to experience."
Said Hollis: "I'd like to see where it becomes an annual event where it gets shared by a number of schools. It's an opportunity for the collection of the NCAA to extend that appreciation back. It's a memory-maker for the kids that get to play. But it's also a memory-maker for the exchange that takes place between kids that are pretty much the same age, whether it's a basketball player or a military member."
For Ravenel its just another notch on a career venue list that's as impressive as any current player. Having played at Boston College for two seasons, he's played at Cameron Indoor Stadium and the Dean E. Smith Center, among the other ACC arenas.
Ravenel has added basketball cathedrals such as Indiana's Assembly Hall, the Breslin Center and Allen Fieldhouse to his list since transferring to Ohio State. The Buckeyes also played at TD Garden and the Louisiana Superdome in last season's NCAA Tournament.  
In present day intercollegiate athletics, money is the end-all, be-all. Nearly every important decision is made based on the bottom line and what can generate the most revenue. But there are still wholesome events that revolve around something bigger than winning or losing a sporting event.
The Army-Navy football game remains one of the sport's most cherished annual events. Now, in just its second year, the impact the Carrier Classic is having on the sports world and beyond has been vast. 
"You can play games and drive numbers and have conference realignment and television contracts," Hollis said. "All those things are very important to the livelihood of where intercollegiate athletics is. But the other part of it is, it's a game. How can you take a game and really have an impact on people's lives?
"That's where these things came from."