On the NBA's opening night, Deshaun Thomas was nowhere near an NBA arena. Instead, he was in the sparsely populated Jerome Schottenstein Center for an exhibition game versus a 2,500-student college from Canton, Ohio.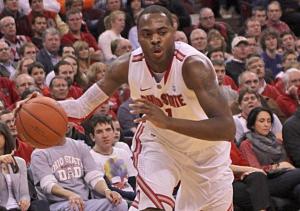 Thomas had an opportunity to leave Ohio State after his sophomore season last year. He was a surefire first-round draft pick and would have made millions instantly. But Thomas returned for Year 3 to hone the skills that were first learned on playgrounds in the basketball-rich state of Indiana.
The junior sharpshooter led all scorers with 25 points on 9 of 17 shooting in the Buckeyes' 83-71 victory over Walsh. Thomas added a team-high six rebounds, but three turnovers helped offset some of that production.
"It felt great to be back on the court playing," he said. "We have to come out as a team and play hard and get everyone involved."
Fan favorite LaQuinton Ross started the game and had 13 points, Sam Thompson and Evan Ravenel contributed 11 points apiece off the bench, Amir Williams blocked five shots and Aaron Craft dished out six assists.
But, as Lenzelle Smith Jr. said prior to the game referring to the Final Four loss to Kansas, Ohio State had a sour taste in its mouth.
"We have a lot of things to learn, a long way to go," Craft said. "It's a good thing it's October. We can come back and get better tomorrow."
The Buckeyes allowed the Cavaliers to shoot 48 percent from the field and 50 percent from behind the arc. Ohio State trailed until the two-minute mark of the first half before using a 17-3 run to take control. The Buckeyes made half their shots from the field but only 5 of 19 three-point attempts.
"You have to face the facts," Matta said. "I had a little bit of déjà vu going back to the Findlay game (in 2007 when we lost). It's OK to look yourself in the mirror and say I can play better.
"This is the first team I've had a team that plays harder in practice than they play in games. It shows us we have a lot of work to do."
Craft, Thomas, Smith, Ross and Williams were the starting five. But Matta used several different rotations and replaced Ross and Williams with Thompson and Ravenel to begin the second half.
Ross scored 11 of his 13 points in the first half, feeding off of Thomas' game. But his defense, the main area of concern for the ballyhooed sophomore, was lacking.
"Our identity comes from the defensive end," Craft said. "That is what it has been since I came here, and that is the staple of Ohio State basketball. We make our best offensive drives after we played solid defense."
A majority of that offense figures to run through Thomas, a preseason All-American. He came to Ohio State as an Indiana high school legend – the Hoosier State's third-leading scorer in high school basketball history. Thomas expected to make an immediate impact at Ohio State.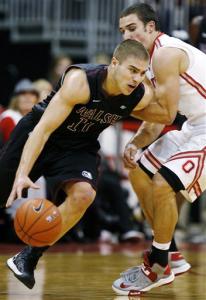 But his freshman season brought frustration. On a veteran-heavy team, Thomas played 14 minutes per game and averaged 7.5 points. His lack of motivation on defense contributed to his minutes played, but the freshman showed great potential on a team that was ranked No. 1 much of the season.
With the departure of three senior starters a year ago, Thomas finally seized his role on the team as a scorer. He averaged 16 points per game while also becoming a rebounding force, especially on the offensive end. Thomas averaged 5.4 boards per game and finished the season with 100 of the offensive variety.
But it was the NCAA Tournament run that really made Thomas stick out. He scored 19 points per game in the Buckeyes' march to New Orleans and the Final Four, including 31 in a first-round win over Loyola (Maryland).
When decision time came last spring on the NBA Draft, Thomas wrestled with the process but ultimately chose to return to Ohio State.
"I was close (to leaving)," he said. "It was a decision to stay humble and get better at what I'm doing. I still have goals to take care of. That's trying to get a Big Ten championship, then a national championship, then the sky's the limit for me."
Matta said he talked to Thomas about the decision and wanted him to choose what was right for Deshaun. They both talked about the goal of the NBA, but not just getting there – going there and making an impact.
"I don't think Deshaun wants to get to the NBA just to say he got there," Matta said. "I think he wants to stay a while and make a difference."
The expectations Thomas faces this season are high – from the coaches, fans and himself. Despite losing two starters, the Buckeyes enter the season ranked No. 4 in both polls, though they were picked to finish third in the Big Ten.
"That's a slap in the face," Smith said.
Thomas has already earned two preseason All-American honors, as well as joining Craft on the first-team All-Big Ten team. Ohio State was the only team to have two members selected.
Over the summer, Thomas got in the best shape in his life and is noticeably slimmer. That's because he wants to fit into Ohio State's new offensive style, which includes running, running and more running.
The newfound speed will be seen on both ends of the floor. Jared Sullinger is no longer down low to put the ball in the basket or dish it back out. But Sullinger's absence also frees the team up to move more freely, something the Buckeyes did when Greg Oden missed the beginning of the 2006-07 season.
A defensive-minded coach, Matta wants his team to bring an intense pressure on defense to create turnovers and fast breaks.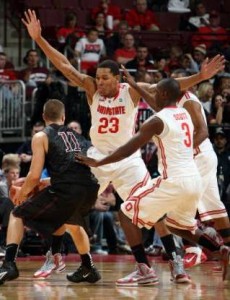 "We've been doing marathons," Smith said. "We've seen the track this summer more than the court. But that's preparing us for the type of running we're going to do."
That doesn't mean Ohio State will completely abandon its half-court offense.
"To say that we're going to be a running team doesn't mean that we're going to completely abandon our half-court principles and our half-court execution," Thompson said. "We want to be the best of both worlds."
Said Matta: "I want to utilize our abilities."
For Thomas, that means setting up an offense, not just going off the fly. No one on the team has been at Ohio State longer than two seasons, meaning they are all accustomed to the days of Sullinger and a set offense.
Almost half of Thomas' point total against Walsh came on possessions where his back started to the basket.
"I expect to use it a lot; it flows with the offense," Thomas said. "It's just natural for me. I learned it over the summer and worked really hard on it."
Since his days at Bishop Luers High School in Fort Wayne, Ind., Thomas has been a force at the wing, creating off the dribble. He's stated that's his favorite way to score, but without Sullinger down low, Thomas could become the viable option in the paint.
"There's nothing wrong with getting an easy bucket down low," he said. "A rebound and a putback at the right moment helps the team. Being able to step out and stretch the defense, that helps, too."
It's that unselfishness that Thomas has found over his two-plus seasons in Columbus. Game-winning assists and steals were part of Thomas' game over the summer. Those traits have continued in practice. Smith said players have been caught off guard by Thomas' willingness to dish, which has resulted in traveling violations.
"His evolution as a college basketball player has been a phenomenal thing to watch," Matta said. "To his credit, he's put himself in the position he's in with hard work. He's starting to get an understanding of the little things it takes to be great."
That includes taking an active leadership role on the team. Evan Ravenel is the lone senior on the team, but Craft and Thomas are the team's most experienced players. Thomas, while a fan of the limelight, is quiet and reserved in the locker room. But he's started to assert himself more as he enters year three in the program.
"Some of these players listen to me more than the coaches," Thomas said. "They need that leader who's been here, who's been through the wars. I try to pull them to the side and let them know the journey starts now. We have to pick it up on defense and offense because in the Big Ten, it's different."
The journey continues next Friday on the deck of the USS Yorktown in Charleston, S.C.