Since the days of Woody Hayes, Ohio State football's bread and butter has been playing great defense and running the "three yards and a cloud of dust" offense.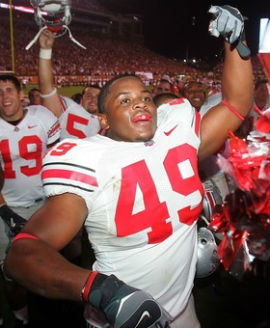 An important part to that offense's success lies in the running game and while the tailbacks that have donned the scarlet and gray generally get all of the spotlight, it is the fullbacks that have paved the way for many Buckeye wins over the years.
One of those fullbacks who have served as an "unsung hero" at Ohio State in the last decade is former Columbus Eastmoor star Dionte' Johnson.
Johnson, the son of former OSU linebacker Thomas "Pepper" Johnson, came to Ohio State as a member of the recruiting class of 2004 and spent four seasons at his hometown school playing fullback and starring on special teams.
While a championship escaped him in both the 2006 and 2007 seasons, Johnson was part of a lot of success during his time on campus, being part of three Big Ten championship teams and playing in three BCS games.
We caught up with Dionte' to find out what he's been up to since leaving Ohio State, how the lessons he learned while at school are helping in now, what he's doing to help bolster local community business, and more.
Join us after the jump to hear more about Ohio State legacy and former fullback, Dionte' Johnson.
Can you walk us through what you have been doing since you left Ohio State?
Since graduation, I've pursued my lifelong dream of being in the National Football League and had a brief stint with the Arizona Cardinals. After an abrupt end, I joined the Omega Psi Phi fraternity, then shortly later I became the sole proprietor of Sole Classics - a well-respected retail sneaker boutique in Columbus. Now, four years removed from the Fisher College of Business, I am blessed to be able to own and operate two retail store fronts: Sole Classics and the Kingsrowe Gallery.
Your career in retail is now your main focus right now. What inspired you to get into the field and what do you hope to accomplish (other than making money)?
My only job other than playing football has been in a mom-and-pop retail clothing store, so sales and clothing are what I know best. I guess I was most inspired by what I would see on the day-to-day basis, along with the boom of the street wear culture when I was in high school and early in college.
My main goal is to be able to inspire more local brands to come forth, but not make money the priority. I want to see people in Columbus take the same pride and diligence in their projects as a major brand would. Secondly, I would like to employ more people.
You recently opened a shop in the Short North. What are your plans for further expansion both locally and nationally?
The plan is always for growth, but we want to be practical in our planning. Aside from Easton [and the Short North where we currently are], there are not too many more places that fit not only my taste, but the direction of the brand. We have a lot of growing to do internally before we announce our next physical phase.
Where else besides the store can people find your products?
You can always find our products on Kingsrowe.com. SoleClassics.com is the website to my first business. Soon you will be able to find our products on several websites that we wholesale to as well, such at MTVTN.com.
Is there anything you learned while playing football at Ohio State that has helped you in your current career?
The main, and probably most cliche, answer would have to be that hard work and poise pays off. Playing football at The Ohio State University taught me the importance of every little piece, every teammate, every repetitive detail. All of this is what makes a championship team. This can be applied both on and off of the field.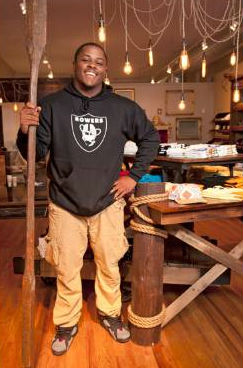 Looking back on your playing days, you were a member of both the 2006 and 2007 teams that went to the national championship and lost. Do you feel incomplete without a title?
Definitely. It still haunts me to this day. We were supposed to walk out with two championships and unfortunately my mother's trophy case is missing those two pieces. It isn't something that I feel uncomfortable about, but it helped me tell a better story. It is humbling.
What was it like being able to carry on the family tradition (dad is former Buckeye LB Pepper Johnson) of playing for the Buckeyes?
It was an amazing feeling to be able to play for the one place that I always dreamed about as a kid. More important than having an NFL career was having the opportunity to play for the Buckeyes. I think it mostly stems from being a native of the city, but the bonus was having a father to look up to [who played there also].
Did your dad give you any advice while you were playing at Ohio State?
My father does a great job at separating family from sports. He played the role of a fan/parent and allowed my coaches to coach me. Being a coach myself, I can understand how frustrating it would be to me and the OSU staff if he taught me something different than what my coaches were trying to accomplish.
Who do you still keep in touch with from your playing days?
Most of the 2004 recruiting class and a few others. We had a really tight unit. Being friends off the field and really caring for each other allowed us to play for each other on the field.
You had a short stint in the NFL. What was the most important thing you learned from that experience?
I learned more in that few months about the technical aspect of the game than I did in the entire rest of my life. Playing football is about precision and you don't learn that anywhere better than in the NFL.
Coach Tressel obviously has left the OSU program in the last year and a half. What were your thoughts on that situation and how did you feel when you saw that all go down?
I wrote a long blog on Kingsrowe.com where I spilled out all of the emotions that I am willing to share. Just search for 'Coach Tressel' in the search box. I love the man. He taught me a lot of life values that I still live by to this day.
What was the biggest thing you learned from Coach Tressel?
"Nothing good ever happens past 10 PM". I'm sure if any of his players are reading this they just laughed.
What are your opinions of Coach Meyer thus far?
I believe Coach Meyer is an amazing coach. I have always been a fan of his style of coaching, attitude, and demand for excellence. I think we have one of the greatest coaches of this era coaching in Columbus right now. It should be exciting to watch in the coming seasons.
If you can say one thing to Buckeye Nation what would it be?
A thousand things come to mind, but I have to say "O-H". You can tweet me back the I-O at @DionteSays.
Thanks to Dionte' for sitting down and talking to us. You can check out Kingsrowe and Sole Classics online or follow him at @DionteSays.