Nine days ago against Purdue, the Buckeyes gave up a first play touchdown, a kick return for a touchdown, lost the turnover battle 4-1 and still managed to emerge with a 29-22 victory over the Boilermakers.
Saturday, in front of a boisterous crowd at Penn State, Ohio State entered the locker room at halftime having given up another huge special teams touchdown and losing the turnover battle. Yet, they found a way to win.
Somehow, this team, despite cold starts, trouble finishing, special teams lapses, injuries and players learning new positions, keeps finding a way to win.
Some would say it's due to Braxton Miller putting the team on his shoulders. You might also say Urban Meyer becoming more involved with the defense following the Bloomington escape is paying dividends.
Penn State fans, on the other hand, are convinced they know how Ohio State does it: the referees.
Penn State might not have won the game if the officiating hadn't been so laughably bad, and plainly one-sided--it sure would be hard to blame the officiating for the Lions' offensive ineptitude--but it sure would've been nice to see them get a fair shot. Obviously, by now we all know what happened: the Bars penalty kept the drive going, Penn State's defense finally wore down (and continued to, as the game wore on), Braxton Miller got into the open field, and a touchdown lead going into the half turned into a tie game. That drive would be a microcosm for the rest of the game--bad calls, Braxton Miller doing Braxton Miller things, and a defense that just had nothing left by the end.
The Bars penalty, of course, was the holding call against defensive lineman Brad Bars, which came on a punt and preserved the drive that Ohio State would cap with a Carlos Hyde touchdown to tie the game with less than a minute to go in the first half.
Bars was whistled for holding up Buckeye long-snapper Bryce Haynes, who earlier in the half picked up his third tackle of the season on punt coverage, limiting Jesse Della Valle to a two-yard return just minutes into the game.
If you watch the play, Bars clearly wraps both hands around Haynes' shoulder pads and pulls him to the ground, effectively removing him from the play. See for yourself.
Now, if the grievance was about the no-call on Reid Fragel's hold of Michael Mauti on Braxton Miller's Xbox touchdown, then—oh, wait...
On Miller's first touchdown run--a juke-laden scramble straight out of a video game--Michael Mauti was so obviously held that, had it not been our team that was so blatantly screwed by the officiating, we'd have been tempted to laugh. If Urban Meyer and crew realized that the referees simply weren't going to throw a flag, and instructed their linemen to just grab Penn State defenders by their jerseys and hold on for dear life--and you can't convince me that wasn't the case--then kudos to them, I guess.
Penn State fans, how do you do it. It's... it's almost awe-inspiring.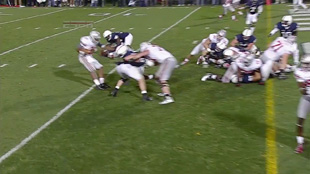 JIM DELANY IS STILL SO, SO DISAPPOINTED. This week's batch of BCS standings, like last week's, have but one lonely team representing the Big Ten conference. Nebraska, by virtue of the Cornhuskers' 23-9 win over Michigan, replaced the Wolverines, checking in at #20.
That's right. The team that Ohio State hung 63 points on is the conference's best team in the eyes of the BCS. The joys of probation.
Alabama maintains its stranglehold on the top spot, thanks to the deflowering they gave to previously unbeaten Mississippi State, while Kansas State and Notre Dame took advantage of Florida's loss to Georgia and Oregon's lack of schedule strength to jump the Ducks in the standings.
With the Buckeyes out of contention, I am doing what I always do when they're out of contention and rooting for unadulterated chaos. We're entering November, where undefeated dreams go to die, but Alabama, Kansas State and Notre Dame should all have favorable roads to unblemished land. Oregon's path is a little tougher, with three ranked opponents in their last four (USC, Stanford and Oregon State), but Chip Kelly's team should be solid favorites in each game.
Alabama must go to LSU this weekend, which is never easy, but—wait, have you seen this Alabama team play? The Tide then finish with three home games: Texas A&M, Western Carolina and Auburn, before a presumed SEC championship game matchup with Florida or Georgia.
Kansas State welcomes Oklahoma State this weekend, goes on the road to face TCU and Baylor and then finishes with Texas at home.
Notre Dame's slate may be the easiest of the bunch. They welcome Pittsburgh this weekend before going on the road to Boston College, getting Wake Forest in South Bend and then traveling to Los Angeles to play USC.
Finally, there's Louisville at 8-0. The Cardinals, close with Temple, Syracuse, Connecticut and Rutgers. They're undefeated in the Big East, so they won't get a seat at the table, but if they finish unbeaten, it's just another voice in the chaos.
DARRELL HAZELL IS GOING PLACES. If Jim Tressel still owns real estate in your heart, you are no doubt keeping an eye on one of his disciples, Darrell Hazell, and the fine work he's doing at Kent State. Saturday, Kent State went on the road, capitalized on seven Rutgers turnovers and promptly handed the Scarlet Knights their first loss of the season.
The Golden Flashes ran the ball 50 times for 224 yards on the way to controlling the clock for 37 minutes, notching the program's first win against a ranked opponent in 23 tries. Kent State is now riding a six-game winning streak for the first time since 1940.
After the game, Hazell's players sang to the small group of Kent State fans that had made their way to New Jersey. When asked what that was about, the coach had the following to say:
"That's a ritual for us. We always sing the school's fight song to show our appreciation to our loyal fans."
[Sheds tear.]
Hazell, of course, spent six seasons in Columbus as Ohio State's wide receivers and assistant head coach under Tressel before making a well-timed career move. On December 20, three days before the presser that started The Troubles, Hazell was announced as Kent State's 20th head football coach.
The New Jersey native—Hazell grew up 45 minutes from Rutgers' campus—also spent three years at the school as part of Greg Schiano's staff, so Saturday's win meant something more.
Though the Kent State's resurgence is a wonderful story, we need to enjoy it while we can. There figure to be plenty of openings soon and while he may not get a call from Auburn, Cal or Tennessee, don't be surprised if a school like Kentucky, Colorado or Boston College brings him in for an interview, should one of those jobs open. He's a hell of a coach, after all.
"@11w: Happy to see Darrell Hazell and his Kent State Golden Flashes leading #15 Rutgers 21-10 at halftime."Best coach I've ever had!

— Brian Hartline (@brianhartline) October 27, 2012
THIS GIF IS AMAZING. And @OhhSuzannah deserves a parade for bringing this bit of joy into your life.
ETC. Don't forget, the men's basketball team tips off their season with an exhibition against Walsh Tuesday night at 7:00pm... Suggested Twitter follows for the Illinois game... Heisman for Halloween... Get well soon, Marcus Lattimore (Twitter was at its worst with the thousands of retweets about a broken femur that wasn't)... Hello, trainwreck statline... LET'S GO CREW! (NSFW)... UC Santa Barbara soccer player punches a referee... This tweet is pretty dumb.