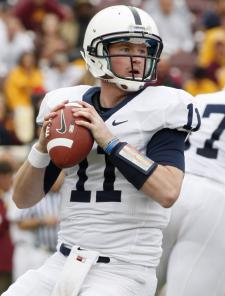 Dating to 1993, when Penn State joined the Big Ten, the Ohio State-Penn State game has morphed into one of the conference's premier games. The series' roots began in 1912, when Penn State beat Ohio State, 37-0. The Buckeyes actually quit that afternoon, walking off the field in the fourth quarter after a disputed illegal blocking call.
The two teams wouldn't meet again till 1956.
In the 27 contests – Ohio State leads 14-13 – between the two schools, the nation's No. 1-ranked team has been involved four times. On seven occasions, both schools were ranked in the Top 10.
Another creation in 1993 was ESPN College GameDay taking its show on the road. Ohio State-Penn State ranks behind only Florida-Florida State as the most attended game by the traveling college football preview show.
When the Nittany Lions joined the Big Ten, the game became one of the most anticipated matchups on the schedule for Ohio State fans, and rightly so. Ohio State is fifth all-time in wins and Penn State is sixth (with vacated games counting as wins).
Saturday night will usher in a new era of Ohio State and Penn State, and possibly be the first in a legendary matchup between Urban Meyer and Bill O'Brien. Revered coaches have defined the game – first Woody Hayes and Joe Paterno and later Jim Tressel and Paterno.
In a season where Ohio State and Penn State are banned from the Big Ten championship game, the two heavyweights sit at the top of the Leaders Division undefeated.
On Saturday night, that tie will be broken.
Opponent
Despite arguably the biggest scandal in the history of intercollegiate athletics hovering over the program, the 2012 Penn State Nittany Lions have persevered. Starting the season 0-2, Penn State has rattled off five consecutive convincing victories.
They may not be the best team in the country, but they might be the most confident. O'Brien has instilled a level of self-assurance that has few rivals. Perhaps the single biggest contributing factor to Penn State's resurgence has been the development of Matt McGloin at quarterback.
"When you have a new staff, you have a couple of things happen early in the year, but this is still Penn State," Meyer said. "Make no mistake about it, Penn State was undefeated at this time last year. As a result, when you're undefeated, you've got very, very good football players. I mean, very good."
The NASCAR offense, as Penn State calls it, is fast-paced, as expected. And McGloin has taken a liking to it. In the Nittany Lions' losses to Ohio and Virginia, McGloin didn't complete more than 56 percent of his passes and threw four touchdowns and an interception. Since then, he's completing more than 65 percent of his passes and has thrown 10 touchdowns and just one pick. McGloin has 1,788 passing yards, 14 touchdowns and two interceptions on the season. The passing yardage and touchdown totals are already career highs.
"I think he's the most efficient passer we'll see all season," Ohio State co-defensive coordinator Everett Withers said. "He does a nice job of finding the open man. He knows exactly where he wants to go with the football, but if it's not there he does a good job going through his progressions."
But it hasn't been all McGloin on offense. Bill Belton, a former wide receiver, has replaced Silas Redd at running back. Redd, you may recall, was one of 13 Penn Staters to hitch up the wagons and abandon State College. In his first significant action since the Ohio game, Belton rushed for 103 yards and three touchdowns last week at Iowa. In his absence, fullback Zach Zwiniak had consecutive 100-yard rushing games. The team has gained over 1,000 yards on the season in seven games and scored 12 rushing touchdowns.
At wide receiver, Allen Robinson has developed into McGloin's favorite target. Robinson has 563 receiving yards and eight touchdowns this season. He's been a big part in why McGloin leads the Big Ten with 255 passing yards per game.
Few positions in the country are as thin as Ohio State's linebackers. And Penn State has just the ingredient to exploit the Buckeyes' problem: tight ends. Penn State's quartet of tight ends – yes, four – have an NCAA-best 51 receptions this season.
"We like to put the tight ends in a good position to make plays," O'Brien said.
When you play from ahead, as Penn State has done in nearly every game, it's much easier to win a game. The Nittany Lions have outscored opponents 66-0 in the first quarter this season and 110-23 in the first half. Ohio State, meanwhile, has been outscored, 56-51, by opponents in the opening quarter.
McGloin is the most widely known player on the team, but linebacker Michael Mauti is the heart and soul. It was Mauti who stood in front of the media with his team behind him and delivered a stirring speech in the days after the NCAA decimated the Penn State football program.
That leadership has carried onto the field, where Mauti leads the team with 64 tackles, including 3.5 for loss. Twice he's had 12-tackle games. He also has 2.5 sacks.
"His dad and brothers are Nittany Lions," Meyer said. "I recruited him hard at Florida. Loved him as a high school athlete. He's a tough guy. He's a leader. Love his family. He's playing his tail off after his knee injury."
Fellow linebacker Gerald Hodges is also a brute, tallying 55 tackles on the season.
Mauti and Hodges have each been named as semifinalists for the Butkus Award. They have three Big Ten defensive player of the week awards between them and have wreaked havoc on opponents week in and week out.
"We're constantly motivating each other," Mauti said. "We've been competing against each other for four or five years now. It's been a fun relationship. As far as on the field, we're constantly competing."
Defensive lineman Jordan Hill adds to the defensive prowess by clogging running lines and disrupting the quarterback.
Then there is special teams. Placekicker Sam Ficken became a national story in Week 2 when he missed four field goals in a loss at Virginia. Ficken has only made four of 11 field goal attempts all season. That has led O'Brien to go for it on fourth 23 times. Penn State has converted on 14. That looseness and nothing-too-lose attitude has rubbed off on the Nittany Lions.
It's also made O'Brien a leading candidate to win national coach of the year honors.
Buckeye Breakdown
The obvious story surrounding the Buckeyes is the health of Braxton Miller. Last Saturday afternoon not many would have expected him to play this weekend, let alone start. But Miller is near 100 percent, with a sore neck the only adverse effect from a gruesome near horse-collar tackle.
The offense – and the team to a large extent – has gone as far as Miller has taken it. If it's the same old Braxton, as he says it will be, Ohio State should have an advantage. But any tentativeness could prove problematic.
Through eight games, it's looked like the myriad injuries Miller has sustained have added up and taken a toll on the sophomore quarterback. On Saturday, he'll be introduced to Mauti and Hodges, and they won't be welcoming hosts.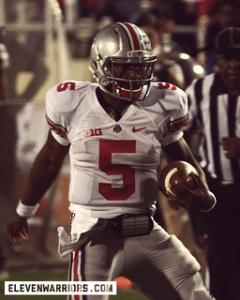 Another one of Ohio State's playmakers – Corey Brown – was hobbled last week with a head injury. He's expected to play, and Ohio State will need him. Even with how well Carlos Hyde has played, the Buckeyes will likely need good performances out of their skill players to offset the effectiveness of Penn State's monster front seven. It's the secondary that's the weak spot of the defense.
Ohio State's linebackers will factor largely into the game, but it's the defensive line that could be the difference on that side of the ball. Penn State's hurry-up offense will be tough to defend. McGloin has only been sacked eight times in seven games, and the Buckeyes haven't exactly gotten after the quarterback this season. There have been zero sacks on pass plays the past two weeks.
Any pressure at all from John Simon, Johnathan Hankins, Nathan Williams could free up the linebackers. Not facing much pressure for seven games, McGloin could be forced into making bad decisions.
Ohio State's secondary is also better than any unit Penn State has gone against this season. McGloin has two interceptions in 255 attempts on the season. But he also hasn't gone against Bradley Roby. It's not just him, though. Travis Howard and the safeties also provide solid coverage for the Buckeyes. The thing that sticks out about them is their physicality.
The special teams play of the Buckeyes could also be a gamechanger. Ficken's miscues are well documented. But something that has flown under the radar is Ohio State's propensity to block kicks. Six have been deflected so far. It's an area of emphasis by Meyer, who has turned into the current generation's Frank Beamer when it comes to special teams.
Meyer says you win a game 90 percent of the time when you block a kick. In a close game on Saturday, a special teams miscue could loom much larger than a 50-yard touchdown pass.
How It Plays Out
Before the season started, and even weeks ago, no one thought this game would be close. But as Saturday night in Happy Valley looms, there is a very real possibility that Ohio State will return to Columbus with its unblemished record gone.
Ohio State's trend this season, other than inconsistency, is playing to the level of its opponents. At this point of the season, it doesn't look like either team is considerably better than the other, which points to a good game.
Blocked kicks have been mentioned already, but the special teams unit that is likely to have the biggest impact on the game is Ohio State's kickoff coverage group. Kicker Drew Basil has done an outstanding job all season of pinning teams inside the 20. When you have two evenly matched teams, field position is magnified.
Ultimately, the quarterbacks will decide this game. If Miller is as effective as he's been all season, Penn State will have a tough time winning. If he's off and McGloin stars, the Buckeyes will struggle to come out on top.
The past two trips the Buckeyes have made to State College have had similar intrigue surrounding them. In 2007, Ohio State was undefeated and ranked No. 1 in the country. Penn State was primed for the upset, but Ohio State left Beaver Stadium with a 37-17 win, dominating every aspect of the game. Two years later, Rose Bowl hopes were on the line. A close game was expected, and Ohio State won, 24-7. That is a combined score of 61-24 the Buckeyes have managed to win by in one of the nation's most hostile environments.
The margin will be smaller this time around, but the result won't differ.
Ohio State 27, Penn State 24