As the Buckeyes keep the ball moving, Eleven Warriors keeps churning out the RoundTables.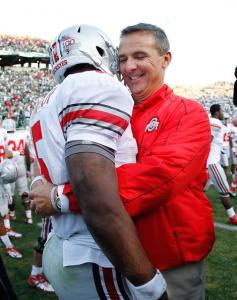 This week, our special Dubster Analysts feature Jason and Alex. I would like to thank them for their participation.
If you didn't already know, the Buckeyes roll into Penn State this weekend for an awkward 5:30 start time that should be one of the top games of the evening.
Ohio State's overtime victory over Purdue was full of twists and turns. What are your current thoughts on the Buckeyes with four games remaining?
Jason: I think this is a team that's young, banged-up and is still learning how to win. It doesn't understand the importance of starting fast and it certainly struggles with putting teams away.
That said, they're learning these things (the hard, slow and ulcer-inducing way) and through eight, they're unbeaten. That's a testament to the staff and the heart of the team. I don't know that I've had this much fun watching a Buckeye football team in years.
And to think, it's all a warm-up for next year, the mythical Year Two of the Meyer cycle.
Alex: I think Ohio State is a team that is continuing to learn throughout the season and is adapting to not only a new coaching staff, but also to unforeseen circumstances such as injuries to all three units of the team. That being said, they are also the beneficiary of what I will call an "easy schedule". Sure wins at Michigan State and home against Nebraska were quality, but other than that the schedule has been weak, which has been a good thing for this team to grow. The final stretch of the season will be very difficult and I am interested to see how the Bucks come out of it.
Dave: I just want the team to do whatever will help them most for next year. The team is still super young, which only means great things for the future, but I feel like the Buckeyes should be more risky: Blitz way more often, throw way more deep balls... Hey, I'm not Urban so I'll let him do his job. I think he knows what he's doing.
After Braxton Miller was whipped towards the ground with a near horse-collar tackle that forced him out of the game, explain what kind of confidence you had in Kenny Guiton to lead the Buckeyes to victory (you can use a 1-10 scale, 10 being the most confident).
Jason: It's weird, because I actually had a lot of confidence in Guiton based on what he had shown in the two previous games coming on in relief of Miller. That confidence took a nosedive of sorts when he threw the interception on the deep pass intended for Stoneburner, but I was glad to see him rebound to win the game for Ohio State.
Alex: From everything we have heard, Guiton is a fully capable back-up and had proven to be just that in the previous games he had entered for Braxton. In fact, Guiton made three "relief appearances" prior to the Purdue game and all three times the Buckeyes scored touchdowns. Because of that, I would say I had about a "6" or "7" on the scale before a ball was even snapped to Guiton. That certainly changed after the first two possessions he was in the game, but once he led the team on the game-tying drive, I felt very confident (an "8" or "9") in KG's ability to win it in overtime.
Dave: Given the situation of being down so late in the game, I initally was feeling about a 5. However if Guiton had been dubbed the starting QB going into the weekend and had a time to prepare, I would have felt much better. He did the job so the confidence is definitely higher.
Penn State has been a hot team as of late, actually gaining many votes in the AP Poll after winning five in a row. Besides cleaning up the defense, what must OSU do differently this week to come out of Happy Valley with a win?
Jason: The key to winning this game is Ohio State starting strong. Penn State is outscoring opponents 66-0 and is averaging nearly 10 minutes of possession time in the first quarters this season. That's insane.
If the Buckeyes let Penn State jump out to an early lead, Beaver Stadium will only get louder.
Alex: I actually pegged this game as a loss from the start of the year, as I thought the fact that this is PSU's de facto bowl game, a night game, a white out, homecoming, and that they consider us their biggest rival set the stage for the upset. Now that we are 2/3 of the way through the season, Penn State has established itself as a legitimate team, with a nasty defense and more than efficient offense. I think OSU needs to play a complete offensive game and not have any periods of stalling like in past games, utilizing both Braxton's arm and legs to keep the PSU defense on its toes. On defense, OSU needs to improve its ability to defend passes to the boundary, and limit the amount of plays where a linebacker is in man coverage.
Dave: Just score points. Keep the defense off the field. I know everyone would love to see the Buckeyes hold PSU to a few points, but at this point, just win games. If it has to be 55-52, so be it. A win is a win.
If you had an AP vote, where would you rank the Buckeyes? What about the Big Ten (SEC, Big-Ten, PAC-12, Big-12, Big East)?
Jason: I think 9th is about right. Looking at the eight teams ranked ahead of Ohio State, they'd all be favored over the Buckeyes at a neutral site. If the defense was playing at a level anywhere near what the offense is playing at, then I think we'd have a case for a top five team, but it isn't.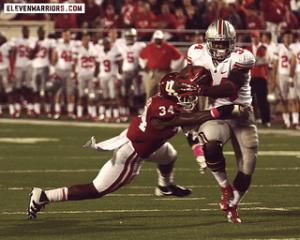 As for the Big Ten, it's terrible this year. The two teams in poll position for a Rose Bowl berth, Michigan and Wisconsin, each have two losses and we're not even into November yet. Nebraska has a loss at UCLA and was blown out in Columbus.  Iowa has losses to Iowa State and Central Michigan (!!), while Ohio State and Penn State are on probation. Not a banner year for Jim Delany's kids.
Alex: I'd probably have the Buckeyes somewhere from #7-#10, just by default. They are the only 8-0 team in the nation and that is not just by luck, so as long as they keep winning they deserve to be in the top 10. As for the conferences, this year I would say the SEC is still on top, followed by the Pac-12 (even though they play little defense), the Big 12 (even though they play no defense), the Big Ten, the ACC, and then the Big East.
Dave: I personally don't think they should have dropped (from seven to nine). How many teams are actually better than they are? Sure, you could make an argument for a few one-loss teams to be ranked ahead of them, but they're undefeated and this weekend measures their eliteness in my opinion.
As far as the conference goes: it is a down year for the Big Ten, but I'm not worried about the future. OSU should be in the top-10 every year, Michigan should be a top-20 teams, then the conference will have a scattering of other top-25 teams.
For those in doubt: Is the B1G a full blown basketball conference?
What do the Buckeyes need to do in order to slow down QB Matt McGloin?
Jason: The fact that this dude is having a great year speaks volumes to Bill O'Brien's quarterback coaching skills. O'Brien has taken a former walk-on with no discernable pocket skills and turned him into a slinger that leads the Big Ten in completions, is 2nd in passing yards and touchdowns and 3rd in efficiency rating. Clearly the work of a miracle worker.
On Saturday, he'll go against the 16th-worst pass defense in the nation (we see you, West Virginia, holding down #120). I never would have imagined I'd be saying this, but there's cause for concern against McGloin.
Alex: We have had a good time poking fun at Matt "Excessive Moxie" McGloin in the past, but he is no laughing matter this year. Bill O'Brien has done an excellent job developing McGloin into a quarterback who makes the throws he's supposed to make and manages a great game, but credit also goes to McGloin himself, as he dedicated himself to film study this off-season which has helped in him making great strides in his game. That being said, the name of the game is pressure. The more time McGloin has to go through his progressions, the more yards your defense is going to give up. Penn State rarely goes down field and a lot of their passes are in the short-medium range. Put some pressure on McGloin, maybe even blitzing corners or safeties, and force him to beat you over the top, rather than to the sideline or down the seams.
Dave: Bring the pressure, hurry him and hit him. If the Buckeye defensive backfield continues to struggle dropping into coverage, why not blitz often?
How many points will Penn State score against the OSU defense?
Jason: Low 20s would be nice, but I fear we'll see high 20s, low 30s.
Alex: As mentioned before I am taking Penn State in this game (against my heart), as I think they will exploit OSU's weakness of boundary defense with screens and swing passes, as well as against the linebackers with a set of really solid tight ends. I see Penn State scoring somewhere between 27-31 points to win this game.
Dave: 24-28 points.
Bonus: Does Braxton rebound from injury and a low statistical game to re-enter the Heisman discussion this week?
Jason: Yes.
Alex: Despite me thinking PSU will win, I do think Braxton will bounce back. I have it Penn State 31, Ohio State 27, so I think Braxton will have a line that goes something like: 14/21 for 168 yards with a touchdown and an interception through the air, while also running for 138 yards on 23 carries with 2 touchdowns. Unfortunately I don't think that will be enough, as I see the PSU defense shutting down Hyde, Smith, and the rest of the Buckeye rushing attack and getting the high scoring (for PSU) victory.
Dave: He had an off game with a nonexistent fourth quarter (injury) and he's still discussed on the list of Heisman contenders. One big game in the next few weeks (I'm talking one of his standard 16/24 attempts, 190 yards passing 2 TD, 155 yards rushing 1 TD) and he'll be back to the top of the list.
---
Tune in next week for the 11W RoundTable: Illinois