On Saturday night, just hours after he was crumpled on the Ohio Stadium turf, Braxton Miller tweeted. "All Good." After Wednesday's practice head coach Urban Meyer and Miller reiterated that message.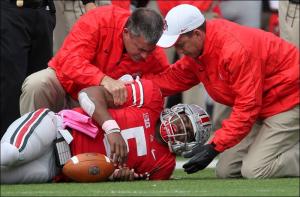 Meyer said the quarterback has practiced at full strength the past two days and will not be limited in any capacity Saturday at Penn State. Despite his heroics versus Purdue, Kenny Guiton has not taken more reps with the first team. It's business as usual for the Ohio State offense.
As his tweet showed, Miller said he knew he was fine Saturday. He's rehabbed his neck throughout the week by stretching and icing it. It's helped alleviate discomfort and now Miller said it is only slightly sore.
Much has been said of Miller's reaction to being injured. Some people have even gone as far to criticize him. When he went down, Miller said he was dizzy and didn't know exactly what was injured, just that it had never happened before.
Miller has watched the replay several times and said it's one of those plays that make you clench your eyes. When he takes the field Saturday, there will be no hesitating. It will be the same old Braxton.
As he lay in a hospital bed undergoing a series of tests, Miller said he kept asking the nurse to give him an update on the game. They finally let him know about the Guiton directed comeback.
The biggest injury aside from Miller's neck is the knee of Jordan Hall. Meyer said he's taken a step back after re-injuring it and is being held out of practice. A redshirt is now a possibility, according to Meyer.
Meyer said his emotions got the best of him on his postgame on-field celebration. He said he looked up at the students and knew how excited they were.
Miller's willingness to step right back on the field this week doesn't surprise Meyer at all. He said that's how uber-competitive players are.
Jake Stoneburner said it's a typical Penn State defense – good linebackers, in particular Mike Mauti, and a physical defensive line. Stoneburner said it will be a dogfight.
Some players like road game, others don't. Stoneburner is one that enjoyed opposing environments, especially Beaver Stadium.
To get to the field from the visitors' locker room you literally have to go past fans and a concession stand. Stoneburner said they see a lot of middle fingers and hear plenty of F-bombs on the walk.
Despite the sanctions and scandal, Stoneburner said he doubts fans will be more humane and hospitable.
Since a majority of the coaching staff is new, Stoneburner said they've been asking veteran players what the atmosphere at Penn State is like.
Stoneburner said he's taken plenty of scary hits in his career. There have been times when he's been cross-eyed, dizzy and had blurred vision.
The Buckeyes have not been playing according to Meyer's "Plan to Win." Stoneburner said it's a great plan and games would be much easier if they would just follow it.
Carlos Hyde said Penn State's defense is very good at tackling and doesn't allow too many explosive plays.
After watching film, Hyde said he's surprised Penn State isn't undefeated.
Johnathan Hankins said Meyer has done a great job in his first season as head coach. Hankins said Meyer always keeps a positive vibe around the team and motivates them well.
Guiton said more people have been talking to him in class this week.
After the game last week, Guiton said he had so many text messages that he didn't go through all of them.
Sitting on the bench for four seasons, Guiton said he wasn't sure when he'd get the opportunity to play. He thought it would come at some point and he's glad he took advantage.
Guiton and Chris Fields are best friends – Guiton said the two of them have talked some time about when their time would come. They delivered against Purdue.
Asked to describe Miller's mood, Guiton used the word "jolly."