One play, 83 yards.
That's all it took for Purdue to get its offense humming on Saturday and for the "Here we go again," comments to rattle around Ohio Stadium.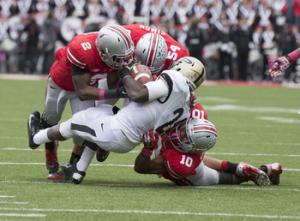 It certainly wasn't the start Ohio State wanted or needed. The Buckeyes were coming of a week in which it allowed 49 points to Indiana, including 15 in the final two minutes. The week before that Nebraska scored 38 points.
Wholesale changes were already in order, with Zach Boren moving from fullback to linebacker and head coach Urban Meyer becoming more involved with the defense.
Then the same problem cropped up again. Making matters worse was the fact that Ohio State had rehearsed Purdue's opening play several times throughout the week. But when it mattered, players were out of position.
That's where the gashing for the Boilermakers ended, though. They gained just over 250 yards the rest of the game and the Purdue offense was only responsible for one more touchdown in Ohio State's 29-22 overtime victory.
"We weren't really concerned," defensive lineman Johnathan Hankins said of the quick touchdown. "That happens. It's about the next play. We had tons of juice and we knew we were going to go out there and stop them."
In the game's biggest possession – overtime – Purdue started 25 yards away from the end zone. But on four plays it could only gain five yards. On 4th-and-5, Purdue quarterback Caleb TerBush sailed the ball to the end zone after he came under pressure, hoping that someone in a Gold and Black uniform would come down with it. Instead, the ball went out the back of the end zone.
"Our defensive line got a lot of pressure on that play," safety Christian Bryant said. "Our whole front line did a nice job putting pressure on the quarterback and flushing him out the pocket, which forced him to make a bad pass."
It isn't very often that the Ohio State defense attracts so much negative attention. It's been among the conference and nation's best for decades. But it's slipped to unforeseen lows the past two seasons. 
In a tale of 59 minutes – the last 59 for the OSU defense and the first 59 for the Purdue defense – Ohio State may have finally turned the corner. Along with the overtime possession, the Buckeyes withstood a 19-play, 10 minute, 32 second drive that ended with CJ Barnett intercepting a pass in the end zone. 
"I thought they played well the whole day," Meyer said. "I thought our defense might have had their best performance. Obviously the first one was kind of a little trick play. You take away that play, which you can't take away that play, and our defense played really well."
Purdue failed to score a single point off of the Buckeyes' four turnovers. Defending after offensive miscues has been one of Ohio State's strengths this season. On possessions following Ohio State's 13 turnovers, opponents have scored just 13 points – a touchdown and two field goals.
Still, Purdue's touchdowns were 83 yards and 31 yards. On the season, Ohio State has allowed five touchdowns of 50 yards or more. This week, the Buckeyes will deal with a versatile offense that has been a part of five consecutive wins. They'll also have to deal with a raucous atmosphere.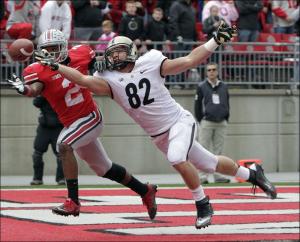 Penn State has averaged 34 points per game in its five wins. On the flipside, the Nittany Lions have only scored 15 points per game in two losses. Bill O'Brien's high-powered offense is running around 90 plays per game and is averaging more than 405 yards.
"Penn State has great football players right now," Meyer said. "They're very well coached. 
"Coach Coop, my personnel director, gave me the list. It's going to be a good draft day for the Penn State Nittany Lions."
Penn State beat Iowa, 38-14, last week in Iowa City, and in the first half alone, the Nittany Lions ran 50 plays, gained 304 yards and scored three touchdowns. The fast-paced offense has gained the nickname NASCAR in State College.
Bits and pieces of O'Brien's past were thrown into a blender and the playbook emerged. From Brown to Georgia Tech to the New England Patriots, chunks of those offenses have now emerged from the ashes at Penn State. O'Brien has been an offensive assistant – and many times the coordinator – throughout the entirety of his coaching career. And the most common denominator is the no-huddle offense.
"We've been doing this for a while," O'Brien said. "None of us invented it. I mean, if you want to say who invented it you'd have to go all the way back to Paul Brown. He invented the shotgun and no-huddle and two minute offense."
The Nittany Lions' Jimmie Johnson has been quarterback Matt McGloin. In the season's first two games, losses to Ohio and Virginia, McGloin didn't complete more than 56 percent of his passes and totaled four touchdowns and an interception.
McGloin's numbers in the past five games have been the best of his career. He's completing more than 65 percent of his passes and has thrown 10 touchdowns versus just one interception. For the season, he's amassed 1,788 passing yards, 14 touchdowns and two interceptions.
"I think he's the most efficient passer we'll see all season," Ohio State co-defensive coordinator Everett Withers said. "He does a nice job of finding the open man. He knows exactly where he wants to go with the football, but if it's not there he does a good job going through his progressions. We turned on the film (Sunday) night and we actually saw him go through one, two, three on reads. I don't know if we've seen that from another quarterback all year."
Playing under the guy who coached Tom Brady for five seasons helps. O'Brien isn't just good at teaching quarterbacks, he's also adept at putting them in position to succeed.
"No. 1 is you try to get into a certain rhythm," O'Brien said. "So one of the things that any coach will tell you that runs that type of up-tempo offense is first down is really important. If you can gain positive yards on first down, then your second and medium call or second and short call is a playcaller's dream. That's really the most important thing."
Another reason for the uptick in McGloin's production has been the iron curtain he's playing behind. Penn State has only allowed eight sacks in seven games. On the opposite end of that spectrum, Indiana and Purdue, Ohio State's past two opponents have thrown 54 and 30 passes, respectively. The Buckeyes had zero sacks on those pass plays.
But one week after no defensive player appeared on the champions list for the Indiana game, seven showed up after only allowing 13 points to Purdue, three of which were defensive linemen – John Simon, Johnathan Hankins and Nathan Williams.
"Words can't even explain it," linebacker Ryan Shazier said of the defense's performance. "We've been grinding so much, working so hard. We've been going through everything together. These guys are my brothers. I would do anything for them."