Around the Oval is our weekly look at sports on campus that don't always get the coverage they deserve.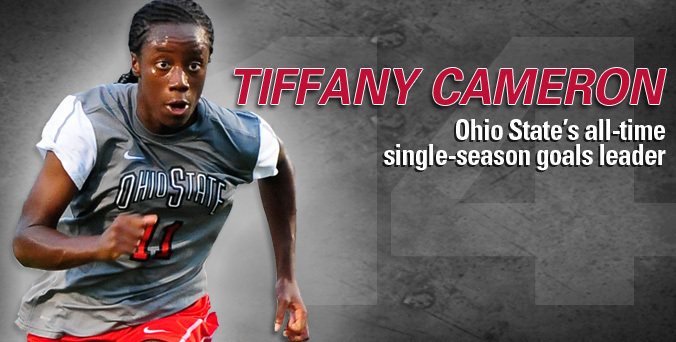 Another weekend, yet another routine Buckeye win.  A backup quarterback throwing to a backup wide receiver for a last-minute touchdown, followed by a two-point conversion to send the game to overtime, where OSU wins. Just your usual Saturday.  
We're here to talk about some other of our great athletic teams, and we'll start off with the on-fire women's soccer team.
The Bucks started their week off against our hated rivals, the school up north, at Jesse Owens Memorial Stadium on October 18.  With two goals from senior forward Tiffany Cameron, OSU cruised to a 3-1 victory over the Wolverines.  
Not only did Cameron put two in, but in doing so she broke the team record for goals in a season with 14 so far.  
On October 21, Senior Day, the Buckeyes extended their winning streak to 5 games with a 3-1 win against Michigan State at home.  Guess who scored two more goals? Yes, all those who had Tiffany Cameron are right, as her two scores tied her with Lara Dickenmann and Lisa Grubb for the Ohio State career goals list at 35.
Congratulations to Tiffany on a astounding week, and good luck to the Buckeyes as they will next take on Indiana in Bloomington at 7 PM ET on October 26.
Men's Soccer
The Ohio State men's soccer team had an up and down week, finishing with one win and one loss during the stretch.  
The Buckeyes started their week off with a game against Wright State on October 19 at Jesse Owens Memorial Stadium and came away with a 2-1 victory.  Senior forward Chris Hegngi scored the game-winning goal, while junior defender Sage Gardner also scored in the contest.
Then last night, OSU faced off against #3 Akron at Jesse Owens Memorial Stadium, and the match ended up being a battle. In a game broadcasted by the Big Ten Network, the Bucks lost a struggle to the favorites, 1-0.
The Buckeyes dropped to 6-9-1 on the season with the loss, while the Zips extended their winning streak to eight games and improved to 12-1-2 in 2012.
"We had a good game tonight," Ohio State head coach John Bluem said. "We followed our game plan and did exactly what we wanted to do, except gave them the goal and got down 0-1, even though our goal was to shut them out. We weren't sure we could score on them, although we actually had a lot of good opportunities. I'm surprised we didn't get a goal. It was a great effort by the team."
Next up for OSU is a 1 PM ET contest this Sunday against Penn State in State College, before returning home to wrap up the regular season a week later at 1 PM ET Sunday, November 4 against Wisconsin.
Men's Hockey 
After a 1-1 start to their season, the Buckeyes had two games this past week against #20 Quinnipiac in Connecticut.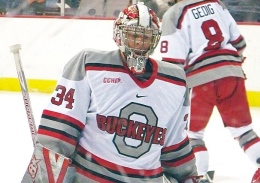 In the first game of the set, OSU skated to a 1-1 tie at High Point Solutions Arena at the TD Bank Sports Center on October 19. Senior goalie Brady Hjelle totaled 31 saves, while sophomore forward Matt Johnson scored the team's lone goal.
The next night the Bucks came out sluggish, and wound up losing, 3-1, in a game they could just never get going in. Sophomore Ryan Dzingel picked up his first goal of the season with the assists to freshman Sam Jardine and sophomore Max McCormick.
The Buckeyes open CCHA play at Bowling Green next weekend, facing the Falcons at the BGSU Ice Arena October 26-27. Game time is set for 7:05 PM ET on both Friday and Saturday.
Women's Volleyball
The Ohio State women's volleyball team opened up their week with a big match against the top-ranked team in the country, Penn State, at St. John Arena on October 17.  
It wasn't the best day for the Buckeyes though, as Penn State showed why they are the best team in the nation, winning 3-0. Senior Emily Danks led Ohio State with 10 points, finishing with 5 kills, 4 service aces and a solo block. Junior Kaitlyn Leary chipped in with a team-best eight kills, but neither effort was enough.
On October 20, the Buckeyes returned to action in East Lansing, Michigan, against Michigan State and came away with a much needed 3-1 victory. Mari Hole notched her eleventh double-double of the season after finishing with 21 kills and 16 digs in the match. Danks totaled 14 kills and added a season-high 12 digs with 4 blocks, and Leary had 15 kills. Juniors Davionna DiSalvatore and Julianne Mandolfo paced the Buckeye defense, having 16 and 15 digs, respectively.
The Buckeyes return to action at Nebraska on October 26, taking on the Cornhuskers in an 8 PM ET matchup.