The outcome didn't happen as expected, but with some resilience and clutch play from a one Kenny Guiton, Ohio State was able to pull out a 29-22 overtime victory against the Purdue Boilermakers last Saturday afternoon in Ohio Stadium.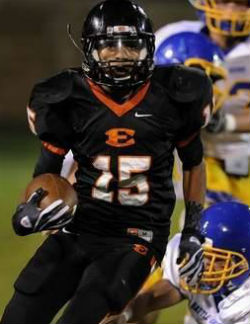 The win was not only great, as it lifted team morale and kept the Buckeyes' perfect season intact, but it also showed recruits both in the stadium and across the country the type of emotion Urban Meyer teams will play with while the OSU coach is calling the shots in Columbus.
Speaking of players in attendance for the thriller, the list wasn't long or full of five-star prospects, but the end result of the game was certainly impactful for those that were there. 
Two key players who witnessed the win were 2013 Ensworth (TN) ATH Cornelius Elder and 2014 Springfield (OH) WR Thaddeus Snodgrass. You can say the trip was an A+ when it came to both players, as Elder now lists the Bucks as the team to beat in his recruitment, while Snodgrass has announced he will make his college choice soon, coincidentally (or not) coming off his latest trip to Columbus.
We have more regarding the latest on Elder and Snodgrass, as well as many other top prospects on the Ohio State big board in this version of the 11W Recruiting Notebook, so join us after the jump to hear more.
The Buzz
Starting with Elder, the thought heading into his unofficial visit was that hometown Vanderbilt was the leader for his services. That turned out not to be the case, and regardless, following the visit it appears Ohio State has moved into the number one spot in Elder's recruitment, with rumors that UCLA could be Urban Meyer's biggest competition at this moment.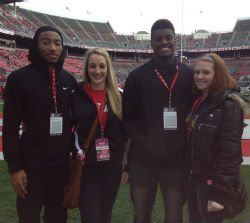 Why UCLA you ask? Other than the fact that Jim Mora Jr. has completely revitalized the Bruins' program, word is that Ben Howland and the basketball team in Westwood have offered Corn a spot on the team as a walk-on if he comes to Cali for football.
Elder is a star on the hardwood for Ensworth and hoops was his first passion, so the offer is certainly intriguing to him. He has been in talks with Thad Matta about possibly having the same option at OSU, but will talk further with the staff when he returns for an official visit later this year.
I don't think basketball will be the deal breaker, and it would be very difficult for Elder to fully immerse himself in both sports, but it is certainly a nice "added value" offering in his recruitment. Stay tuned to see how this one plays out, but for now know that the Buckeyes are looking good for the Tennessee star.
Snodgrass has long been a fan of Urban Meyer's and the Springfield standout was the first receiver in the 2014 class offered by the new staff at OSU. After coming down for the game against Cal, Snodgrass visited for the Purdue game and kept it no secret that he was excited after the Buckeyes pulled out the dramatic win against Purdue.
On Monday, coming off the heels of his visit, Snodgrass announced he would be making his college choice on Monday, November 5 at his high school because he was certain of where he wanted to go, despite booking a midweek trip to Notre Dame next week. The Buckeyes, Irish, and Michigan State are thought to be his top three, but the four-star prospect says he will announce a top five list the day before he commits.
You can put the pieces together yourself, but from what our sources are telling us, it does indeed appear Urban closed the deal with the speedster this past weekend and Thaddeus will become the first verbal pledge in Ohio State's class of 2014 (although I still don't get the South Bend trip if he "knows" where he's going already). We shall all see a week from Monday.
Speaking of announcements, another Buckeye prospect made it known when he will make a final decision. 2013 Louisville (KY) Trinity WR James Quick took to Twitter to let the world know he would make his college choice on January 5, with Louisville, Ohio State, and Oregon thought to be the front-runners at this time.
Quick seemed to be a strong Louisville lean for some time, but his latest visit to Ohio State for the Nebraska game may have pushed the Buckeyes to at least even, if not slightly ahead of the Cardinals. Couple in the fact that Quick will be back in Columbus for his official visit the weekend of the Michigan game, and of course the rumors Charlie Strong will leave Louisville for the SEC, and you have a recipe for the Bucks to bring in one of the nation's top pass catchers.
There is plenty of time left for Urban Meyer to fill out his 2013 class and while the aforementioned Elder and Quick would be great additions, there are more names being added to the "possible" list each and every day as we inch closer to Signing Day in February.
One new name that has emerged is Gareon Conley, who plays cornerback and wide receiver for Massillon Washington. Conley is currently committed to the Michigan Wolverines, but rumors have been coming through our phone lines that the playmaker has had second thoughts lately of not taking any college visits to weigh his options before he chose to give his pledge to Brady Hoke back in March.
Earlier this week word came out that the Buckeyes had offered Conley, but we're not sure that is the case just yet. Mike Vrabel has definitely been in touch with the Massillon star to build a relationship and let him know that the Buckeyes are certainly interested in him should he choose to reconsider his Michigan commitment, but a decision is not imminent.
Conley will play in the biggest game of his senior season this weekend, against rival Canton McKinley, and then sit down with his parents to discuss if he wants to visit Ohio State, Oregon, Cincinnati, and some other programs that have shown interest. Remember, Brady Hoke has a policy that if a committed player visits another school that they lose their scholarship. This one could get interesting.
Finally, good news out of the south comes in the form of 2014 Hinesville (GA) Liberty County LB Raekwon McMillan. If you've seen the Ohio State linebackers play this year, you know help is certainly needed at the position and McMillan is as good as they come for all high school athletes, let alone the 2014 class.
The five-star prospect has been up to Columbus twice already and has said in the past few months that the Buckeyes are at the top with home town Georgia, followed by Clemson, Alabama, USC, LSU, and some other programs. That is apparently not the case anymore, as this week McMillan came out and declared the Buckeyes his leader with Clemson in second, Georgia in third, and then USC, Alabama, and LSU rounding out his current top six schools.
This is big news for Buckeye fans as for the longest time it seemed that Georgia would be OSU's biggest competition, but now the Bulldogs not only trail the Buckeyes, but are in third for McMillan's services. The Georgia star will be back in Columbus for a visit to see the Bucks take on Michigan in November. I look for Urban Meyer to turn the pressure up then and open the gap even more between OSU and the other suitors after McMillan witnesses The Game in person.
High School Football Recap
There was plenty going on the field last weekend in the world of high school football, but there was also some news regarding future Buckeyes off the field.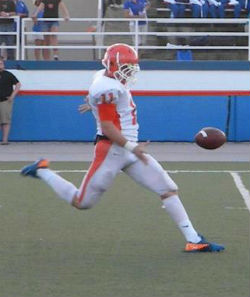 If you missed it last week, DT Michael Hill of Pendleton (SC) will be out for the season after tearing a ligament in his hand. It appears Hill will be fine in time to start his career at Ohio State, but his participation in the Shrine Bowl and US Army All-American Bowl is now questionable. 
QB JT Barrett is also out for the season after getting surgery to repair a torn ACL and lateral meniscus. Barrett is enrolling early and while it is highly unlikely he will be full speed for spring practice, it does appear he may be able to play if needed next fall.
Not only did the surgery go well, but Barrett told the Dispatch's Tim May that he's doing well and even started to do some quad sets and bending as he begins his rehab. Best of luck to JT in a speedy recovery!
Finally, in slightly more positive news, P Johnny Townsend received quite the pleasant surprise on Monday when he found out he was named a US Army All-American. Townsend, rated as the number two punter in the country, will join the aforementioned Hill, Ezekiel Elliott, Evan Lisle, and Eli Woodard at the early January event in San Antonio. Buckeye Nation is certainly representing at the USAAAB and we want to send a congratulations out to Townsend for this special honor.
Back to the on field stuff, Ezekiel Elliott had himself another game. The four-star senior helped John Burroughs to a 34-6 win over Maplewood-Richmond (MO) Heights with 211 yards and 2 scores on 28 carries, also contributing on special teams with a kick return for a touchdown.
Taivon Jacobs and Suitland beat Blandensburg (MD), 35-0, last weekend. Jacobs had 5 receptions for 191 yards and a score in the victory.
Jalin Marshall and Middletown bounced back this week, as the Middies took down Hamilton. Marshall once again had a tough passing day, going 3/15 for 141 yards with a touchdown and a pick, but made up for it with his effort on the ground, rumbling for 135 yards and a score on 23 carries.
Marcus Baugh caught 4 passes for 45 yards, but Riverside (CA) North lost to Demorea Stringfellow and Moreno Valley (CA) Rancho Verde by a score of 34-13 last Thursday.
Joey Bosa and Fort Lauderdale (FL) St. Thomas Aquinas had a big 63-13 win over Davie (FL) Nova and the defense was a big reason why. Bosa had two sacks, two forced fumbles, two recovered fumbles, and three tackles for a loss in the win.
DL Billy Price had five tackles in Austintown Fitch's 28-6 win over Uniontown Lake on Friday. Price continues to have a nice season on the defensive line, where he will start his OSU career.
Toledo Central Catholic had an easy 60-0 win over Toledo St. Francis DeSales on Friday. Buckeye safety commit Jayme Thompson played his part, contributing four tackles in the win.
Outside of Buckeye commits, 2014 QB Drew Barker had another great game as Hebron (KY) Conner beat Scott (KY), 39-32. Barker had two fourth quarter passing scores and a rushing score to help seal the victory.
2014 WR Artavis Scott and Tarpon Springs (FL) East Lake defeated Sarasota (FL) Riverview last weekend. Scott had 9 catches for 189 yards and 4 touchdowns in the win before heading up to Ann Arbor with teammate OL Mason Cole to see the Wolverines defeat the Michigan State Spartans.
2014 ATH Speedy Noil helped his team to a 45-10 win over Shaw (LA) through the air and on the ground. Noil, playing quarterback, was 13/20 passing for 141 yards with a touchdown on the pick. He did most of his damage on the ground though, rushing 13 times for 124 yards and 2 scores.
Finally, Todd Kelly Jr., mainly being recruited as a defensive back, lit it up on the offensive end in Knoxville (TN) Webb School's win last weekend. Kelly had 11 carries for 190 yards and 2 touchdowns at running back and also returned a kick for a touchdown on special teams.
Week 10 Games to take note of:
Lakewood St. Edward at Cleveland St. Ignatius (Solomon Warfield, Jimmy Byrne, Tim McVey, Michael Siragusa)
Youngstown Ursuline at Akron St. Vincent-St. Mary (Chris Durkin, Dante Booker Jr.)
Canton McKinley at Massillon Washington (Eric Glover-Williams, Gareon Conley, Marcus Whitfield, Nathaniel Devers)
Plantation (FL) at Fort Lauderdale (FL) St. Thomas Aquinas (Joey Bosa)