When your starting quarterback, who is also a Heisman Trophy contender, suffers an injury in the third quarter with your team trailing and does not return, long shot best describes your chances of winning.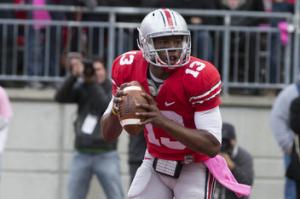 Ohio State found itself in that scenario Saturday against Purdue when Braxton Miller suffered an upper-body injury. For the better part of four quarters, the Buckeyes could not solve the Boilermakers' defensive riddle.
The past two weeks, Purdue surrendered 771 rushing yards and more than 1,000 total yards to Michigan and Wisconsin. But Ohio State's run game, which produced multiple 100-yard rushers in its previous two games, could barely establish four yards per carry. 
With the game clock dwindling in the fourth quarter, Purdue led 22-14. An undefeated season hung in the balance. That's when Ohio State backup quarterback Kenny Guiton did something that many would expect from a second-string quarterback: he badly underthrew a pass deep downfield and was intercepted. Less than three minutes remained, leading fans to head for the exits.
But Guiton had been in this position before. As a sophomore at Eisenhower High School in Aldine, Texas, he threw a late interception against Aldine Nimitz, only to rally his team on a stirring game-tying drive and capped it off with an overtime victory.
The percentage of a repeat was hovering somewhere near zero and minus-one percent. Until Ohio State's win at Indiana last week, Guiton hadn't even thrown a touchdown pass during his college career. But those who stayed saw one of the most improbable comebacks in Ohio State's long and storied football history.
"After that interception, I just grabbed him and I said, 'You'll be right back, and we'll win the game,'" head coach Urban Meyer said. "And he looked right back at me, said, 'I gotcha, Coach.'"
A similar situation played out last season, though Ohio State was winning. It was the Buckeyes' best performance in a mostly forgettable season. Through three and a half quarters at Nebraska, Miller had the offense rolling. But with a 27-6 lead, he went down with an ankle injury. Joe Bauserman relieved him and had one of the most disappointing outings ever by an Ohio State quarterback, completing just one of 10 passes and tossing an interception. The Buckeyes lost 34-27, their biggest blown lead in program history.
The righty out of the bullpen, as Meyer affectionately refers to Guiton, didn't lead Ohio State to its biggest comeback in terms of margin, but the eight points seemed just as insurmountable as the 31 points the Buckeyes overcame at Minnesota in 1989.
"He meant everything," tight end Jeff Heuerman said of Guiton. "What he did will go down in the record books. I get chills just thinking about it."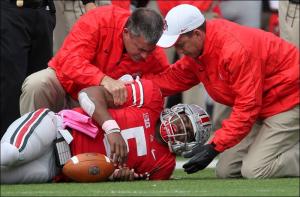 When the Buckeyes regained possession late in the fourth quarter Saturday, they needed a touchdown and a two-point conversion, and they had 47 seconds and 61 yards to traverse. Not to mention, they used their last timeout trying to get the ball back.
"It's a long-shot situation," Guiton said. "But at the same time, you always have to have your head up, ready to take it on. That's one thing everybody plays football for, to shock everybody and show them what you can do."
Shock is the apt word – it was on the face of Meyer and Danny Hope.
"I'm still trying to figure this bad boy out," Meyer said. "We won, right?"
On the very first play of the drive, Devin Smith got behind the defense and Guiton found him for 39 yards all the way down to the Purdue 22-yard line. Guiton completed an eight-yard pass to Evan Spencer on the next play and, eventually, a two-yard touchdown pass to a diving Chris Fields just inside the goal line with three seconds left for a touchdown.
But Guiton would have to complete one more pass if Ohio State was to continue the game in overtime. Offensive coordinator Tom Herman ordered up a near unstoppable dose of misdirection and slow development.
With the entire Ohio State offense moving to the right, tight end Jeff Heuerman broke free to the left and found himself wide open in the end zone – so too did Guiton.
In overtime, it was more of the same from the redshirt junior. A 17-yard strike to Stoneburner put the Buckeye offense on the doorstep, and Carlos Hyde finished off the 25-yard drive with a two-yard plunge into the end zone.
After the Ohio State defense allowed five yards on Purdue's possession, a comeback for the ages had been completed.
Ohio State 29, Purdue 22.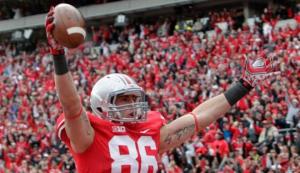 "Forty-seven seconds, no timeouts. I just can't say enough about it," Meyer said. "It's just a tribute to that kid. He's a special guy."
The fact that Guiton was even on the sideline, let alone the field, seemed unlikely during his senior year of high school in 2009. With a week to go until National Signing Day, Guiton was choosing between Houston, Kansas, Iowa State, Rice and Prairie View A&M when then-recruiting coordinator John Peterson offered him a scholarship at the last minute. Wanting to be a part of a big-time program, Guiton committed to Ohio State without even seeing the campus.
But even that nearly didn't happen as Guiton missed school due to an illness on the day Peterson visited Aldine Eisenhower High School.
"I made up my mind pretty fast to commit," Guiton told the Columbus Dispatch in 2009. "As soon as I got the call I knew that Ohio State was all about tradition. I am used to watching them play, and I just knew when they made their offer it was going to be the place for me."
The late offer came after Tajh Boyd spurned Ohio State for Clemson and Austin Boucher kept his commitment to Miami (Ohio).
The recruitment of Guiton consisted of Peterson watching film at Eisenhower with Guiton. That is it.
But it's not as if Guiton couldn't play. He was a three-star recruit and rated the No. 35 dual-threat quarterback by Rivals. Guiton threw for 1,846 yards and 21 touchdowns as a senior and more than 2,500 yards with 329 rushing yards and 29 touchdowns as a junior, the season he was named the District 19-5A offensive MVP.
Guiton's athleticism was displayed all over the prep venues in Greater Houston. In addition to football, Guiton was also a point guard on the basketball team and hurdler in track and field.  He was an honor roll student and exhibited those smarts in crunch time Saturday.
Guiton redshirted behind Terrelle Pryor his freshman season before finally seeing game action in 2010. He played five games that season and tossed an interception on his first career pass. His lone touchdown came on a 15-yard run. Last season, with Miller and Bauserman trying to hold together a 6-7 football team, Guiton only saw action in one game.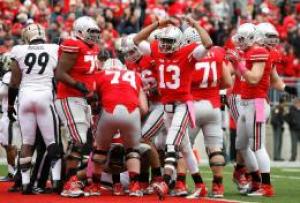 In January, it looked like Guiton's Ohio State career would end.
"Once (Meyer) came in, I was just another guy going through the motions," Guiton said Saturday. "He didn't tell me point-blank. We had different words, but it was eye-opening. I saw what I had to do, and I tried to step up."
When Meyer took over the program, he said Guiton's "reputation wasn't sterling" and  "his performance certainly wasn't." Last week, Meyer said Guiton was close to earning to a one-way bus ticket back to Texas during those hard times. But it's been a 180 ever since.
"His time in Columbus was limited because of the way he was doing things," Meyer said. "Now Kenny Guiton is on my leadership team. That's one of the biggest turnarounds I've ever seen."
Said Guiton: "I don't think I stood out enough. I don't think I did anything to just be a quarterback, basically. Quarterbacks (should) stand up and be leaders, and I don't think I did enough."
Over the summer and continuing to fall camp, Guiton reinvented himself as a student of the game. He studied film, tagged along with Miller to summer drills and added weight to his 6-foot-3 frame. When Guiton entered Ohio State he weighed less than 190 pounds, he is now in the 205 range.
"He's worked on his arm strength. He's worked on his mechanics," Herman said before the season. "I love Kenny Guiton. He's a really sharp guy that understands the offense, understands the tempo. He lacks some of the physical tools that Braxton has, but he makes up for it in the way that he plays mentally."
Guiton had directed scoring drives before this season – he was three for three, in fact. But they mostly consisted of handing the ball off to Hyde, until he tossed a shovel pass Hyde's way last week at Indiana.
The guy with the Twitter handle @lowKeyG_13 was exactly that – or smooth like the jazzist whom Guiton is nicknamed after – on the game-tying and winning drives.
"This is what I play football for," Guiton said. "I always wanted a shot, and (Saturday) I got it. You just have to have patience."