"Words can't even explain it. We've been grinding so much, working so hard. We've been going through everything together. These guys are my brothers. I would do anything for them. It was amazing to have a win like that, once in a lifetime." - Ryan Shazier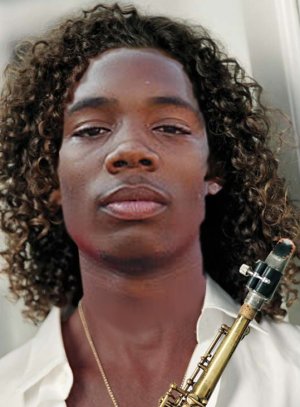 In one of the most bipolar performances you've ever seen, the Buckeyes somehow found themselves on the winning end of a 29-22 thriller yesterday afternoon in the 'Shoe. 
Needing to score a TD and convert a two-point conversion just to make it to overtime, Ohio State did exactly that led by backups Kenny Guiton and Chris Fields. 
Riding the emotional wave of Kenny G's TD march, the Buckeyes stormed into OT, quickly scoring on a one-yard Carlos Hyde plunge before the defense forced three incompletions in four tries from Caleb TerBush to complete the improbable comeback. 
Favored by 19.5 points coming in, it probably should've never come down to overtime but when you step back and look what they overcame to remain perfect on the year, a tip of the hat is indeed in order.
Seriously, how do you win a game when, collectively, you give up an 83-yard touchdown on the first play from scrimmage, surrender a 100-yard kickoff return for a touchdown (obvious holding aside), give up a safety, turn it over four times and lose your Heisman trophy candidate to injury down six points with 15 minutes to play?
After a roller coaster like that, I could write Ten Things but considering what I put my body through celebrating the comeback, I'll stick with an abbreviated five.
Ryan Damn Shazier
Despite being the team leader in tackles by a sizeable margin, the prevailing thought on Shazier is that while currently a very good player, he hadn't quite made the leap some envisioned through seven games of his sophomore season. 
Yesterday, in game eight, I thought he played by far the best game of his young career.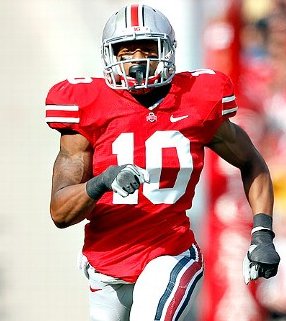 The stats say he racked up a game-high 12 tackles including 1.5 for loss but to me, it was the manner in which he went about his business that has me thinking he might be ready to take the next step toward becoming the next great linebacker at Ohio State. 
After two weeks of listening to everyone bash this defense, ranging from the head coach to the media to the fans, Shazier played like he'd had enough of that talk. 
He came at every tackle with bad intentions yesterday but still just enough thought to make sure he wrapped up as he delivered another big hit. 
Shazier was particularly beastly in the 2nd quarter, playing a huge role in not allowing Purdue to expand on their 13-7 lead. He made three big plays on Purdue's ridiculous 19-play drive, ensuring the Boilers would not walk away with points. He put the wood to Akeem Hunt for -1 yard on a 2nd and 4 play and he destroyed Antavian Edison for no gain on 1st and goal from the seven before tipping a 3rd and goal throw from TerBush, allowing C.J. Barnett to intercept the ball in the end zone. 
Two possessions later, with Ohio State still down six late in the half, Shazier introduced himself to Ralph Bolden in the hole on a 1st down play and with the Boilers moving into field goal range, he and a host of Buckeyes stopped Akeem Shavers on a 3rd and 2 for barely a yard. The stop forced the Boilers to try a 52-yard field goal which they missed, keeping it a one-possession game going into half time. 
With all the other more showy happenings yesterday, I just wanted to do my part to make make sure Shazier's performance isn't lost in the shuffle. A truly inspired effort from #10 yesterday. 
Injuries Crushing Special Teams
It was another wild outing for the Buckeye special units.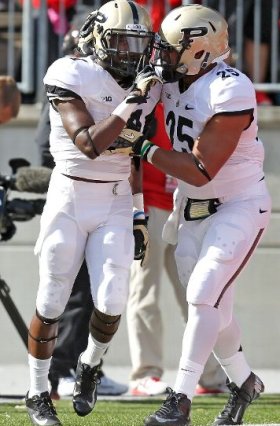 There was a lot more bad news than good as the coverage teams have now lost no less than four starters. Already down Najee Murray, Armani Reeves and Jamie Wood due to various injuries, the Buckeyes lost another key contributor when Devan Bogard went down with what looked like a pretty serious knee injury. 
The kick off coverage unit, which has been pretty solid for the most part, gave up a 100-yard return yesterday, just seconds after Braxton had given the Buckeyes their first lead of the afternoon. There's no question the play should've been nullified by an obvious holding call but the fact Akeem Hunt was able to race the length of the field untouched is cause for concern. 
The punt coverage unit was also victimized, giving up a ballsy fake punt as Purdue punter Cody Webster rolled left for four yards on 4th and 1 from the Boiler 18-yard line. That drive would end with Barnett's pick in the end zone but what should've been a three and out for the defense became a 19-play drive.  
Another annoying aspect of the punt coverage yesterday was a little more nuanced. On two different occasions, the OSU gunners got down the field but did a poor job of getting as close to the return man's halo as possible. This wouldn't be a big deal except for the fact Josh Johnson was a little shaky on fielding punts. He put two on the ground but both times Devin Smith wasn't as close to Johnson as he could've been, enabling Johnson to easily recover his muffs. 
On the plus side of things, Big Hank did get his paw on a field goal try, a low 34-yard effort that woud've stretched Purdue's lead to 23-14 late in the 3rd quarter. Braxton got injured on the very next play so Hank's block got a little bit lost in Miller's wake but it was a huge play in the game. 
Chris Fields Sighting
Seemingly buried on the depth chart, Chris Fields came out of nowhere to have a huge impact on the stunning comeback victory. 
Urban talked about how Fields had been coming on in practice and I love how Meyer goes out of his way to reward kids for busting their ass in practice. Still, you have to actually do something when you get your shot and Fields made the most of it yesterday. 
Fields came into the Purdue game with zero receptions on the year. To put that into perspective, 12 of his teammates had caught at least one ball over the first seven games. 
His first two grabs came on Ohio State's second possession of the 2nd half, a crucial touchdown drive that put the Buckeyes back in front, 14-13, with 7:41 left in the quarter. Fields accounted for 42 of the 80 yards on the drive, hauling in a seven-yard pass from Miller to set up a manageable 3rd and 3 that Hyde converted to keep the drive alive. Four plays later, Miller found Fields for 35 yards all the way down to the Boiler two-yard line. Again, Hyde would finish things off scoring on a give between Marcus Hall and Reid Fragel. Simply a huge catch and run from Fields to set up the score. 
Of course, the play Fields will be most remembered for yesterday occurred in the final seconds of regulation. 
Looking at 1st and goal from the Purdue two-yard line, Fields ran a short out route and made a spectacular grab on a low and outside fastball from Guiton. Fields made a hell of an adjustment on the throw and cleanly got his arms just under the football as it beelined for the turf. Excellent concentration. To come through in a big moment like that, coming into the game without a catch? Impressive. 
Though the touchdown grab got all the headlines, it was his decision on the punt that set up the possession that might have been the biggest play of all. 
With about 50 ticks left on the clock, Webster got off a 48-yard punt. Fields made a great decision to grab the punt off the bounce at around the OSU 30, keeping the ball from likely rolling to around the OSU 20, plus he was able to find the sideline and pick up nine precious yards. His effort kept the Ohio State offense from setting up shop somewhere near their own 20, instead giving them possession at the OSU 39. The excellent field position gave Ohio State a much better chance to find the end zone with just :47 left.  
Props to Fields for stepping up. Obviously, Ohio State loses without his production and decision-making. 
#5 Finally Struggles
For the first time all season, the Buckeyes didn't rely on Braxton Miller to win the game.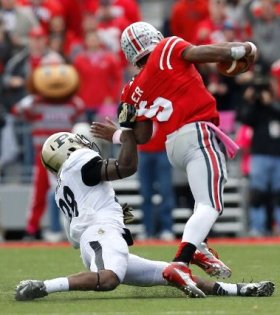 Not only did they not have him for the decisive 4th quarter and overtime but even when he was on the field, he looked a lot more like Braxton 2011 than what we've seen from him over the first seven games of 2012. 
Braxton was simply awful in the first half, completing just 6/15 through the air with 52 yards and a pick. He was ineffective on the ground as well, rushing seven times for four yards. His throws were all over the place, often overthrowing his targets on the deeper routes and behind his receivers on the shorter routes. He also attempted a couple throws on 3rd down that even if completed, had no shot to move the chains. 
With Miller struggling to get anything going, the Buckeyes totaled just 101 yards and six first downs in the opening half. The 2nd quarter was particularly bad as Miller's offense ran nine plays for a net of zero yards. 
After a three and out on Ohio State's first possession of the 2nd half, Braxton finally awoke leading an eight-play, 80-yard touchdown drive. He hit 3/3 on the march, including a 19-yard gash to Philly and the noted 35-yarder to Fields. 
Two possessions later, with OSU down 20-14, he finally got loose with his feet, peeling off the 37-yard run that would end with the state of Ohio holding its collective breath. 
Miller's final numbers read 9/20 for 113 yards and a pick through the air with 12 carries for 47 yards. The combined 160 yards from Miller, against 342 for the entire team, meant Braxton failed to account for at least 50% of the offensive yards for the first time all season. 
Despite his struggles, the Buckeyes still found a way to win the game and that's something they can hopefully hang their hat on should the situation present itself at some point over the final four games. 
Kenny
What an absolute clutch effort from Kenny Guiton. Watching him step up like that is just one of the many reasons we're all in love with college football. 
Obviously, he made some tremendous plays but I think what impressed me most about his outing was just how calm and controlled he was during the game-tying drive. 
Complete Game Coverage
He didn't get happy feet in the pocket or rush any throws despite the magnitude of the situation. His first pass of the possession was right on target to Devin Smith, allowing Smith to eat up 39 yards to the Purdue 22. 
On the next play, he let the routes develop as he rolled right before hitting Evan Spencer in stride for eight more yards to the Purdue 14. Now facing 2nd and 2, he smartly threw the ball away instead of trying to force the issue, setting up 3rd and 2. Hyde kept the drive going with a three-yard run and four plays later, he found Fields for six. 
The toughest throw might have been the two-point play just because Heuerman was so wide open with so much on the line. Recognizing how open Heuerman was, he lofted a tear drop and Heuerman cradled it to set off a wild celebration in the 'Shoe. 
Guiton finished 6/11 for 77 yards with a touchdown and a pick. He proved he knows the offense and can make some throws after his earlier appearances really only showcased his ability to run the read option. 
I know Urban loves this kid and that love might actually be surpassed by his teammates. The entire roster rallies around this kid and it's truly a great thing to watch. 
That said, I know Urban wants to give him chances to play but I hope that any talk of putting him out there with Braxton at the same time is officially dead. Urban simply can't risk injury to Guiton doing anything other than playing quarterback when you consider how susceptible Braxton is to injury. 
Here's to hoping Braxton stays healthy and that the Buckeyes can jump out early on Illinois in two weeks so Kenny can get another chance to shine, in a scenario of choice rather than necessity. 
He's certainly earned any bit of playing time he gets.