As the calendar flips to mid-October and the thick of the campaign season, Ohio State quarterback Braxton Miller said he's completely oblivious to his candidacy. A quick peak would reveal that he's running second or third in the Heisman Trophy race, depending on which source he looks at.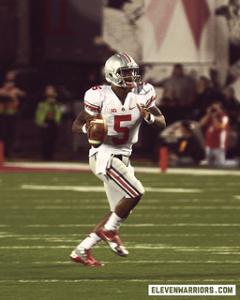 Seven games into the college football season, Miller is yet to have a game that diminished his prospects. Put into an offensive system that is akin to a body builder flexing his muscles, Miller has already surpassed a large swath of his 2011 numbers that were generated in 12 games.
"I just go out there and play, " Miller said. "Just go out there and have fun on Saturdays and whatever happens, happens. I'm just blessed to be where I'm at right now and to have the ability to do what I've got to do."
He threw for 1,159 yards, 13 touchdowns and four interceptions, playing in all but one game last season. Miller also rushed for 715 yards and seven scores. He was named the Big Ten's freshman of the year for his exploits.
The sophomore numbers have verged on spectacular – 1,271 passing yards, 11 touchdowns and four interceptions. His completion percentage is up six percentage points to 60, and in 30 less rushing attempts, Miller has accumulated nearly 200 more yards. Miller is sitting at 912 yards and nine touchdowns with five games remaining.
In 2011, he averaged 4.5 yards per carry. That number has since jumped to seven yards. When he gains 88 more yards, Miller will become the first Ohio State quarterback to gain 1,000 yards and the first 1,000-yard rusher under Meyer in his 11 seasons as a head coach.
"Things happen and you grow, you mature and your body changes," Miller said. "So, I'm just going to keep working hard."
Miller has been nearly unstoppable running the football, while his passing skills have improved at a faster clip than expected.
Few players, if any, are as integral to their team's overall success as Miller is to Ohio State. Undefeated and ranked in the top 10, the Buckeyes are everything that a Heisman contender could want. They are on the national radar week in and week out and are a constant talking point. Interestingly, the Ohio State defense, which can't stop anyone at the moment, could actually stop Miller. A loss could be the end of the national attention for Ohio State.
Even with the ridiculous stats – 311 yards of total offense per game, including 130 yards rushing, and accounting for 20 touchdowns – the humble signal-caller says he still hasn't played what he would consider a perfect game. What would be included in Miller's "perfect game?"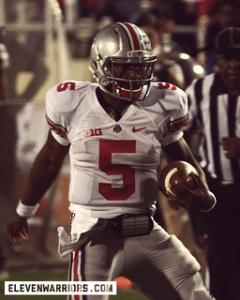 "More balance running and throwing, a higher completion percentage," he said. "No turnovers, a lot of scoring, things like that."
When Miller's comments trickled to Bradley Roby, the cornerback said if Miller played a perfect game, the offense might put up 100 points.
Playing in an offense led by Meyer and another offensive guru, Tom Herman, Miller has thrived. But it isn't all coaching. Miller spoke of strength coach Mickey Marotti and the impact he's had on his progression.
"The offseason workout is ridiculous," Miller said. "But it definitely got us prepared for the season."
Unfortunately for Miller and the Buckeyes, that offseason workout doesn't make one more durable. Carrying the ball 18 times a game, Miller has taken his share of hard hits this season. He's been hit late out of bounds several times and had to come out of a handful of games. Backup Kenny Guiton has asserted himself well, though, leading a touchdown drive on each occasion Miller has come out due to an injury.
One of those hold-your-breath instances if you're a fan or coach came this past weekend at Indiana. Miller, though, says he's only been fearful once.
"I feel really good," he said. "I was just worried at the Michigan State game when my leg locked out. I was a little nervous about that. But last game, that was just a little hip pointer, and it didn't linger with me. I feel good now."
A boon to Miller's success has been the improved offensive line play in front of him. They've kept him upright a majority of the time, giving him ample opportunity to throw the football, and opened running lanes that are more well-maintained than some Ohio highways. It's that same line that has contributed to Carlos Hyde's rise at running back.
The Buckeyes have had two 100-yard rushers in consecutive games for the first time in 37 years.
"They've come a long way," Miller said of his five bodyguards. "They're out there working hard every day in practice. I've seen their whole body type change from before the new coaching staff got here and now.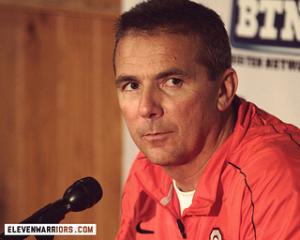 "As soon as Coach Meyer came here, he pushed them and (offensive line coach Ed Warinner) pushed them. Our strength coach pushed them to the point where they want to get better and make everybody better around them."
Jack Mewhort and Reid Fragel have received a lot of the attention generated by the line, but it's Corey Linsley that has stuck out to the quarterback. Then again, that's the guy that snaps him the ball. At center, Linsley is the leader of the offensive line, according to Miller.
"He makes all the calls for the rest of the O-linemen," he said. "He's the leader of that unit."
With no postseason, which could include two games – Big Ten championship and a bowl – some have dismissed Miller's chances at bringing an eighth stiff-arm trophy back to Columbus. The conference championship weekend has acted a springboard for many Heisman hopefuls in recent seasons. But Houston quarterback Andre Ware won the 1989 Heisman when the Cougars were under a similar ban.
Meyer has been asked about Miller's worthiness in the discussion a few times throughout the season, including after the season opener. At that time, Meyer scoffed at any notion of Miller being a Heisman candidate. Miller had just broken the school record for quarterback rushing yards in a single game, and it would be a foreshadowing of what was in store for the near future.
At the midway point of the season, after the Nebraska game, Meyer gave more legitimacy to the Heisman campaign, though he still cautioned that Miller wasn't yet a candidate.
"I think he's certainly one to watch," Meyer said. "He's got the ability. In about two or three games I think you can start talking about that. I'm not talking to Braxton about it."
The calculator has continued to spit out a high volume of numbers. And after West Virginia quarterback Geno Smith and his Mountaineers stumbled last week at Texas Tech, Miller's opening arrived. He slammed the door shut with 367 yards of total offense and three touchdowns.
"We're trying to win some games," Meyer said. "I think at the right time he will be a candidate if he continues to play very well."
The time has come.