After sitting down and chatting with former Buckeye wide out Drew Carter last week, we return again this week with another member of the 2002 National Championship team, Antonio Smith.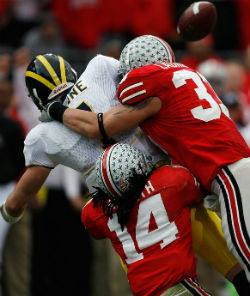 Smith came to Ohio State in 2002 as a preferred walk-on after finishing his career at Beechcroft High School right in the heart of inner-city Columbus.
Most walk-ons come to OSU expecting to put in their dues on the practice field for three to four years and if they're lucky, get involved on special teams at the very most during their time wearing the scarlet and gray.
Smith had other plans for his role though, and after facing adversity and overcoming it for his entire life, the 5-9/195 defensive back silenced all of the doubters when he exited the program as not only a scholarship athlete and a starter, but also as an All-Conference and All-American selection by multiple outlets.
On top of his hard work on the field, Smith also excelled in the classroom, where he had a passion for the field of engineering. The engineering program is one of the most difficult at Ohio State and the Columbus native conquered that challenge as well, earning his degree upon departing school and using it to work in the field in his current job.
We caught up with Antonio to find out what he's been doing since leaving Ohio State, hear his reflections on the 2002 and 2006 seasons, get his thoughts on the challenges he's faced and overcome, and more.
Join us after the break to hear more from one of the men you can be proud to call a Buckeye both on and off the field, former cornerback Antonio Smith.
Walk us through your time from Ohio State up until what you're doing now.
I played a few years in the NFL right out of college for the Colts, Lions, Chargers, and Bengals. I decided to call it quits in 2010 and came back to Columbus to put my engineering degree to work. I got a job at an engineering firm and I have been working there since then, getting experience in the field.
All the while I have been working with Roy Hall to help build the DRIVEN Foundation over the last several years and we have been able to help many families throughout Central Ohio throughout various events and programs.
Finally, I just released my book on September 1, which is titled "Waiting To Fail". It is about my story and how it could inspire others to reach their dreams and to not be scared of failure.
As you mentioned, "Waiting To Fail" was recently released. What was your inspiration in writing the book and what message were you trying to send to readers?
My story in general was the inspiration behind the book. I was a walk-on for Ohio State in 2002 and earned a scholarship by the time I left in 2006. I give a glimpse of that rollercoaster ride at Ohio State, as well as my life growing up in Columbus. I didn't have parents growing up and was raised by my grandma in what was not the best area of the city. Everyone has a good story, though, and I wanted to use this book to inspire others who are facing challenges in their lives through my stories.
Your journey was indeed a unique one for an OSU football player. You went from walk-on no-namer to household name starter from when you arrived in 2002 to when you left in 2006. How were you able to accomplish such a feat?
A lot of dedication, hard work, and discipline. Those were the three key characteristics I was blessed to have and develop through God, religion, and my grandma raising me. I believe all of those things worked hand in hand and all of the components linked together to allow me to have the success I did as a player, as an engineer, and as someone giving back to the community with DRIVEN.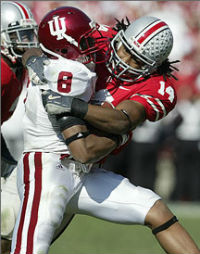 As you mentioned, you studied engineering at Ohio State. How hard was it to balance one of the hardest fields of study at the university and your responsibilities as a football player for the Buckeyes?
It was really tough to balance those two. Even for a student who doesn't play any sports at Ohio State it is hard to balance engineering with the transition of going from high school to college and the freedom and independence you gain. Mix that in with football and it was really difficult.
Balance was the key for me and also attaching myself to a group of guys in my field that both did and did not participate in athletics. Those guys were committed as hard as I was and they were a good influence to keep me motivated and on top of my studies.
Roy Hall always jokes with me that on bus rides home from away games I would be doing math problems and studying while other guys were watching movies and things of that nature, but that's what I had to do in order to succeed on and off the field.
What was the most rewarding thing you accomplished while at Ohio State?
To gain the respect and trust of the coaches. That of course comes with earning a scholarship later in my career, but it was more than that.
I came in as a preferred walk-on, meaning that I went through camp with all of the other scholarship freshmen. We all went through that together so I earned the respect of the players on the team from day one, but on the other hand, the coaches had no clue who I was or anything about me.
I had to prove myself to the staff and worked hard to give it my all every day. Even that at times wasn't enough and I had to just continue to do that over time. Finally in my fourth year (redshirt junior season) I felt I turned a corner when I was working on special teams and Coach Tim Beckman came to me and told me they would finally give me a shot at cornerback. I knew and my teammates knew I had the ability to succeed, but it was demonstrating that ability over time to the coaches that finally earned their trust and respect.
You were a redshirt freshman during the 2002 season. How did it feel to be a part of that championship team?
Taking a step back, naturally you can't take everyone on the roster to the national championship game. As a preferred walk-on I thought I'd be on the travel list, but when it came out I wasn't on there. Coach Mark Dantonio came to me and was surprised as well and told me that while he couldn't promise anything that he'd do his best to get me on the travel roster. He ended up making it happen and I got to go out to Arizona with the team. I really felt that solidified my presence on the team and while I didn't get to play in the game, I was just as tired as the guys who did from cheering so hard. 
The craziest thing about that game was the controversial call at the end of the game. When the gun went off and fireworks went up, we all thought Miami had won and it left me with an empty feeling. Of course, the call came in and we went on to win the game. It was one of the best feelings in the world growing up in Columbus, walking on to Ohio State, and winning a national championship after all of the challenge and adversity I had faced.
What is your most memorable moment from the 2002 season?
The national championship would top the list, but also just that we had so many close games that year sticks out to me: the Cincinnati game, the Illinois game, the Michigan game, the Purdue game where we converted 4th-and-1 to Michael Jenkins for a touchdown. That season was just meant to be and there were so many great games along the way, but the national championship tops them all off.
Are you going to the 10 year anniversary celebration for the team at the Michigan game? Do you think Coach Tressel will be there?
Yes, I will be there. I'm not sure about Tress, but I hope so. He has been so instrumental to Ohio State, the city of Columbus, the state of Ohio, and to Buckeye fans across the world. The memories and heritage of the football program he was a part of will never be forgotten. He touched everyone's lives on that team and that is something that will never be taken away. We would love to have Coach Tressel be a part of the celebration of that championship with us, the city, the state, and the fans.
You were fortunate enough to also be a part of the 2006 team that came up just short that season, losing the championship against Florida. What were the similarities between the 2002 and 2006 teams and what were the differences?
I'll start with the differences. The main difference was that there wasn't many close games in 2006. We pretty much dominated everyone we played in the regular season and won by some large margins. In 2002, we had many close games and weren't as dominant in victory.
Another difference is that I felt the defense in 2006 didn't have as many big names going into the season (like Mike Doss, Will Smith, Chris Gamble, etc.), but we were playing as more of a complete unit. We played together as a team and there were no instances where we thought we would lose a game. Even at halftime of the championship when we were down a ton, I still believed we would come back and win.
The similarities between the teams lied in how much work we put in. Both teams were so focused on the goal of winning the national championship. In 2002, I remember Mike Doss coming back to school to lead us and saying we were going to win a championship. It was the same thing in 2006 where we came in determined to win a national championship. Of course we were the top ranked team heading into that season, but many people expected us to trip up and we never did because we were so focused and dedicated.
What happened in that 2007 BCS National Championship Game?
The first thing that went wrong and set a tone for us was Ted Ginn Jr. getting injured. Offensively that really put us at a disadvantage as our personnel groupings and schemes were not in sync and not the way we planned it to be.
Second, you have to give credit to Florida. They came in just like any underdog would and they played hard to beat us. They were the much better team that night. On defense we couldn't stop their short to middle range passing game and that was great game planning against our zone scheme. Hats off to them and they executed all night.
Do you feel incomplete without that 2006 title?
I wouldn't say I feel incomplete. I played five years of college football and was a part of many games. I won a national championship and lost one. Would I have loved to win that 2006 title? Absolutely. It would have carved a different path for some of my teammates (who fell in the draft), the program, and myself. At the end of the day though, we had a great season. We went undefeated and were Big 10 champs in the regular season and personally I was All-Big Ten and named a Thorpe Award finalist. It was a great experience and a great season and you can't take anything away from that.
Do you think the 2006 team gets enough credit for what they accomplished?
Do I feel like we deserve more credit than we get? No. If we won that championship we would have went down as one of the greatest Ohio State teams to ever play and would be celebrating that 10 year anniversary in just a few years. Unfortunately now we fall into the same category as other great OSU teams that didn't win a championship.
Was there any other experience like that 2006 Ohio State-Michigan game?
No, that definitely was the highlight of my career and was the best experience I can remember. Obviously Michigan is always going to be a big game and you can even have a winless record in a season—as long as you beat that team up north, all will be fine.
That week is a special week. It's a lot of emotion, energy, and sense of urgency all in a short period of time. Specifically the 2006 season, people were eager across the entire country to tune in to that game. When you can get the eyes and ears of non-football fans glued to that game, it is special. They had a countdown all week on ESPN and there was so much hype and enthusiasm around us that it just made that one game so much more intense and special. For us to go out and win the way we did, it was just one of the greatest experiences.
What lessons did you learn at Ohio State that are helping you in your everyday life?
I would say the biggest lesson I learned is the attention to detail. Coach Tressel would always emphasize that details are the biggest difference from being average and being great.
What was the hardest adjustment from playing at Ohio State to playing in the NFL?
Realizing that the NFL is a business and that players, coaches, and personnel have to treat it as such. It is still a fun game, but it is no longer just a game. This is how people feed their families and support their lives.
Who was the best player you ever played with or against?
I'd have to say from my days with the Colts, it would be Bob Sanders. Peyton Manning was a great player, but being a defensive guy, I have to go with Bob. Just being with him in the 2007 season when he was the NFL Defensive Player of the Year and seeing what he accomplished, he's amazing.
Urban Meyer was someone OSU fans disliked when he beat us in the 2006 championship. What was your reaction when he was named head coach?
It stung. It didn't sting because he beat us in 2006; that wasn't a big deal to me. It stung because it meant that Coach Tressel was gone, as he did so many great things. What happened is in the past though and we have to embrace the next coach of Ohio State and that is Coach Meyer. There is no doubt in my mind he will have the Buckeyes winning many games and championships very soon, but what I do hope is that he continues not only having success on the field, but also in the classroom and in the community.
If you can say one thing to Buckeye Nation, what would it be?
I would say that even though we miss Coach Tressel, we need to embrace Coach Meyer and get behind him and the team as much as we can. I think we have all done that, but let's continue to do so and get behind this team and rally the troops. This season will be tough not being bowl eligible, but let's make these players feel special and help them have a special season.
Thanks to Antonio Smith for giving us some of his valuable time. You can help support his efforts with the DRIVEN Foundation or by ordering his book, "Waiting To Fail".