Seven games into Urban Meyer's head coaching tenure at Ohio State, the intrigue surrounding the offense has already evaporated. After years of conservative play calls, the Buckeyes have opened up the playbook, and Braxton Miller has led an assault on the quarterback rushing record book at Ohio State.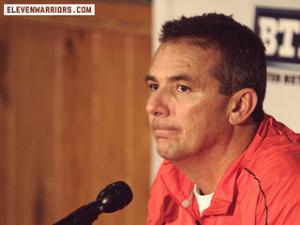 But the old reliable at Ohio State, the defense, has struggled mightily. Through seven games, the Silver Bullets has lost nearly all their sparkle. The Buckeyes rank 69th in total defense, 33rd in rush defense, 103rd in pass defense and 53rd in scoring defense. In the past two weeks, they've given up a combined 89 points, including the most in a single game since Penn State scored 64 in 1994.
That's why following an ugly 52-49 win over Indiana Meyer was almost literally speechless. He may be one of the leading offensive minds in the game, but Meyer will now test his defensive knowledge.
"I wish I had the answers," he said early Sunday morning. "I don't know. I've got to get more involved right now, and I don't know what the issue is. So I don't think you can pinpoint one thing right now."
Purdue brings a high-powered offense to Columbus this weekend, but the Boilermakers have been firing blanks the past two weeks. Luckily for them, the perfect remedy may be facing Ohio State.
Who'd a thunk it?
Purdue's spread offense, built on short, intermediate passes, is exactly what's plagued the Buckeye defense all season. They'll have one week to try to shore up a unit decimated by injuries, which prompted fullback Zach Boren's move to linebacker.
Offensive champions vs. IU: Jeff Heuerman, Jake Stoneburner, Corey Brown, Reid Fragel, Corey Linsley and tri-players of the week Jack Mewhort, Carlos Hyde and Braxton Miller.
Meyer said Heuerman played his best game as a Buckeye. Graded out 88 percent, and Meyer said he will play more.
While Linsley graded out a champion, Meyer said he and Linsley both expect more out of him.
Special teams champions: Travis Howard (player of game), Ben Buchanan, Bradley Roby, Zach Domicone and Jamal Marcus.
There were no defensive champions for the Buckeyes.
Despite Meyer being an offensive coach, he said the identity of Ohio State football will not change. It's about defense.
Meyer said he could give a million excuses as to why Ohio State struggled Saturday, but he said he doesn't do that and called it unacceptable.
The inside guys on the offensive line need to improve, according to Meyer, but he said the tackles played well.
The No. 1 thing the defense needs to do is eliminate big plays. Meyer called it "absurd" how many big plays opponents have this season.
It comes down to missed tackles and finishing out plays. Meyer referenced playing four to six seconds relentlessly and leveraging the ball.
"I'm not happy at all with what's going on on defense with players and coaches." –Meyer
Meyer said he is comfortable with the coaches on his defensive staff. But they have to be more productive.
Ohio State can't sustain season-long success if the defense continues to give up big plays and lots of points, according to Meyer.
Eventually, it comes down to defense and kicking game when winning games, Meyer said. Meyer referenced Alabama and Florida's success and subsequent 1-2 ranking.
"We're putting an APB out for tough guys." –Meyer
Nathan Williams will be back this week. Meyer said his concussion got worse as the week progressed, hence his not traveling with the team.
Meyer said Jordan Hall is not healing well. With Hall's injury, Rod Smith is very involved with Ohio State's plans at running back.
According to Meyer, Boren's move could not have been made without Heuerman and Nick Vannett stepping up.
Meyer refered to John Cooper as his "player personnel director." Coop gives Meyer a list of the opponents' NFL players each week.  Meyer called Boren's move to LB "temporarily permanent."
There are conversations about making other personnel changes on defense, but Meyer said Ohio State is limited in making them.
Meyer was thrilled with Noah Spence's play at Indiana. He said Spence and Nathan Williams both could see the field together this week. Don't be surprised if Williams plays some linebacker.
Meyer said he still believes Curtis Grant is going to have a fine career.
Stan Drayton said Carlos Hyde uses all 235 pounds to his advantage when he runs and has deceptive speed.
Drayton said you could see the run game's value to the offense coming. He said they've been able to tailor the offense to players' strengths.
The offensive scheme at Florida wasn't much different, according to Drayton. The biggest difference now is Ohio State has big, bruising backs.
There have been no discussions about redshirting Hall, Drayton said.
Hyde's on-field production hasn't changed this season, but his maturity has. Drayton said Hyde thought he got a raw deal last year. Hyde has since matured into more mature, selfless player, according to Drayton.