Tuesdays at the Woody Hayes Athletic Center are the kind of days Ohio State football players would rather forget. The second day of the workweek for the Buckeyes isn't a nice ease your way into the week kind of day. Instead, it's known as Bloody Tuesday, an afternoon full of intense, full-contact drills.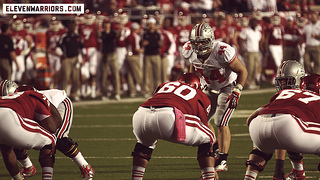 After a while, the grind and wear and tear of a football season becomes a blur for players. But Tuesday, October 9 will be an easy day for Zach Boren to recall. Midway through his senior season, the Ohio State captain was moved from fullback, a position he's excelled at as a four-year starter, to linebacker.
When fellow captain and linebacker Etienne Sabino crumpled to the Ohio Stadium turf against Nebraska with a broken fibula, an already thin and underperforming position became even more magnified. Joshua Perry filled in for Sabino, but he was a non-factor much of the game.
Sensing that the defense needed a spark, head coach Urban Meyer opted for a fresh infusion of new blood. So he went to one of the toughest guys on the team and asked if a position switch was possible. Boren didn't hesitate and traded in a scarlet jersey for a white one.
"I just was jogging out to practice and I had this horrible gut feeling that we had to get some experience – a veteran guy that could help us out," Meyer said.  "(Zach) jumped right at it and really changed practice on Tuesday just with his energy. He's an all-for-one, one-for-all kind of guy."
Ninety-six hours later, Boren became the first Ohio State player to see extensive playing time on both offense and defense in the same season since Chris Gamble was a staple at wide receiver and cornerback in 2002 and 2003.
And, like Gamble, Boren didn't just make a brief appearance; he was on the field for more than 30 plays and led the Buckeyes with eight tackles.
"It's been a long (week)," Boren said. "(Defensive coordinator Luke) Fickell has been great. We've been staying at the Woody until 9 at night. I've been coming in early for practice just to try to learn the whole defense.
"We needed a little depth at the linebacker position and our offense has been well off. We've got a lot of playmakers over there, so coach Meyer came to me and asked if I would switch. I had no problem. I'll do whatever it takes for this team to win."
Boren played in reserve of Storm Klein, who wasn't even on the team when the season began, at middle linebacker and alongside Ryan Shazier. Ohio State used its nickel package almost exclusively.
Being a veteran helped, as did previous linebacker experience – during his senior season at Pickerington, Boren was Ohio's defensive player of the year – though it came four years ago. Boren has been a part of thousands of plays against the defense in practice over the past four seasons, and Fickell being on the staff all four years contributed to a familiarity. A quick, four-day crash course of the defensive playbook was still in store, though. It was as if Boren was cramming for a final exam.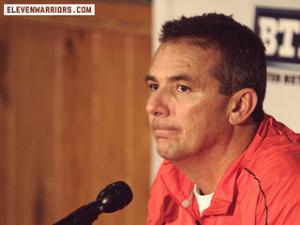 The possibility of Boren playing both ways, and specifically at linebacker, has nearly come to fruition the past two seasons. Boren himself wanted to make the switch in 2010 after Ross Homan was injured. It was thought to be a possibility again last season when Andrew Sweat suffered a severe concussion in November, leaving the Buckeyes' prospects at linebacker bleak. But alas, it didn't occur in either occasion.
"I made some mistakes out there tonight," Boren said. "But it was fun."
The most glaring miscue on Boren's part came late in the fourth quarter on an Indiana touchdown when he was out of position to make the tackle. But he wasn't alone in that category. Once again, the defense was picked apart by a pass-heavy offense. Ohio State allowed 481 yards – 352 through the air – and its most points in 18 seasons. Wide receiver Shane Wynn and running back Stephen Houston combined for 228 total yards and four touchdowns.
One look at the injury report – and success, or lack thereof, on defense – suggests that Boren's stay at linebacker won't be a short-lived experiment. Sabino is out two to three more weeks and the ballyhooed group of freshmen linebackers has been uninspiring in the season's first seven games.
Jamal Marcus has the most tackles – six – among the five newcomers, but his production has come as a member of the piranha kickoff coverage unit. The rest of the group has combined to make eight tackles. Luke Roberts has not recorded a tackle.
"I'm not a math major, but we're starting to get real thin," Meyer said. "Very unselfish move for (Boren). I've just got to see where we are when we get back. I would think he might stay over there for a while.
"We're ripped to shreds in certain areas."
He may not see the ball much, at least prior to this season, but Boren's role on offense should not be understated. Since his freshman season in 2009, he's played a leading role as a blocker, opening up holes for 1,000-yard rusher Boom Herron and dynamic quarterbacks Terrelle Pryor and Braxton Miller.
Finally, though, in the first six games of his final year in Columbus, Boren was becoming involved in playmaking. He has career highs in every offensive statistic – 11 rushes for 33 yards and two touchdowns, and five receptions for 42 yards. In his absence on offense Saturday, tight end Jeff Heuerman lined up at H-Back part of the night and helped open up holes for Ohio State's ground game.
Boren developed into one of the top blocking backs in the country. But Ohio State did fine without him against the Hoosiers. Miller and running back Carlos Hyde each tallied more than 100 yards rushing – and more than 300 yards combined – the first time in 37 years and just the fifth in school history that the Buckeyes have had two 100-yards rushers in back-to-back games. Ohio State also had its season high total yardage output with 578 yards.
Where Boren, perhaps, is missed the most on offense is on the sideline and inside the huddle. In the Buckeyes' consecutive wins over ranked opponents Michigan State and Nebraska, Meyer called Boren's leadership some of the best he's seen as a college head coach.
"It was cool to see one of our leaders out there doing everything for the team," cornerback Bradley Roby said.
Production and leadership come in all shapes and sizes, regardless of whether you play offense or defense – or both.